What a great football weekend! Although it was not last week, where four top ten team lost, we witnessed Ohio State, Oregon, and Cincinnati all suffer losses. There were also plenty of scares for teams this weekend, including Army West Point Academy Black Knights (Shoutout Nike Redesign). Fortunately for every Heart in Gray, our beloved Black Knights found a way to win in a double overtime thriller during this action-packed October weekend. Unlike most, on this particular Saturday, I found myself standing in the concourse level of Neyland Stadium using the Free Prospective Student WiFi to stream the end of the game on my phone during the First Quarter of the Tennessee vs. Alabama Game.
I'm not sure why everyone kept looking at me when I yelled or why they wouldn't follow me in performing the Rocket? Regardless, I could not be more excited that the Black Knights came away with the win. Our starting Quarterback was out, we had a couple of tough breaks (Miami's Goal Line Stand at the end of the Half), we didn't execute perfectly (outgained by 203 yards and 14 points in the fourth quarter), and Fake Miami came to play. Despite all of that, the Cadets found a way to win. This is the key trait of a resilient team that will continue to pay dividends throughout the season.
Before you read on, did you read the Game Recap Article? If not go ahead and click that link…at least open it in another tab for the participation grade. It was perfectly crafted by our new Senior Writer here at As For Football Danno E. Cabeza. He has been writing on Army Football for quite sometime and he is really good at it. Our goal is to cover deliver maximum insight, value, and laughter to the loyal As For Football Brigade. Danno will help us do that since he is a much better and quicker writer than I am. Oh yeah, he graduated in '95 and NEVER LOST to a squid in any Swim Meet. Yes four years of domination. Ok so let's take a look back at the preview article's Keys to Victory to see how the Black Knights executed on their assigned mission.
Pregame Keys to Victory:
✅ Get the Running Game Going – I ask for 300 yards rushing and the Cam Thomas led Offense delivered. He even tipped an extra 47 yards.
✅ Feed the Fullbacks – Yeah they feed…heavy portions . Since the dive accounted for 146 yards, the rest of the running game remained difficult to predict, unlike the construction work outside your Barracks during Dean's Hour.
❌ Allow less than 3 Tackles for Loss – We gave up six tackles for loss that ended several drives prematurely and forced our punter onto the field. We only possessed the ball for 36:08, two seconds longer than our season low against Duke. Remember in the preview article when I talked about the success of the defense being predicated on the offenses time of possession? Yeah…well it turned out to be true.
✅ Lead at the Half – We are now 5-0 this season when we have had the lead at halftime. Excellent coaching at the end of the Half had us set up to go up 21-7, but sometimes things just don't go your way.
❌ Stop the Miami Running Backs – 

The Redhawks rushed for a grand total of 77 yards with most of it coming from the Quarterback scramble. Although rushing was held in check, we also let

 Miami's running backs catch eight passes out of the backfield for 95 yards.
This isn't CH102, so I don't know the exact number of Keys to Victory that it takes to win, but the greater the number accomplished, the greater the chance of winning. Now since Dan already provided you with an awesome recap of the thrilling game, let's just go right into the superlatives.
Superlatives:
Mike Viti and his Fullback Stable – All You Can Eat Lil' Skeeters
The stable of America's Backs are REDCON1 and back at Michie Stadium. Run as one for The Brotherhood! #BeatMiamiOH #FullbackU #WarHorses pic.twitter.com/Ibarn0KzDj

— ??Mike Viti?‍☠️ (@MikeViti) October 20, 2018
As mentioned in the Game Preview, the Fullbacks needed to be fed to get the offense going on Saturday.  They did not leave hungry! Coach Viti's boys totaled 146 yards (avg. 4.4 yards/carry) and 3 TDs. Clearly, they bring the thunder to Army's storming Triple Option Offense.  Who knew Fullback dives could be so much fun to watch? Aptly titled #WarHorses, this group of gritty runners deserves a buffet of the best (…only) BBQ at West Point. Eat up and keep those legs churning!
Game Clock Operator – Complimentary Minutes Plebe
Much to the dismay of Head Referee, Amanda Sauer-Cook, the game clock operator required correction twice early on in Saturday's game.  Army cannot have any clock delays in our pursuit to possess the ball for 60 minutes. Please accept Cadet Private Jones, a tried and true Minutes OIC, as an assistant.  He will loudly sound off the minutes, tell you about the Team's uni's, and inform you what's for lunch. Your Welcome!
Brad Koenig's 23 Tackles – A Day on the Lake
Congratulations on leading the Miami (OH) Defense with 23 Total Tackles!  That means you were in on 23 out of Army's 76 plays (only 2 passing). It does seem like quite a feat…  However, defensive players tend to plus up their stats against Army's heavy ground attack. Either way, enjoy Lake Popolopen with your inflated stats! Grab a Barth Hall milkshake with Kenneth Murray (OU).  
Cam Thomas – PAUSEX Spa Treatment
There are times in CLDT when the Lane Walkers shake of the Leadership roles at the crucial part during the mission.  You experienced that against Miami (OH). Fortunately, you handled it with greater poise than most sleep-deprived Cadets in the Buckner woods do.  Go clean off in the Bay showers (mind the standing water), put on a fresh uniform and start prepping for the next mission: EMU. Even if you don't start next week, we know the Army Offense is in good hands for years to come!
John Abercrombie – Permanent Cold Beverage Corporal
Did you know there's a glacier hidden deep beneath the surface of Phoenix, Arizona? No? Surely your Dirt instructor covered it. Well, it's obviously there because that's where Stone Cold John Abercrombie hails from. Abercrombie has a perfect record for the Army Team since the battle against at Norman. His arctic upbringing developed ice in his veins that he used during his clutch 37 yard field goal to force a second overtime. Because his body temperature is lower than the human average, Cadet Abercrombie only accepts cold beverages and often has to complain about the lack of ice. Fear no more, you are being assigned a permanent Cold Beverage Corporal courtesy of G-4's Cadet First Sergeant. The volunteered fourth class cadet will report to the football heavy tables from hereon.
Elijah Riley – Deluxe Laundry Service
Your secondary play was dirty (the good kind)!  Additionally, your OT sack and goal line stop were critical.  It seems like you possess the ability to sniff out plays as if they're forgotten laundry bags left in trunk rooms after summer training.  Strong secondary play, featuring your contributions, has been crucial to the Army D's success this season. Please enjoy laundry service that cleans your clothes rather than runs them through hot water.  
Coach Monken – Colonel Blaik Wink
Do you know how many coaches are above .500 over the past 50 years of Army Football?  Now, 2! At 29-28, you are well on your way to joining Army coaching greats like Daly, Young and Blaik.  By fostering in a #BlackFlag culture, you have started a new Golden Era for Army Football. With that, the ghost of Earl Blaik (who played and coach at both Miami-Ohio and Army) gives an approving nod and almost undetectable wink.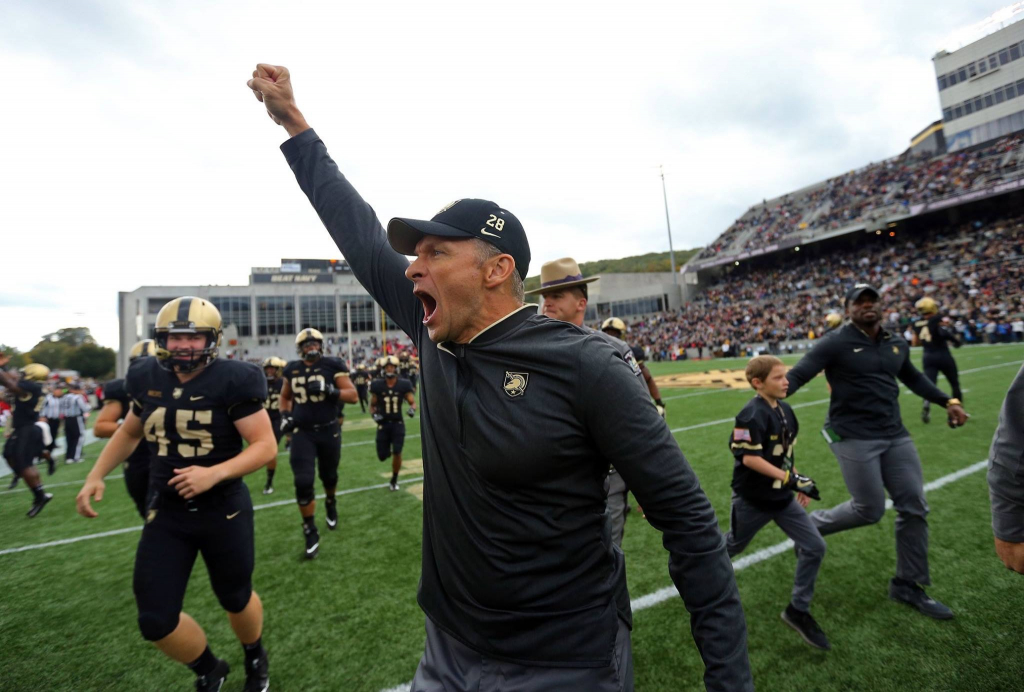 Next Up:
Eastern Michigan in their building.  The Eagles are 4-4, 2-3 in the MAC-West, and like the RedHawks, they need a win.  Good news is that their rushing defense doesn't look nearly as good as Miami's has been.  Bad news is that like the RedHawks, they also have a talented senior quarterback leading a potent passing attack. Look out for Dan's preview soon!
Beat Eastern Michigan. Rest.