This is the second part of our look at Army's newly revised 2020 schedule, as of Monday, August 24th.  I don't know that this schedule is necessarily set in stone, but hopefully this two-post series will at least give As For Football readers a sense of what to expect from the coming season.  If you missed the initial entry into this  series, you can find it here.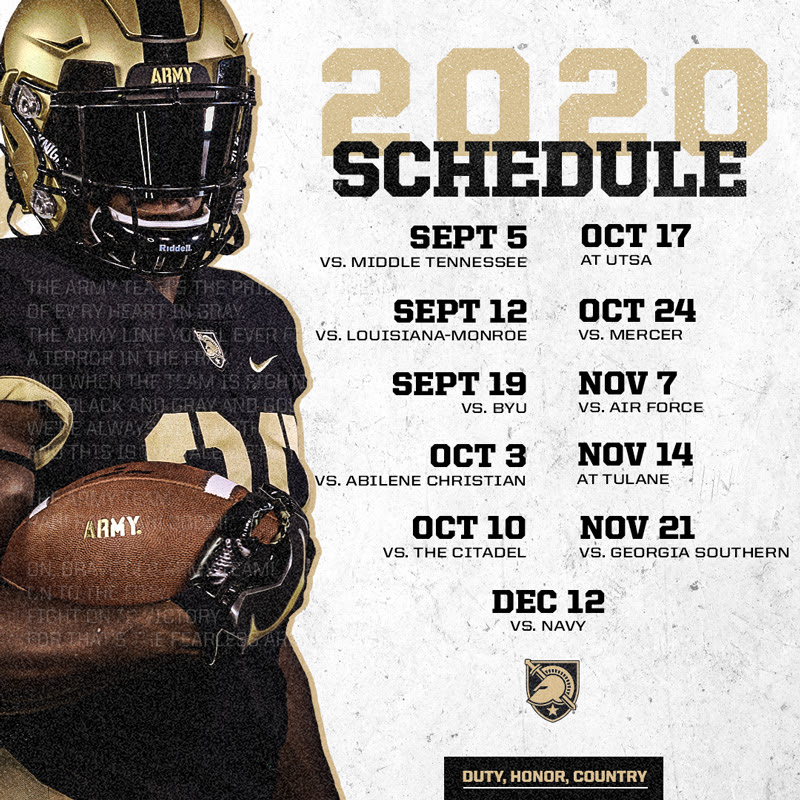 This schedule now features a whopping eight home games. 
Folks, the Black Knights are gonna kick ass in 2020.
Week 7: at Texas-San Antonio
The UTSA Roadrunners finished 2019 4-8, 3-5 in Conference USA-West.  That included a 31-13 home loss to the Black Knights that was actually a lot closer than it looked on the scoreboard.
For what it's worth, the UTSA team and coaching staff seem to have a good attitude about playing amidst the uncertainty of coronavirus.
"Offensive coordinator Barry Lunney said the Roadrunners need to be willing to 'improvise, adjust, go with the flow and make the best of it' in preparation for an abnormal year. He said he feels safe with the protocols the program has implemented.
"'Our players understand what's at stake,' Lunney said. 'Not just football. Forget football. We all want to play, but just their health and safety. I think everybody feels really good about that.'"
With returning quarterbacks Frank Harris and Lowell Narcisse and returning standout running back in Sincere McCormick, this Roadrunners team should improve on offense this season, especially in the running game.  UTSA runs a heavy read-option set with Narcisse in particular heading up a true run-heavy set.  Last year, Narcisse went 107/201 passing for 1,226 yards and 8 touchdowns against 5 interceptions and a whopping 18 sacks while splitting time with Harris.  He also carried 118 times for 492 yards and 4 touchdowns.  By comparison, McCormick led the team in carries with 177 for 983 yards and 8 touchdowns.
UTSA's D-Line gave Army some problems last year as well, but here's hoping that those won't recur given the changes Army's implemented in its own offense this offseason.
Scrimmage 2⃣ views.#TrustTheProcess | #BirdsUp ? pic.twitter.com/YRVWQr4FXi

— UTSA Football ? (@UTSAFTBL) August 22, 2020
Week 8: Mercer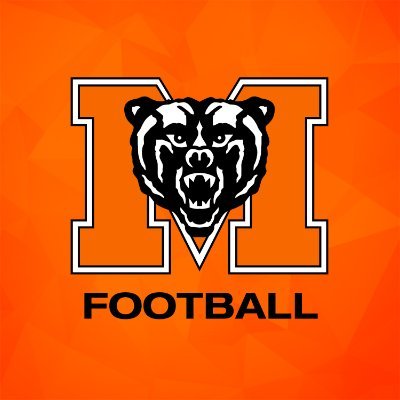 As we noted on Monday, the FCS Southern Conference recently postponed its season but decided to leave out-of-conference play up to individual athletic departments.  Like a lot of teams, Mercer wants to play at least some football this fall, and here we are. 
The Bears are scheduled to play at Jacksonville State on October 10 and at Michie Stadium on October 24.
The Mercer Bears went 4-8 overall last season, 3-5 in conference play.  For context, this is a conference that includes Furman, UT-Chattanooga, Samford, the Citadel, and VMI.  Mercer beat VMI by a touchdown last year.  That at least gives us a sense of where they stand.
Last year's top quarterback, Robert Riddle, looks to return in 2020.  He went 121/211 passing last season for 1,453 yards and 15 touchdowns against 11 interceptions and 4 sacks.  That's pretty good, and if the Bears can balance it with a defense that can slow the triple-option, then this could be an exciting game.
New numbers, same goal ?#RaiseTheBar | #RoarTogether pic.twitter.com/wN5ShpBuHN

— Mercer Football (@MercerFootball) August 24, 2020
Week 9: Bye
A well-positioned bye before a big game against a team that ought to be quite well-rested heading into just their second game of the 2020 season.
Week 10: Air Force
The Air Force Football website currently lists two contests for the coming season — vs. Navy on October 3rd and at Army on November 7th.  The Air Force has also decided — suddenly — that it would like to play Army and Navy in all fall sports, which I personally find funny.  We never swam against them back in the day, and let me tell you, I could've used the occasional three-day trip section to Colorado Springs.
So.  The Air Force Falcons went 11-2 last season, 7-1 in the Mountain West-Mountain division.  We saw in the Army game that they weren't that much better than the Black Knights, but they made a handful more impact plays in  every game, and that made all the difference in their final record.  Look at the contrast between Air Force's win over a much-improved San Jose State team versus Army's loss.  Air Force was just slightly better on defense, but they were more consistent and much more explosive on offense, and that told the tale.
Fast forward to 2020, and there are no articles on Air Force Football save the ones claiming incumbent starting QB Donald Hammond III is no longer in "good standing" with the team.  That could mean anything.  If Hammond failed a class, he could be back by November.  If he got arrested for something cocaine-related, then the Falcons might need a new starting quarterback.  Hammond isn't listed on the Zoomie's official roster right now, for whatever that's worth.
Fall Sport Senior Spotlight: Milton Bugg III https://t.co/r1loIplzDp

— Air Force Football (@AF_Football) August 24, 2020
Week 10: at Tulane
The thing I love about the American Athletic Conference is that they're all-in on football despite everything.  Conference play?  Yes!  Non-conference play?  Hell yes!  Bring it on!!!
The Tulane Green Wave finished last season 7-6, but a disappointing 3-5 in conference play.  They looked awesome early, but their win at Houston paled over time, and they couldn't get over the hump against their tougher in-conference foes.  Granted, they master-blasted Army at Michie Stadium.  Beyond that, they didn't do much when it mattered most.
One would expect Tulane to regress on offense this year following the loss of QB Justin McMillan, but the team plays on a relatively small campus with an aggressive coronavirus testing program, and at least so far, they seem well-prepared for the pandemic and ready to roll.  Moreover, the Green Wave have been stockpiling players out of the transfer portal, and they've had Army's number consistently throughout the Monken Era.  
Whatever else happens, Coach Willie Fritz always seems to know how to stop the Black Knights' triple-option attack.  We'll see if he can also figure out how to move the ball with a new guy under center.
???#Good2Great pic.twitter.com/ExUYmECpa1

— Tulane University Football (@GreenWaveFB) August 25, 2020
Week 11: Georgia Southern
Coach Jeff Monken's former team rolls into Michie Stadium for Senior Day, giving us a contest between two hard-nosed triple-option offenses.  The Eagles finished last season 7-6, 5-3 in the Sun Belt's Group A.  That put them second in their division behind App. State.  All things considered, that's a good place to be.
The Eagles have to replace some standout players in their secondary, but they have a returning standout quarterback in Shai Werts, a lot of returning depth on both sides of the ball, and despite the chaos of the summer, they seem to be dealing well with the coronavirus.  Arguably their biggest issue right now is who's going to start in their secondary.  
That's not bad.
Werts went 67/127 passing in 2019 for 799 yards, 9 touchdowns, and 1 interception in 2019.  That's terrific for a triple-option offense, but Werts also took a whopping 26 sacks, and that's a lot less impressive.  Perhaps more importantly, he carried 171 times for 733 yards and another 5 touchdowns.  If nothing else, that suggests that he distributes the ball a little more effectively than Army tends to in a similar scheme.
As of this writing, Southern has a pretty normal-looking schedule.  They host a major showdown with Troy on November 7th, close their home slate against Texas State on November 14th, head to Army, and then finish on the road at George State.  If they can keep the coronavirus under control, this team could easily improve on last year's performance.
???? ????????????: ???? ???????

#53 Trevon Locke (@TrevonLocke17)
#57 Gavin Adcock (@GavinAdcock)
#62 Robb Bozeman (@Bozeman_98)
#76 Cauldric Isles (@CauldricI)#HailSouthern pic.twitter.com/j3hl27fmFL

— Georgia Southern Football (@GSAthletics_FB) August 25, 2020
TBD (Doubtful): at Rice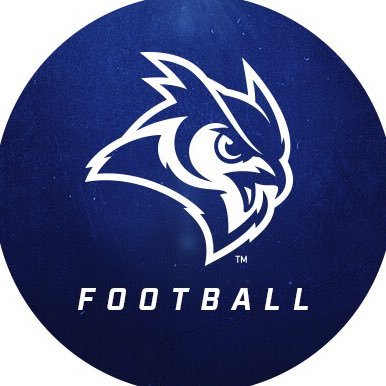 With Monday's announced schedule, it looks like this game won't be played in 2020.  There's theoretically still room on the schedule, and I've yet to see a formal cancellation announcement, but as of this writing, Rice has games scheduled for all of Army's open dates.  The Owls host Lamar University on September 26, they're at Southern Miss. on October 31st, and they host UTEP on November 28th.  Maybe the Black Knights could juggle one of their FCS games, but given that those are now part of an announced slate, that seems unlikely. 
For what it's worth, Rice finished 3-9 last season, 3-5 in Conference USA-West.  However, they looked loads better last year than they did in 2018.  Hell, they very nearly shocked the Black Knights in last season's opener.  With sophomore QB Wiley Green returning for another year in the team's new Stanford-style run-first offense, this Rice team could easily make some noise in 2020.
It probably helps Army that this game — if it's played — would have to come later in the season.  No one wants to play in Houston in late summer.  However, this would still be a close contest against a motivated and talented opponent who's plenty familiar with Army's particular brand of football.  
December 12: Army-Navy
It's way early to talk Army-Navy, but it'll be interesting to see how well the Mids handle the coming season.  QB Malcolm Perry is gone, but did he take Navy's hybrid triple-option/run-and-shoot offense with him?  Can Navy's defense keep the momentum they built last season?  Will the Brigade melt down after a full semester locked on the Yard?
Coach Ken already seems worried.
But why?  The Mids finished 11-2 last year, including a 7-1 record in the American Conference-West.  It pains me to say it, but they were really, really good.  The Navy coaching staff's willingness to reinvent itself in the face of adversity after 2018 was seriously impressive.  And honestly, all of that would have been fine had the Black Knights also been good.  In the face of Army's struggles, however, I personally found Navy hard to watch.
At this point, the only thing we know for certain about college football in 2020 is that the Army-Navy Game is going to happen.  We don't necessarily know when or where, but we know it's on.
"If that's the only game we play…we're gonna play it." @NAVYCoachKen on #ArmyNavy via @ChrisVannini https://t.co/GE4O1VPW1Z

— Army-Navy Game (@ArmyNavyGame) August 25, 2020
Go Army!  Beat Navy!!!
* Cover.