After a closer than expected call against UMass on Senior Day, Army is on the road in Lynchburg, Virginia, this week to take on the Liberty Flames. Not only will the Black Knights be searching for their eighth win of the season, they'll also be attempting to spoil the news of Flames' Head Coach Hugh Freeze getting a new contract to the tune of $28 million over 7 years.
That is a lot of zeroes for a future Conference USA team.
Liberty received significant votes for the AP Poll earlier in the year, but they've dropped off after taking losses to Syracuse, Louisiana-Monroe, Ole Miss, and Louisiana. Their best win is against UAB, but none of their other victories stand out. Their performance this year is somewhat similar to that of the Black Knights. The only differences are that I *think* Army would have beaten Syracuse, and in any event, the Black Knights' win over Air Force is better than anything the Flames have put on their resume this season to date.
This game should be a competitive contest, so let's get into the preview!
One thing to be thankful for this year is another extension to keep @CoachHughFreeze on the mountain 🔥

🔗: https://t.co/kj6RgHULsG pic.twitter.com/avkHdHDxff

— Liberty Football (@LibertyFootball) November 24, 2021
Liberty Flames
Offense
The Flames' offense is rather prolific with 33 points and over 430 yards/game. They run more than they throw, but most of their production comes through the air. QB Malik Willis completes 63% of his passes and averages nearly 9 yards/attempt. He's also a very capable runner, averaging 4.5 yards/carry and leading the team with 783 yards overall.
The downside of Willis is that despite 23 touchdown passes and 10 rushing touchdowns, he's been prone to mistakes this season. Willis has thrown 11 interceptions and coughed up the ball thrice off fumbles. But this is partially explained by his offensive line's play. The Liberty line has allowed Willis to get sacked 45 times in 11 games.
No, that's not a typo.
When Willis does get a clean pass off, his main targets are WRs Demario Douglas, CJ Daniels, and Kevin Shaa. On the ground, the Flames look to the running back trio of Joshua Mack, Shedro Louis, and TJ Green. The Flames run a read-option offense, so Willis's running is also an important part of their game.
Malik Willis is dangerous in a secure pocket, so Army will have to rush to keep him on his toes. We could see Andre Carter II have another career day. But that pressure will come at a cost.
Because Willis is also a dangerous runner, the Black Knight secondary will have to decide between leaving Willis uncovered or leaving a lot of receivers in single coverage outside. Army's secondary has not exactly inspired confidence in recent weeks. But they'll have to step up in order to allow others to contain the quarterback.
Army sack leader Andre Carter still has three games to add to his academy record and sensational season #ArmyFootballhttps://t.co/lwehyWyrIu

— Sal Interdonato (@salinterdonato) November 22, 2021
Defense
Liberty's defense is among the best in the country allowing just 21 points and 314 yards/game. Opposing offenses see the red zone fewer than 3 times/game and get stopped there without a score 25% of the time. Wow!
Keep a lookout for LBs Storey Jackson and Rashaad Harding, who lead the team with 83 and 61 tackles, respectively. DT Elijah James could also make a difference on interior option plays.
The weakness for the Flames is their inability to generate turnovers, especially fumbles. They've forced 6 on the year, but have only recovered 2 in 11 games. Hopefully that translates to Army rushers being able to extend plays without much risk of coughing up the ball.
The Flames' combination of having a negative turnover margin and being one of the most penalized teams in college football could very well extend a few Army drives and cut a few of Liberty's short.
9th ranked pass defense in the Nation.
Liberty DB's locking it down. 😤 pic.twitter.com/0W39ksCgEJ

— Liberty Football (@LibertyFootball) November 24, 2021
Special Teams
K Brayden Beck won the job back in early October and is 28/30 on points after and 4/5 on field goals with a long of 37. P Max Morgan averages 43 yards/punt, which is not bad for a freshman.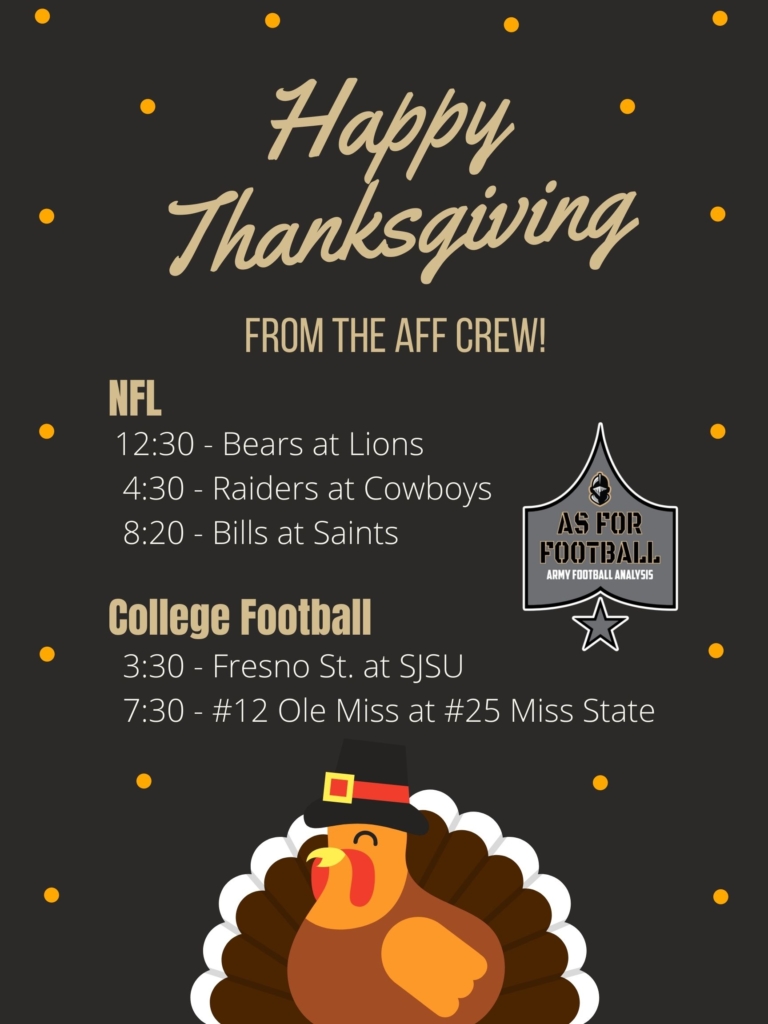 Final Thoughts
On offense, Army needs to get chunk plays. That doesn't mean throwing whenever we feel like it. In fact, that will likely stunt the offense like it did against UMass. I'm not sure the offense we saw last week will be able to sustain drives against the Liberty defense, though, so some passing plays will be required. The key is timing and execution. I'm glad that's Brent Davis's job and not mine. Potentially, a few long running plays will allow Army to move the ball without passing as much. It'd be a great week for another breakout performance from SB Tyrell Robinson.
On defense, Army has to attack early and often. The Black Knights cannot allow Malik Willis to get comfortable. The defensive backs are going to have to perform better than they have. This is one of those games where we may look to one or two plays that the Army defense did or didn't make. If a turnover can be taken, it must be.
Liberty is favored by 3.5 points with an O/U of 53. Experts seem to be picking Liberty and the over. The game kicks at noon on ESPN+ (boo). Watch the game on mute, so you can listen to Rich DeMarco via The Varsity Network app.
Working toward another gameday. #GoArmy | #LastoftheHard pic.twitter.com/OboJ6jBtSu

— Army Football (@ArmyWP_Football) November 24, 2021
Go Army! Beat Liberty!!!
*Cover image via @ArmyWP_Football