It's almost here, friends. The biggest game of the season in the biggest city in the nation, and being honest, I haven't been this excited about it in a long, long time.
Let's get it on!
Keys to Victory
Fully five Keys this week.
1. Win the Line of Scrimmage
Navy started this season with miserable offensive efforts against Marshall and Air Force. Since then, though, they've gone back to the basics with the triple-option, re-emphasizing the Fullback Dive to set up big plays off the pitch or the pass. This makes their current offense look a lot more like recent editions of Army's offense rather than what they themselves have run in recent years.
Bottom line, when the Mids' fullbacks have success, their offense has success.
Ironically, just as Navy has recommitted to running between the tackles, Army has found sustained success running outside. The Black Knights still feature their fullbacks plenty, but they've also been much, much better about getting the ball to their fastest playmakers in space this season, too.
On balance, this isn't complicated. If the Black Knights' defense can win at the line of scrimmage, they'll stop Navy's offense cold, creating the kind of offensive misery the Mids have struggled with off-and-on all season. Similarly, if Army's O-Line can get good push, they'll be able to establish their own Fullback Dive, which in turn will provide the offense with the time and space it needs to work to its full potential. As we've seen all season, that can set up all kinds of explosive plays.
The Last of the Hard: Inside Army Football 2021

What it means to be the Last of a generation to do the Hard things that not everyone is willing to do.

FULL VIDEO: https://t.co/blMVnou4qr#GoArmy | #LastoftheHard pic.twitter.com/84iAuTkQsD

— Army Football (@ArmyWP_Football) December 8, 2021
2. Hit a Few Big Passes
Army didn't complete more passes than Air Force in their game back in November, nor did the Black Knights throw for more yards. However, the Black Knights were much more efficient with their passing game. They hit multiple game-changing passing plays out of a variety of spread RPO-style looks, and honestly, it was a beautiful thing.
Army is probably not going to throw more than 10 times this Saturday. However, they need to hit on big passing opportunities when those become available. That's how they change the complexion of this game.
Save for a few select playmakers, Navy's defense is young. They've been decent against the run, but they're allowing opponents to complete nearly 68% of their passes. The Black Knights absolutely must take advantage. A few big passing plays can flip field position and force the Mids defense to play honest along the line of scrimmage. This in turn sets up the Black Knights' base offensive attack.
3. Sack the Quarterback
Navy quarterbacks have taken a whopping *29* sacks this season. This works out to about 1 sack per every 4 drop-backs, i.e. 25% of all passing attempts, and when factored into the Mids' already suspect passing numbers, it brings their average passing efficiency down to a paltry 3.7 yards/drop-back.
So yeah. That is actively terrible.
But Navy is still going to try to pass. They're averaging 10.9 passing attempts/game, inclusive of sacks, and if they can't run their fullbacks, they'll have no choice but to try a few throws just to move the chains and maintain possession. Meanwhile, Army is averaging a very stout 2.4 sacks/game. Moreover, the Black Knights feature the nation's sack leader in OLB Andre Carter II alongside a D-Line that can get after the quarterback when Carter gets double-teamed.
Army wins this game with pressure. They need to get in Navy's face, force mistakes, and maybe create a turnover or two. Despite the fact that these are both run-heavy teams, getting sacks is arguably the most important, demonstrably game-changing Key to this game.
Congrats to Arik Smith on receiving the Defender of the Nation award from the @CTouchdownClub on Monday night as part of the @NagurskiTrophy presentation in Charlotte ??#GoArmy | #LastoftheHard pic.twitter.com/SRpLnr3mrs

— Army Football (@ArmyWP_Football) December 7, 2021
4. Hold Onto the Ball
The Mids haven't lost a lot of fumbles, but they've put the ball on the ground with alarming frequency. They fumbled 5 times against Temple, once against Tulsa, and 3 times against UCF. That's 9 fumbles, though they lost just 3, and those are the games they won!
It's liable to be wet out there on Saturday, so ball security will be at a premium. Whichever team turns the ball over for the opposing offense on a short field is likely to lose. This is where strip-sacks come in, though Navy has lost a few errant pitches as well.
We spoke with @CoachJeffMonken and seniors Arik Smith and Christian Anderson following practice this week heading into the @ArmyNavyGame, presented by @USAA, on Saturday.#GoArmy | #BEATnavy | #LastoftheHard pic.twitter.com/qd17danK3l

— Army Football (@ArmyWP_Football) December 9, 2021
5. Dress for the Weather
We're expecting near record-high temperatures this Saturday with intermittent showers. That's actually great. However, we're also going to get sunset at just 4:28 pm, after which the temperature ought to drop rapidly. Add in 10 to 20 mph of wind, and it could get mighty chilly out there in the second half, especially if it's also wet.
It's Army-Navy, so you just know that it's going to get cold at some point. In this case, it probably won't be particularly cold until we get into the second half, but you'll still want to plan accordingly. The fourth quarter might get a little miserable if you don't bring anything heavier than a windbreaker or a poncho.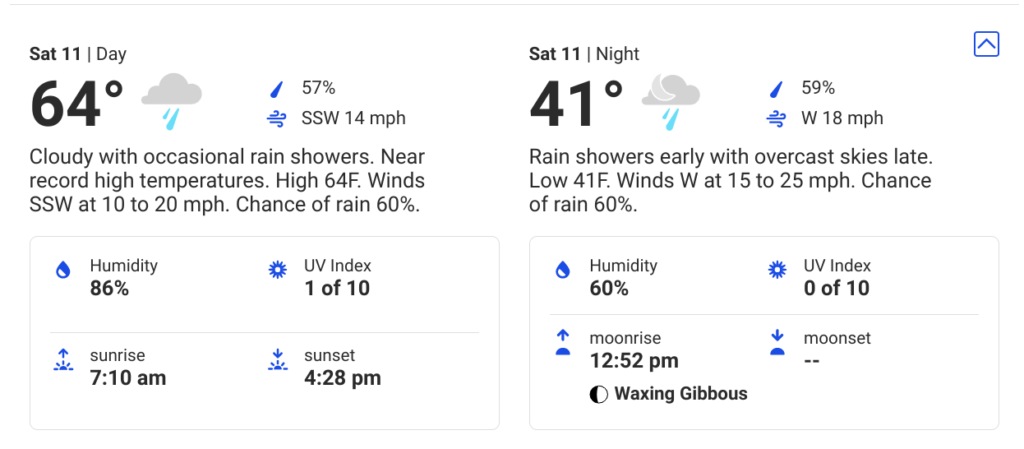 Support Our Sponsors
Do you need a Uniform Flag? Or are you maybe looking to buy or refinance a house? Our sponsors want to help.
Help us help you. That's how this works. These guys help us stay in business, and we help you get the mortgage and/or patriotic swag that you need to remind people just exactly who the Hell you really are.
Thank you for your support of As For Football.
It's ingrained in everything we do.#GoArmy | #BEATnavy pic.twitter.com/lbYMMSdjeA

— Army Football (@ArmyWP_Football) December 6, 2021
Go Army! Beat Navy!!!