Well, friends, that was a tough one. Your Army Black Knights dropped another home game in which it felt like they had every chance, but once again, they — rather dramatically — couldn't quite get out of their own way when they needed to finish strong. They rushed for an outstanding 354 yards on a whopping 5.1 yards/carry, went 9/15 on 3rd down, earned 24 first downs, and held the ball for damn-near 39 minutes, and yet, they still lost by every bit of 17 points.
That shouldn't be possible, and yet, it's not as complicated as we might wish it would be.
Final from Michie.

Army is back in action at Wake Forest next Saturday. #GoArmy pic.twitter.com/396KYwQq6O

— Army Football (@ArmyWP_Football) October 1, 2022
Run the ball; stop the run; don't turn it over. Right now, the Black Knights can do one of these things. They are running the Hell out of the football. But they've also fumbled 5 times this season and thrown 2 interceptions, giving them a turnover margin of -3 on the year. Two promising drives snuffed themselves in the first half because of fumbles. On top of that, the Black Knights have also given up at least 200 yards rushing in every FBS contest this season on at least 4.9 yards/carry. 
Alas, the Black Knights gave up a whopping 299 yards rushing on 6.5 yards/carry yesterday. They gave up so much rushing yardage that, really, it felt like Georgia State had made a tactical error on every play in which did anything besides hand the ball off and/or Quarterback Bootleg to the wide side of the field. Panthers QB Darren Grainger went 8/12 passing (75%) for 157 yards and a touchdown, and that's excellent, but it was only possible because the Panther running game had already become such an all-consuming juggernaut that it forced Army into man coverage down the field.
I started writing about Army Football back in 2015. That was the 2-10 season, and I enjoyed it because we saw a young team slowly finding its feet. They lost a TON of close games, but the team itself had heart, and they improved steadily every week. They fought despite many, many mistakes, and we saw a lot of real playmakers emerge over the course of that season.
This team makes slightly fewer mistakes on offense, and they have a LOT more offensive playmakers, but on defense, they remind me of that 2015 team.
They fight, certainly, but they also very much need to find themselves.
S Marquel Broughton has been amazing. He is the best player on this team on either side of the ball. He had 9 tackles yesterday, including 8 solo, plus he forced a miracle fumble on what looked like a disastrous break-away run, and that kept his team in the game probably five full minutes past when they arguably should have been in it. Broughton personally kept this game close, to the extent that it was close, throughout most of the contest. He was everywhere. We've also started to see cow LB Leo Lowin slowly growing into his role. Lowin again led the team in tackles yesterday, plus he put up Army's only sack and their only tackle-for-loss, and he recovered the fumble that Broughton forced to give Army their last shot at victory.
Marquel Broughton with the heads up play to strip Georgia State and we're in business!!!#GoArmy
pic.twitter.com/a5FO2RujYs

— Army Football (@ArmyWP_Football) October 1, 2022
However, this team is badly missing the play it got from NT Nolan Cockrill over the last two years, and at least for now, there aren't any answers. Army's play at the line of scrimmage has been an utter mess on defense, and now here we are. The situation has become both immediate and dire. Army looked visibly smaller and slower than Georgia State, and even a 20-minute time-of-possession advantage could only do so much to cover that gap. Is this the impact of Name, Image, and Likeness (NIL) plus the transfer portal, or is it just a fluke from a down recruiting year?
As is, this Army Team has absolutely zero margin for error. They can potentially win shoot-outs against better teams with an offense that has been highly potent. However, turnovers kill them because it's next to impossible to catch up on the scoreboard when you can't stop opponents from running at will. They may catch a break here or there — they caught several this week, leading to a nearly flawless 20+ minute stretch to open the second half — but it's very hard to maintain flawless long enough to get an actual victory. Army has been occasionally explosive on offense and occasionally consistent, too, but they have rarely been both simultaneously, and that lack of margin for error leaves them with no answers when things don't go perfectly for an extended period of time.
What can you do?
Tyler follows his blockers for TD No. ✌️‼️#GoArmy
pic.twitter.com/4tJP8e0AA9

— Army Football (@ArmyWP_Football) October 1, 2022
Where Do We Go From Here?
The Black Knights travel to Wake Forest next week to take on a good looking Demon Deacons team. After that, they face Colgate, Louisiana-Monroe, Air Force, and then Troy. Outside of the match-up with Colgate, all of those teams are good. All of those games promise to be at least as tough as this one was.
Ultimately, we'll remember this season as a function of how Army does against Navy and Air Force and because of the new playmakers that emerge to lead the team back to prominence in the future. We've already started to see some potential stars emerge in the Fullback Room, and we may yet see some young blood show up along the defensive line or in the linebacking corps.
These are the things we should watch for over the next several weeks.
I should note, too, that the weather yesterday turned out to be 1000% better than forecast. I ended up spending the day catching up with old friends in the lots before the game and then with my daughter down in the stands. The game itself was dreadful, then exciting as all Hell, then dreadful again, but on balance, we had a Hell of a lot of fun.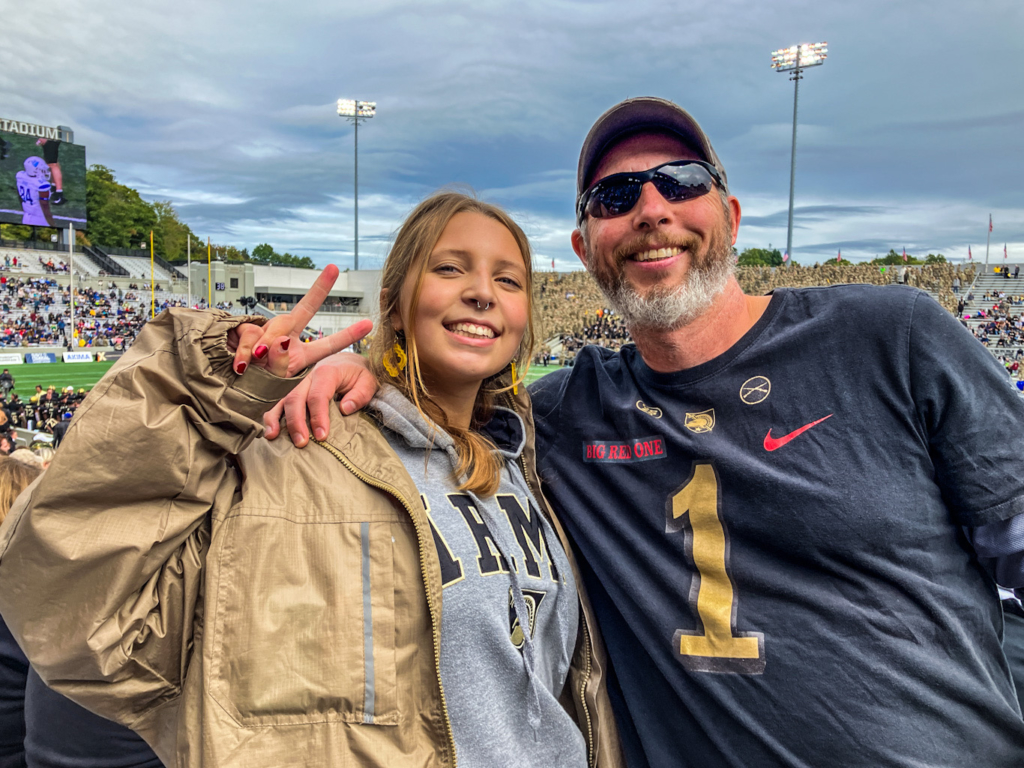 If you're a long-time Army fan you will know what I'm talking about. Sometimes you just have to make the most of the experience on its own merits and enjoy being back at the Academy because that's where home is.
Go Army! Beat Wake Forest!!!