Friends, Army Football beat a very good team from the University of Connecticut on Senior Day yesterday, and it was damned satisfying. This UConn team had won 5 of their last 6, including last week against previously #19 Liberty. Among the AFF Crew, we all thought that the Black Knights might win, and certainly we all thought that they could win, but none of us saw them doubling the Huskies on the scoreboard.
Honestly, it was awesome.
We've got to give a ton of credit to this coaching staff. This is not the best Army Football Team of the Monken Era. They are visibly smaller than past teams at the line of scrimmage when matched against bigger Group of 5 teams, they don't run between the tackles particularly well, and they struggle to stop the run on defense. And yet, this staff has somehow found a way to take advantage of this team's strengths, and now they've finally gotten over the hump and beaten a team with a winning record. After a season of highs and lows, that was damned good to see.
Friends, they're using team speed to generate big plays. This is not an unusual approach for the vast majority of college football, but it hasn't exactly been Army's thing. Not really. We usually think of Army as running the ultimate "Three Yards and a Cloud of Dust"-style offense, but that is distinctly not what we've seen this year. Not at all. Credit the staff for realizing what they have, realizing that they're getting more out of their off-tackle and outside running game than they're getting via the Fullback Dive, and designing game plans that take advantage of the team's actual strengths. They're getting the ball outside, taking advantage of their team speed and the talent they have at offensive tackle, and they're making it work.
This is not just because some of the misdirection plays are working. This staff is actively putting their best players in positions to make plays.
Set the tone early. #GoArmy pic.twitter.com/0NiY0eO48y

— Army Football (@ArmyWP_Football) November 19, 2022
It's the same story on defense. The Black Knights aren't getting the kind of lockdown run defense that they've gotten in past seasons, but they play a disciplined bend-but-don't-break scheme anchored by a talented, ball-hawking secondary, and they play terrific red zone defense when they don't have to worry about getting beaten over the top.
Yeah, that has really been working.
This week, the Army defense gave up 254 yards rushing on a whopping 6.9 yards/carry, but they also made *2* 1st-and-goal stands from their own 1-yard-line, giving up a grand total of 3 points from those 7 collective snaps. Wow!
BIG plays. On special teams we got a punt blocked for a touchdown to open the game and a shanked UConn punt later in the game with the Husky punter obviously feeling the pressure in a pressure situation. In addition to the goal line stands, this defense picked off two passes to seal the win, rang up a sack, and made 6 crucial tackles-for-loss. UConn seemed to drive relentlessly at times during this game, but the Huskies finished just 5/11 on 3rd down and 0/1 on 4th down with the 4th down stop coming on goal-to-go. That's as good as a turnover. On offense, SB Braheam Murphy took 7 carries for 124 yards and a touchdown, with 75 of those yards coming on a single misdirection end-around that went all the way for a touchdown.
#8 TO THE HOUSE ? #GoArmy pic.twitter.com/5ZLJAjZbE6

— Army Football (@ArmyWP_Football) November 19, 2022
UConn won their fair share of snaps in this one, but when Army won plays, they won them big-time, and that was the difference. We've actually seen this a lot this season, starting from the second half of the ULM game, but this time the Black Knights actually finished drives for touchdowns.
This time Army won the freaking game.
Group effort on fourth down STOP. #GoArmy pic.twitter.com/LfRBAs6cpQ

— Army Football (@ArmyWP_Football) November 19, 2022
Running Tempo
I wish Army would run tempo more when they're on offense. The Black Knights got the ball after a UConn touchdown with 2:54 left before halftime, starting from their own 25-yard-line. Not the ideal Army Football situation. QB Jemel Jones came in, ostensibly so he could throw the ball, and he did throw once, drawing a critical pass interference penalty. Mostly, though, he ran the regular offense uptempo.
UConn could neither substitute players on defense nor get set to stop Army's rushing attack. They looked visibly confused at times, and they definitely looked tired by the end of the drive. Murphy took a pitch 34 yards, but most of this drive came off of Jones Keepers or Fullback Runs from FB Tyson Riley. Jones finished with 4 carries for 11 yards on this drive, including two short-yardage carries down near the goal line. Riley took 13 carries 39 yards on the day. He had nearly half of that — 3 carries for 14 yards — on just this one drive.
That was the best any of the fullbacks looked all day. All three fullbacks combined for 18 carries for 59 yards (3.3 yards/carry).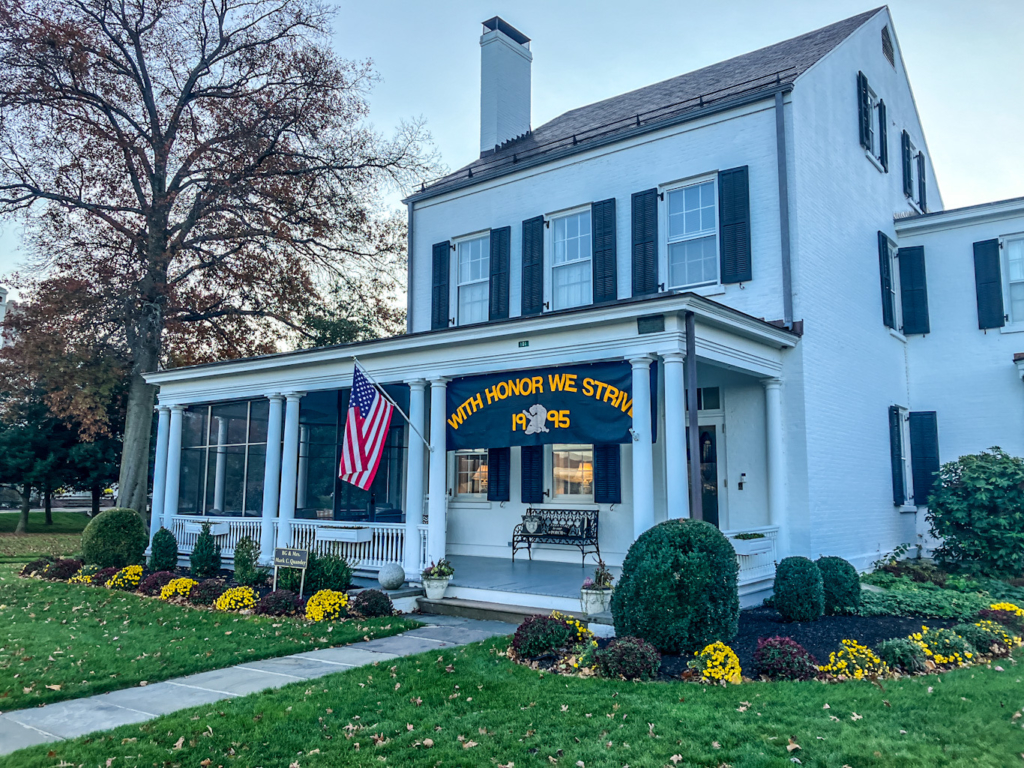 Beat UMass! BEAT NAVY!!!
The Black Knights have two games left this season. They're at UMass on Rivalry Weekend, and then we've got the Army-Navy Game. Nothing is guaranteed, of course, but Army ought to beat UMass handily. The Minutemen have not been remotely good this season.
The Army-Navy Game, however, promises to be a real battle.
It's good that this team will have played two cold weather games prior to Army-Navy. It's gonna be chilly out there, and those conditions can be tough to replicate. I guess we'll see how it goes.
For now, at least, this Army Team appears headed in the right direction. They've had to fight hard to get here, but for now, they just need to keep on keeping on, keep pressing their advantages and minimizing their weaknesses. If they can do that, they've got every chance of finishing this season on a winning note.
Thankful to celebrate with the Class of 2023 pregame today ???#GoArmy pic.twitter.com/JLNHOBdAu8

— Army Football (@ArmyWP_Football) November 19, 2022
Go Army! Beat UMass!!!