The Black Knights beat a very good team from UConn this past weekend with a blocked punt, an excellent performance from their outside running game, and strong red zone defense. It's Thanksgiving Week and Rivalry Weekend, and that means that the Army-Navy Game looms large on the horizon. However, we've still got one more contest before we can truly focus on beating Navy.
This week, the Black Knights travel to Amherst, Massachusetts, to take on the UMass Minutemen. UMass has played better over the back half of the season, but this is nonetheless a game that Army should win handily.
Returning to the road Saturday. #GoArmy pic.twitter.com/gGonL63lcs

— Army Football (@ArmyWP_Football) November 21, 2022
Army Black Knights
The Army Black Knights bounced back last week and got a strong full-team performance to beat a young but very talented team from University of Connecticut. Army rushed for 320 yards on 5.5 yards/carry, keeping them in 2nd place nationally in rushing by total rushing yardage (301.9 yards/game) and 8th overall in terms of rushing explosiveness (5.6 yards/carry). That is excellent.
This team is not throwing the ball as well as they were earlier in the year, but they have remained an explosive offense. They are getting excellent push from their offensive tackles, which makes simple Quarterback Zone runs a big-play threat on every carry. Add in enhanced use of designed Pitch plays and true Option reads alongside a tendency to bounce the fullback outside from an unbalanced set, and this Army rushing attack has become truly dynamic, if not in the ways that we'd previously become accustomed to seeing. Especially during the Bradshaw years, Fullback Dives and Midline Options served as Army's baseline offensive staples. This year, because of their personnel and the way that teams are defending the Black Knights, Army is running off-tackle — or just right behind their tackles — much, much more often. We saw them use that Quarterback Zone run with the fullback coming down as a lead blocker multiple times in short yardage situations this past week, and that was more successful in those situations than the straight Fullback Dive has been this season.
That's fine. It is, however, not the norm for this team.
The Army defense gave up 254 yards rushing this past weekend on 6.9 yards/carry, but they allowed just 116 yards passing, and they rang up a sack, 2 interceptions, and 6 tackles for loss. This isn't necessarily a lockdown defense, but they don't get beat over the top, either, and they are very good in the red zone. In fact, the Black Knights have the nation's 40th ranked red zone defense. They've allowed just 24 touchdowns on 40 opponents trips into scoring territory, and they've turned opponents over 8 times down there this season, either on downs or by forcing an actual turnover.
Late in games, this tends to translate to big defensive plays. Indeed, UConn drove the ball early on offense, but they couldn't score touchdowns despite getting 1st-and-goal twice from the Army 1-yard-line. Later in the game, when UConn needed to throw the ball to come from behind, the Husky offense couldn't even stay on the field.
Army special teams finally got a punt block this season, leading to Army's first score. However, the kicking game has once again become an adventure. The Black Knights' punting has been erratic, and they missed another extra point this week. The kicker hit a low, line-drive kick, and it was blocked. This is an area that the team very much needs to tighten up before Army-Navy.
The defense stepped up with great plays in big moments!

The Black Knights held the Huskies to 7 points in the second half, including two 4th quarter INTs ?#GoArmy pic.twitter.com/XUcoyDvgL4

— Army Football (@ArmyWP_Football) November 21, 2022
UMass Minutemen
The Minutemen fired former Head Coach Walt Bell at the end of the 2021 season and brought back Don Brown, the head coach from the program's winningest period, 2004 to 2008. Brown is a defensive-minded coach, and he has the Minutemen playing better defense, but that's about it. The team has gone 1-10 so far this season, with their sole win coming over FCS Stoneybrook. Worse, they've now lost 8 games in a row. Despite the defense's progress, their power running game has regressed since last year, and their passing offense has been erratic at best. To this point in the season, they are scoring just 13 points/game and allowing almost 30.
Sophomore QB Brady Olsen has gone 64/129 passing this season (49.6%) for just 646 yards and 2 touchdowns against 6 interceptions and 7 sacks. He also has 30 carries for 41 yards (1.4 yards/carry). It's a shame because UMass has some good running backs, including RB Ellis Merriweather, but they are averaging just under 3.5 yards/carry and have all of 9 rushing touchdowns on the year and just 13 offensive touchdowns overall. Their passing attack isn't accurate enough to threaten anyone, and without it, the team has been wholly unable to get their read-option running game going.
As noted, this team's strength is mostly on defense. They are the nation's 9th ranked 3rd down defense, allowing conversions on just 28.9% of attempts. Of course, this defense has only seen 125 total 3rd down attempts because a lot of the time teams are putting up big plays on them. They are particularly bad against the run, allowing 182.6 yards/game on a whopping 4.9 yards/carry. That might work if, like Army, they were stopping teams in the red zone. However, the Minutemen are just 92nd in red zone defense, having allowed 26 touchdowns and 8 field goals on just 39 opponent trips. This team has put up 19 sacks, 9 interceptions, and 11 forced fumbles (9 recovered), but if you can get into the red zone on them, you're almost guaranteed to come away with at least some points — and probably with a touchdown.
Like Army, UMass is also having an adventure in the kicking game. UMass K Cameron Carson has missed 5/18 field goals this year with some misses from every possible range.
Honoring our Military, First Responders & Seniors

? Army
? Nov. 26
? Amherst, Mass.
? McGuirk Alumni Stadium
⏰ Noon
? ESPN+
? https://t.co/EnkOv1wkoe
? https://t.co/Az5ekpe0ke
?? https://t.co/uFYgVIDHiO
? https://t.co/Iv1axRYPlr
? https://t.co/ZEOh6vb3Al#Flagship?

— UMass Football (@UMassFootball) November 21, 2022
Keys to the Game
Stay Focused and Win
Up against a bad opponent on the road with a larger game looming on the horizon. Friends, that is the definition of a trap game. The Black Knights need to stay focused, do their thing, and win.
Work the Inside Running Game
It's great that Army has been able to make their outside running game work, and that they've found ways to get their fullbacks running besides just off of straight Fullback Dive. They still need to get that inside running working and get the Fullback Dive back on track.
Especially last week, the Black Knights kept running the Dive mostly to keep the defense honest. This week, they need to actually get some yards.
Force Mistakes on Defense
UMass QB Brady Olsen is prone to mistakes. Army needs to get in his face and force the issue.
Show Up in the Stands
Friends, we need to make this an Army home game. These guys are 1-10, and it's Thanksgiving Weekend. NO ONE from UMass is going to be at this contest.
My daughter surprised me last night by declaring her desire to attend this game in person. We'll be there. I got tickets on the 50-yard-line for less than $25/each. In fact, decent seats are available for as little as $13.
Come out and support the Army Team!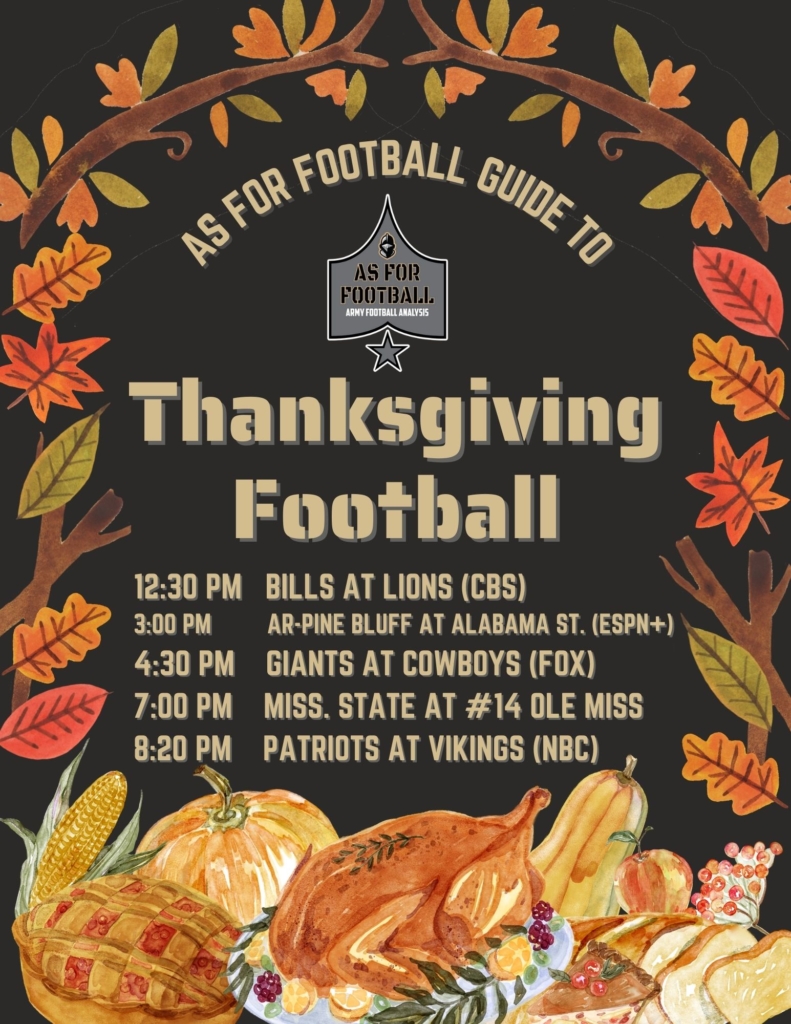 Final Thoughts
This game comes after Thanksgiving, it's going to be chilly out there, and as noted, UMass is 1-10. Sure, they'll come out of the tunnel fired up, but how badly do they really want to be there? After the season that they've had, some of these kids surely just want this to be over.
Not consciously, maybe, but still. It's human nature.
If Army punches this team in the mouth early, they ought to win in a rout. If they let the Minutemen hang around, however, this game is liable to turn into an emotional slugfest.
My weather app is calling for sunny skies with temperatures in the lower-50s. A very nice day for football in New England, especially after Thanksgiving.
Kickoff goes at noon. ESPN+ has coverage. If you're not gonna be there in person, do yourself a favor and mute your TV, so you can hear Rich DeMarco and company call the game via the Varsity Network.
We made sure to send our Firsties out with a VICTORY in their last home game ???#GoArmy pic.twitter.com/ojG4lrrtNV

— Army Football (@ArmyWP_Football) November 20, 2022
Go Army! Beat UMass!!!
Cover image via USMA Flickr.