Your Army Black Knights took on the UMass Minutemen up at Amherst yesterday and won, 44-7. They gave up one early touchdown on the Minutemen's first possession and then punted on their own ensuing possession. After that, though, the Black Knights scored a whopping 44 unanswered points to win their last game ahead of Army-Navy in fine style.
Friends, this was just the game they needed.
Army rushed for 329 yards and *6* touchdowns on 56 carries (5.9 yards/carry), and they threw for another 67 yards, keyed by QB Tyhier Tyler's power running out of a two fullback set. There was nothing fancy about this at all. The Army Team just lined up heavy and then smashed the edges, getting chunk play after chunk play behind their big men. Tyler hit the hole at speed all day, churning out yards after contact and moving the chains consistently. He scored 3 times in the second quarter, and that was pretty much your ballgame, though it was hardly the end of the scoring. Still, Army's starter was done at the half because the Black Knights clearly had the game in hand.
I don't know who needs to hear this, but QB Tyhier Tyler has also been as good as anyone on the team throwing the ball this season. He is now 8/16 passing for 301 yards (50.0%) with 2 touchdowns against just the 1 interception he threw at Coastal Carolina. Tyler has also taken just 3 sacks on the year.
In this game, once the Black Knights got the Quarterback Keeper established off-tackle, they hammered their fullbacks, either back inside or out to those same edges where their quarterbacks were having so much success. This worked. Yearling FB Markel Johnson looked particularly good getting outside. He's a speedy back who put up 67 yards on just 10 carries. Heavy FB Jakobi Buchanan added 46 yards and 2 more touchdowns on 11 carries. FB Hayden Reed chipped in 2 carries for 9 yards.
All those guys looked great.
With the exception of an offensive lull in the 3rd quarter, this was exactly what we wanted to see out of the Army offense. They doubled-down on what was working and then brought the ball back inside once UMass had spread their defense out. They even ran that slotback end-around that we saw score a touchdown last week against UConn. This time, SB Maurice Bellan took it for a first down.
Army's defense struggled in the middle through UMass's first drive. They got a sack on the first play from scrimmage, and that seemed to set the tone, but then they gave up 49 yards rushing on just 5 carries to UMass RB Ellis Merriweather through the rest of that first series. This was not ideal. It must be said, though, that the Black Knights defense gave up a LOT of size to UMass's O-Line, and that the running game is the Minutemen's offensive strength. However, Army's Bad Boys made an adjustment after that first drive, and by the end of the game, they'd allowed just 90 yards rushing on 30 carries alongside a mere 145 yards passing. Moreover, this same Army defense pulled down 2 interceptions and forced 3 fumbles, recovering 2, and they made 5 tackles-for-loss.
The Black Knights went into this game -1 on the season on turnover margin (82nd). They are now sit +3 on the year. This, alongside their newfound commitment to running off-tackle, has the team poised and ready for their next game. It feels like it's taken a little while for this team to come all the way together, but here we are headed into the most important game of the year, and they look better in every facet.
Even Army's punting looked better this week. P Billy Boehlke hit 4 kicks averaging almost 40 yards/punt. The Black Knights will probably need something out of their punter in two weeks' time, and at least as of this week, Boehlke looks poised to deliver.
Last note: I loved seeing Army throw to their tight end. TE Josh Lingenfelter is a great blocker, but he also has terrific hands. He now has 3 catches for 105 yards on the season. That ain't bad.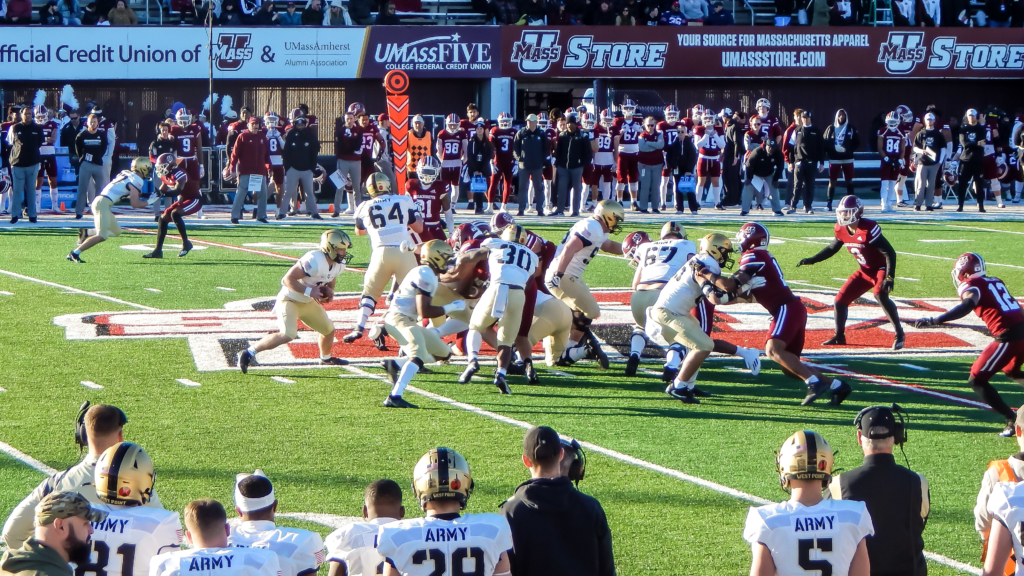 Beat Navy!
The Black Knights have a bye this week while the rest of college football heads to Championship Weekend. They then face Navy in Philadelphia on December 10th.
We'll have much, much more to say about that game over the next two weeks, but bottom line, Navy has a terrific rushing defense and a much-improved interior running game. Their guards absolutely mauled UCF's interior D-Line last week, breaking FB Daba Fofana free for 114 yards on just 20 carries. Of course, that same UCF defense gave up 298 yards rushing on every bit of 6.9 yards/carry to South Florida (1-11, 0-8 in the AAC) just yesterday, but still…
Army is going to need to get more power — more sheer blunt force trauma — out of their own running game in two weeks' time. Trickeration ain't gonna cut it. But still, they did what they had to do this week, and they looked quite good doing it. And that came against a big front that's been very good in short-yardage situations this season.
Friends, we're in for quite a showdown in Philly.
Go Army! Beat Navy!!!