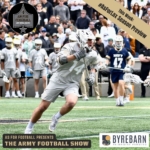 This week: Army has some new coaches, some new recruits, and two players in the Super Bowl! The guys run through all the latest Army Football news, talk a bit about Black Knights Basketball, and wonder which Old Grad will be the first to get an NFL Championship Ring.
Then we're on to our season preview of Army Lacross with guest analyst Mike Herbert ('18). Mike runs through the team's big losses headed into the season as well as who — and what — to watch when you're watching Army Lax.
Plus, is this the season when the Women's team will outshine the Men?
Let the AFF Crew get you ready for the coming Army Lacrosse season with #AsForLax.