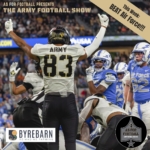 This week: If it flies, it dies!
Yes, it's that time of year again. It's BEAT Air Force Week! The Black Knights have their most important game of the season to date. We go deep on the match-up, tell you what to watch for when Army has the ball, and who the Black Knights need to stop when the Zoomies have the ball.
Let's get hyped for the Commander's Classic deep in the Heart of Texas.
Go Army! Beat Air Force!!!