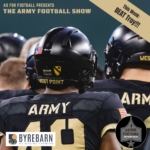 The Black Knights took a tough loss down in Dallas. Now they've got to bounce back against one of the best teams in the Sun Belt, the Troy Trojans.
This week, the crew talks through the loss to the Zoomies, ponders the coaching staff's decision to call no less than 17 Quarterback Draws in a rivalry game, and reviews their Fact or Fiction takes from the previous week.
Then we're on to Troy! This will be a tough match-up, but it favors the Black Knights in many ways.
Can the team get right? They just need to go 1-0 this week.
Go Army! Beat Troy!!!