Who likes niche fake awards for our brave old Army team?  Yes, then you're in the right place!  No, well, that's your loss.
So.  Saturday was another emotional roller coaster.  The Army team did not appear sharp despite putting 52 points on their brand new high-definition scoreboard.  Maybe the team was distracted by WPRs, Branch Week, SAMI, or any number of other USMA leadership development tools.  Or maybe the team thought Morgan State received the memo — on appropriate Department of the Army letterhead — about how you're supposed to play OPFOR.  Just put up a good enough fight to show how effective Battle Drill 1A is and then lay down.
https://www.instagram.com/p/B2ruTqDhRP6/
There's lots of frustration out there over Army's current execution and lack of discipline.  To be honest, though, this is probably the most scrutinized 50+ point victory in team history.  The Black Knights put up their first 400+ yard rushing game of the year.  They displayed excellent depth at quarterback, which is a must for triple option teams.  And they reassured us that the offensive line and fullbacks are more than capable of plowing through defenses like a mess hall cart through unsuspecting plebes.
We have plenty to work on, sure, but Army isn't exactly starting from scratch.
It's Sunday morning! Time for the Army Game Recap! #ArmyFootball #BeatTulane https://t.co/j9X7SX8m0A

— As For Football (@asforfootball) September 22, 2019
Danno perfectly captured the atmosphere and the emotions at Michie Stadium this weekend in his Game Recap article.  If you haven't read it, go check it out!
Who wants FREE Army Navy Tickets?!

?‍☠️

Enter into the Army Navy Giveaway sponsored by @EmblemAthletic for a chance to win the Ultimate Army Navy Experience!!#FridayFeeling #ArmyNavyGiveaway #ArmyFootball #BeatNavy https://t.co/4WTbXu0PFU

— As For Football (@asforfootball) August 23, 2019
Have you seen the other content we have on offer this Season? 
We're giving away Army Navy Tickets, offering premium content now for Patreon members, and running a new weekly NCAA video game series on YouTube.  We'll even give you betting advice!
Check it out:
— The Ultimate Army-Navy Experience Giveaway
— Patreon for Premium Content
— AFF's YouTube Channel
Now, let's get to the Superlatives!
Superlatives
The Hobbs-Anderson Connection – AFF Play of the Week
This play marks a bright spot in Saturday's game for a number of reasons.  First, Kelvin Hopkins isn't the only quarterback who can deliver a pass in Army's depth chart.  Second, Army's slotbacks remain totally capable receivers.  Third, Offensive Coordinator Brent Davis drew up the perfect play to capitalize on the defense's slow recognition.  Future defenses will have to take this wrinkle into account which will keep them "somewhat" honest against Army's ground attack.  And finally, it's just plain fun to watch.
The AFF Firstie Club helped decide which play deserved the highly touted title of "AFF Play of the Week."  If you want a say, become an AFF Patron and join the conversation!
AFF Play of the Game: @chris___13 connected with @twotwo_iv for this 80-yard pass and catch to the endzone. ?‍☠️ #BeatTulane #ArmyFootball

This Play decided with help from the AFF Firstie Club! Join by becoming an AFF Patron. Link in BIO. pic.twitter.com/ZZaIr3G343

— As For Football (@asforfootball) September 22, 2019
Christian Anderson – Atropian ARCOM
When QB Jabari Laws took that big-old illegal hit to the head, Army fans everywhere worriedly asked if QB Kelvin Hopkins could maybe come in and steady the offense.  He was actively protesting on the sideline.  But Christian Anderson, you stepped up.  And you assuaged a lot of anxiety over Army's depth at the QB position. You displayed your arm by delivering an 80-yard passing touchdown to SB Artice Hobbs IV.  We also saw your wheels with 75 yards rushing on just 9 carries.  Granted, Coach Davis seemed to call a more conservative game with you at the helm.  We were pleased nonetheless.
Because of your "Next man up" mentality, the Army has decided to award you an Atropian ARCOM.  Often in the war for Atropian oil, cadets take heavy casualties in the chain of command.  CDT CPL Snuffy winds up leading the platoon as your platoon leader, platoon sergeant, and squad leaders are all dragged via skedco back to the command post while artillery simulators whistle down and blanks fire endlessly in the background.
It is the definitive crucible of leadership development.
Display this fake award from a fake conflict proudly on your white over gray!  Hopefully, you don't get called on for the rest of the season, but if you do, we know we'll be in capable hands.
Head Coach Jeff Monken – Black Flag with Red Sash
Coach, based on your comments going into halftime, we can only guess what was said and at what decibel level you said it.  Certainly, the average Army fan would not want to be in that locker room.  Old grads might've had R-Day flashbacks to their encounters with the first sergeant or the Cadet-in-the-Red-Sash.  So we've coordinated with the Uniform Factory to make you a special red sash embroidered with the Army Football skulls and crossbones.
"They might all have my shoe stuck in their backside." –@CoachJeffMonken going into the locker room at halftime

— As For Football (@asforfootball) September 21, 2019
Regrettably, we can't provide more shoes to make up for the pieces now lodged a little too firmly in the players rear ends.  You'll have to work that out with Equipment Manager Nick Determan.
Low quarters aren't the best shoes for that anyway.  Here's hoping you wore shoe covers.
Regardless, we trust your ability to motivate the Brave Old Army Team and get their minds right for Tulane.  We're just glad we don't have to attend this week's practices!
Jeff Monken wasn't thrilled heading into halftime. pic.twitter.com/dVGVkc6dQ6

— CBS Sports Network (@CBSSportsNet) September 21, 2019
Artice Hobbs IV –  Spirit Dinner Surf-and-Turf 
You found the end zone twice Saturday on the ground and then through the air.  We love seeing Army's slotbacks getting touchdowns in multiple forms!  It looks like you're filling Jordan Asberry's role after a similar performance against EMU last year.
It's good knowing our backs can catch a pass as well as they catch a pitch.  It keeps opposing defenses honest.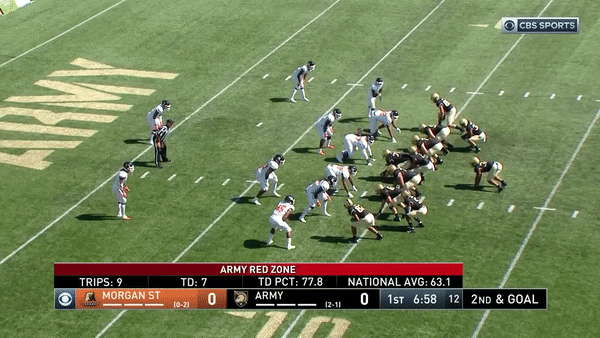 You've earned some spirit dinner surf-and-turf for this dual threat performance.  Don't get overly excited, though!  We can't ensure the quality of that lobster, and we guarantee those steaks needs A1 sauce.
You're probably better off going to Grant Hall now that I think about it.
Well, it's the thought that counts.  Keep up the good work!
The Refs – Flight Physical at Mologne Cadet Health Clinic
Morgan State came to Michie looking for blood!  It was like watching an NCAA promo video on all the different forms of targeting.  The Bears were dropping their heads faster than a printer thrown out an Ike Barracks window!
Unfortunately, you as the referees did not call most of them.  We were wondering if you were familiar with what targeting is, but I guess we'll give y'all the benefit of the doubt.  Maybe your vision is bad.
Report to Mologne Cadet Health Clinic for a full flight physical.  You'll get your blood drawn, your hearing tested, and a prostate exam.  But most importantly, you'll get your eyes dilated and checked for cataracts.  We'll await the results before casting blame.  But I wouldn't count on branching aviation if I were you.
Fullbacks – Players of the Week
Do I really need to explain why these guys get this award?  Cue the stats and the highlights.  This was just good, old fashioned smash mouth football!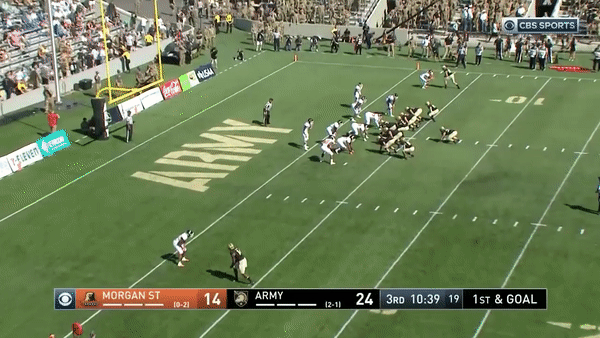 Connor Slomka – 110 yards on 18 carries, 1 TD
GET UP BIG FELLA pic.twitter.com/3RIr29n15z

— CBS Sports Network (@CBSSportsNet) September 21, 2019
Plus, we retroactively awarded you an A- in Military Movement for that big man hurdle.  Would've been an A+ if you'd stuck the landing.
Cade Barnard – 62 yards on 8 carries, 1 touchdown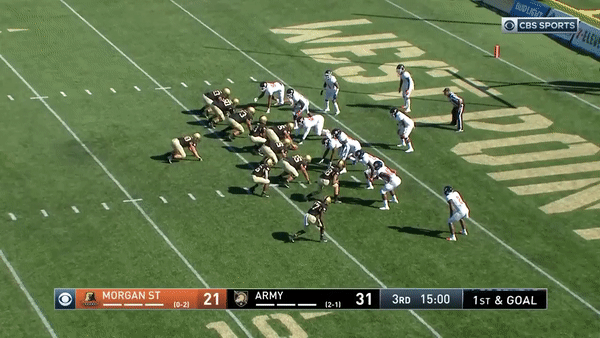 Sandon McCoy – 61 yards on 8 carries, 1 touchdown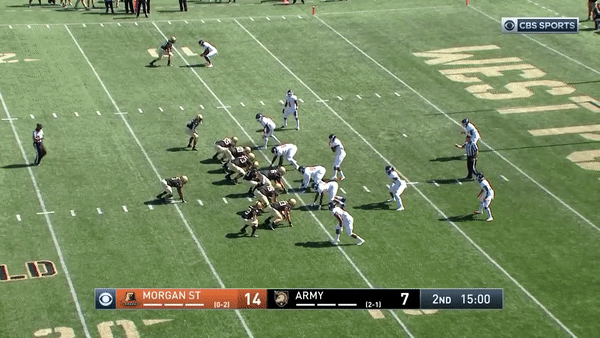 Anthony Adkins – 28 yards on 8 carries, 1 touchdown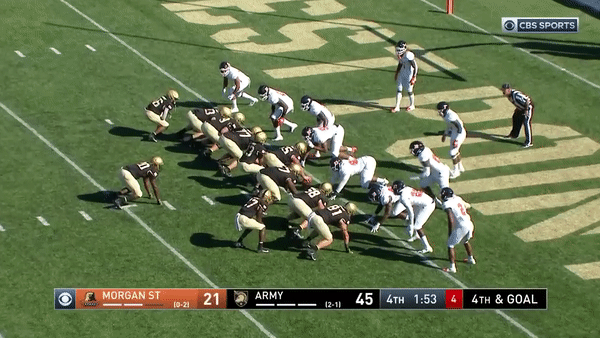 We are excited to see more from you!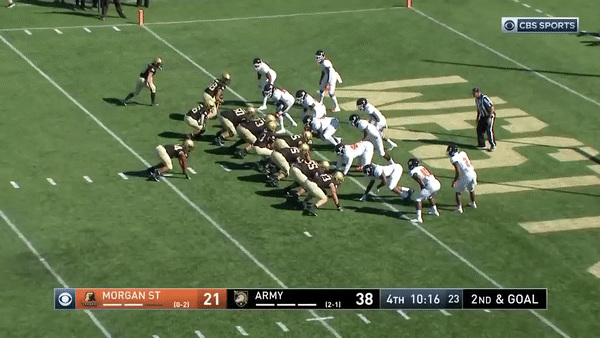 Rashaad Bolton – 5 yards on 2 carries, 1 touchdown
Team Total – 403 yards on 69 carries, 6 touchdowns
The fullbacks accounted for 2/3 of the total rushing yards while scoring 5/6 touchdowns.  Need I say more?
Morgan State O-Line – Goats of the Week
Gentlemen, apparently you didn't take note of the UTSA O-Line last week.  You wanted to top their number of false starts with 7 miscues!  We appreciate the help, but it didn't do your offense any favors.  This earns you the title Goats of the Week.
https://www.instagram.com/p/B2rBt3nheRR/
We're proud of Michie Stadium as a college football venue, but it's rarely so loud as to disrupt your snap count.  Maybe you were just so intimidated by our blitzing defense.  More than likely, you guys just lack discipline.
To help with that, we're giving you a classic USMA experience — SAMI.
Enjoy scrubbing and cleaning every horizontal surface of your dorm rooms in preparation for the parade of white gloves that will gig you on technicalities.  Trust me, it'll help.
***
O-Club
No surprise here.  CB Elijah Riley gets into the O-club with his interception and forced fumble.  Keep hunting for that ball!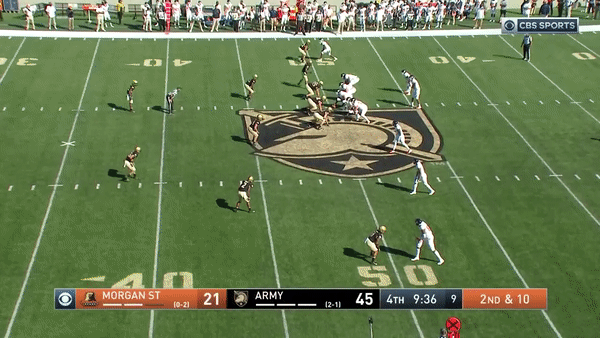 DB Ryan Velez gets in for his exciting interception and return!  You got robbed, though.  That should've been a pick-six!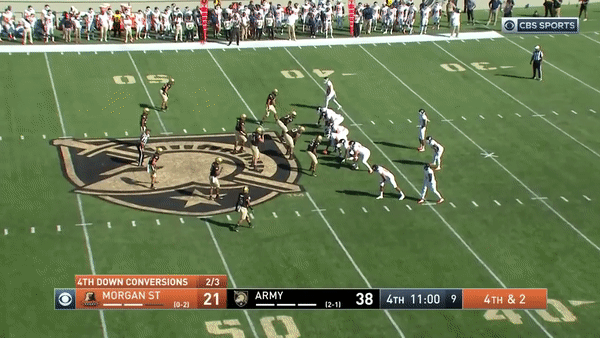 Lastly, the whole O Line gets in for supporting the fullback corps and getting a 400+ rushing yard game in the books.  Y'all are heating up and dominating the point of attack!
That's all for this week.
We'll provide more reaction and analysis from the game next week as well as a Tulane preview on the Army Football Show (via Stitcher, Spotify, or iTunes) next Thursday.  The Night Before the Night Before!
Beat Tulane!
Rest.