A few random thoughts to get you through your Bye Week.
WHO NEEDS ARMY NAVY TICKETS?!? LINK ⬇️⬇️⬇️https://t.co/4WTbXu0PFU

Tag someone who needs Tickets ?‍☠️#ArmyNavyGame #SinkNavy #Giveaway #ArmyFootball

? EJ Hersom pic.twitter.com/zPkMg2l0GI

— As For Football (@asforfootball) September 24, 2019
1. Rat Poison!
Oklahoma QB Jalen Hurts called a post from his own school's Instagram account "rat poison" when it referenced the Sooners' 3-0 start heading into their bye week.  Hurts inspired a slew of Alabama-based jokes, but the truth is that it's damned hard to maintain the kind of burning passion that creates greatness when the people around you can't stop telling you how great you are.  
The desire to stand on the bodies of one's broken opponents, to prove to the doubters that they weren't just wrong, they were stupid, to face all comers and scream, "Come and get some!"
That kind of drive doesn't come from a place of sweetness and light.
Jalen Hurts tells @AschoffESPN he isn't listening to that "rat poison" talk of Oklahoma being 3-0. pic.twitter.com/hWhG0GY8Xl

— ESPN College Football (@ESPNCFB) September 15, 2019
There is no amount of outside discipline that can create the drive to greatness.  There's no amount of gassers or suicide sprints that will ignite passion from complacency.  In the end, greatness is self-determined. It's tough because the better you get, the more folks want to chip away at your focus.  Being great is as much about dealing with success and driving on as it is about achieving on the field.
Folks mean well enough.  Americans love sport, and they want to be a part of big moments.  They don't just want to watch, they want to participate. They want to relive the triumphs.  This is part of what makes sustained success so difficult.
Army Football is dealing with sustained success for the first time since the 1980s, and it's natural that there will be some growing pains.  How they deal with those growing pains will determine whether or not they achieve actual greatness or just glimpse its potential away in the distance.
https://www.instagram.com/p/B2Pnmj_FKd1/?utm_source=ig_web_copy_link
2. Exploiting Mismatches
A basic tenet of tactical thinking says that we want to match our strengths against our opponent's weaknesses.  We see this in football all the time. Coaches scheme to get their biggest tight end matched up on an opponent's smallest cornerback or to get their fastest running back matched up in space on an opponent's heaviest linebacker.  Those one-on-one mismatches create opportunities for big plays.
The issue for Army Football is that they have very few pure athletic mismatches, even against an FCS doormat like Morgan State.  Sure, the Black Knights have some good players, but they don't have very many who can consistently dominate their individual competition, who can create the kind of big-play explosiveness that has become commonplace in the Big XII and the upper tier of the SEC.
Instead, Army has soldiers.  As it turns out, soldiers make for smart, disciplined players who can be counted on to be in the right place doing the right things correctly, even in complicated situations.  
That is this team's strength.  Amazing consistency of execution is the one mismatch that this Army team can bring to bear on almost anyone.
That's why it's so maddening to watch this team make mistakes.  Because we all understand that they're not, for the most part, going to out-run or out-hit their opponents.  They either execute with precision to grind against an opponent's will and eventually break their spirit, or they struggle.
So far, it feels like we've seen a lot of struggle.
https://www.instagram.com/p/B2uLQFgnN_i/?utm_source=ig_web_copy_link
3. New York's Team?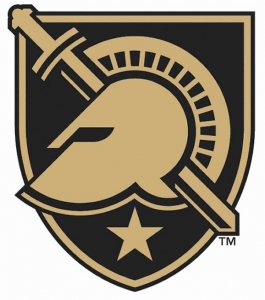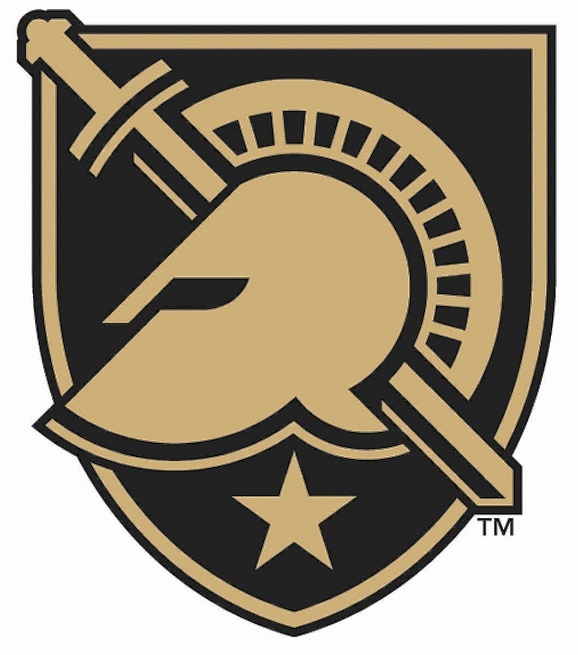 Army Football ran a slogan a few years ago that said, "Closer than you think."  Because Michie Stadium is an easy drive or train ride up from New York City. I hated that slogan because it didn't seem like the Academy was celebrating its strengths in trying to draw new fans to the game day experience, but at least they were trying.
I haven't seen any ads on the train this year at all, and despite three years of sustained success, it still doesn't seem like folks in New York are talking more about their local college team than they were back in the bad old days.
It's disheartening, honestly.  There's a lot going on in the City, of course, but it's not like folks are unaware of college football.  Somehow, though, it seems like we're still just reaching out to Boy Scout troops and alumni while leaving the great, uninformed mass of potential fans to maybe find us if they look hard enough.
I honestly don't know what to do.  As For Football has a reasonably strong social media presence, and I talk about it and Army Football endlessly in my daily life.  I've taken maybe two dozen people to their first Army Football games. But it's damned hard to reach out to folks who just aren't looking, even if they would be interested if given half the chance.  Meanwhile, I've personally been to two games this season, and even with class reunions and whatnot, the stadium has been at most two-thirds full.  Some of that is down to the match-ups, maybe, but there's also an element of outreach.
Americans love a winner, and Army's been winning.  They're located just north of an urban area with twenty-five million potential local fans.  That's enough to keep two separate pro football teams easily in the black, even when they're terrible.
I mean, there's got to be an opportunity here, right?
 4. Favorite Plays
Here are a couple of my favorite plays this season.  We'll start with the team captain doing what team captains do.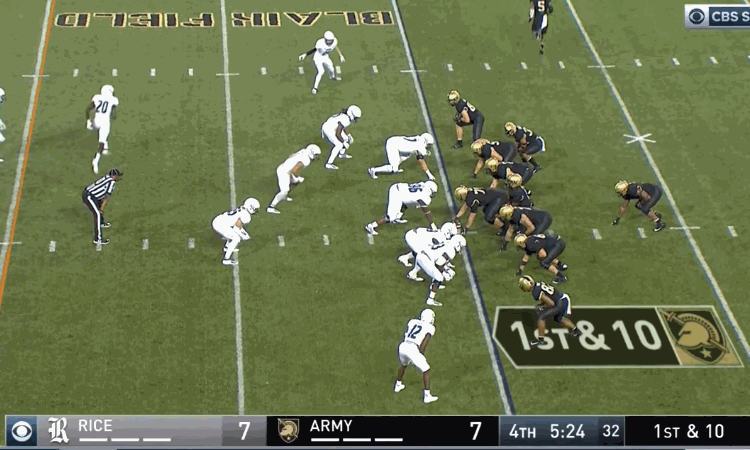 It's worth noting, too, that SB Artice Hobbs is having a good season so far.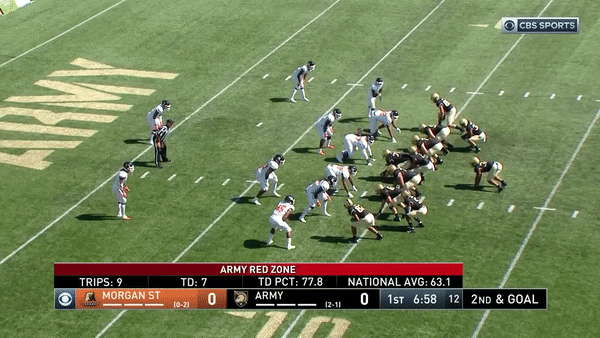 AFF Play of the Game: @chris___13 connected with @twotwo_iv for this 80-yard pass and catch to the endzone. ?‍☠️ #BeatTulane #ArmyFootball

This Play decided with help from the AFF Firstie Club! Join by becoming an AFF Patron. Link in BIO. pic.twitter.com/ZZaIr3G343

— As For Football (@asforfootball) September 22, 2019
Finally, where would we be without team captain CB Elijah Riley?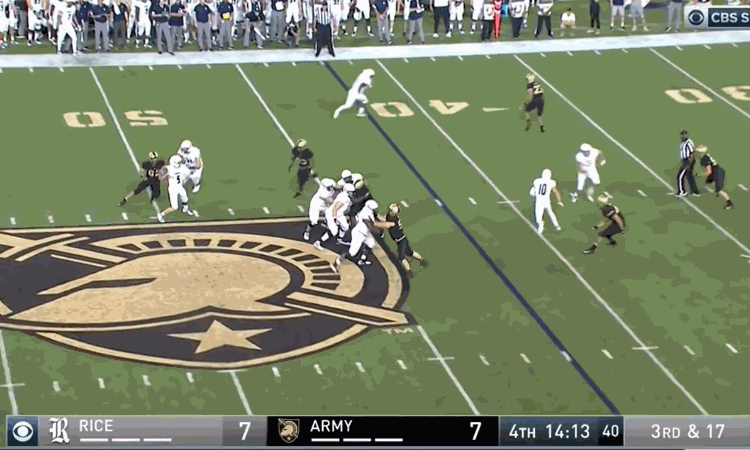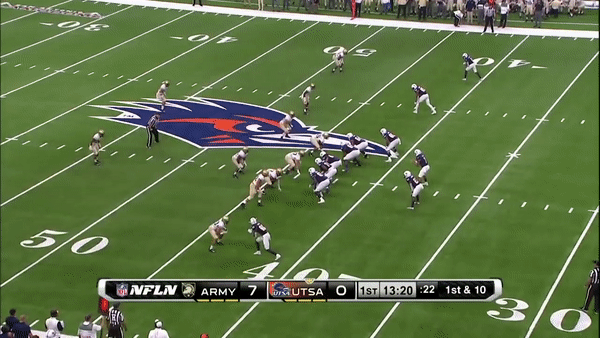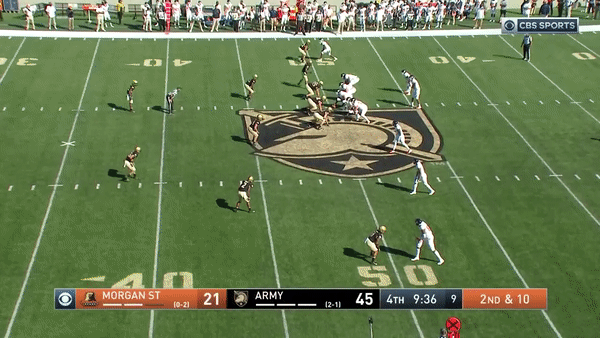 5. No More Style Points
Army Football doesn't always play its best as a heavy favorite.  We're mad about it this year, but it's not anything new. The team plays a style that's apt to keep games close, all other factors aside.  A couple of mistakes can have an outsized impact when you're relying on three yards and a cloud of dust to score all your points. Alas, this has left us grading the team on style points in their last few games.
The good news, then, is that the time for style points is over.
I honestly don't know if Army can beat Tulane.  The Green Wave looked legitimately great in their opener, reasonably good in their loss to an outstanding team from Auburn, great again in their FCS win, and more-than-just-good in their come-from-behind defeat of Houston.  Tulane comes into this contest feeling supremely confident. They are not going to beat themselves, and that's a lot more than we can say for Army's earlier opponents, Michigan included. To win, the Black Knights will have to play disciplined, hard-hitting football against a team that is itself very disciplined and hard-hitting.  What's more, Tulane matches up very well with Army. Their strength is their D-Line. Army sometimes struggles with that. Nothing stops the Black Knights' offense faster than an inability to get movement at the point-of-attack.
But friends, at least style points don't count.  Not anymore.  
Even if Army wins by just one point in the ugliest game imaginable, we can still party like it's 1999.
Go Army!  Beat Tulane!!!