QB Kelvin Hopkins Jr., captain of the Army Football team, came off the bench yesterday, reclaimed his place at the head of the Black Knights' offense, and led his team to a dominant victory over the Keydets of the Virginia Military Institute (VMI).  As with last week, it took Hopkins a series to warm up. Once he'd taken a few hits, however, Army fans were treated to a vintage performance from their team's captain. He finished with more than 200 yards rushing and a touchdown and threw for nearly 50 as Army rolled off 40 unanswered points in the victory.  All told, the Black Knights ran for almost 600 yards total, earning what can only be called a triumphant win.
Slow Start
Though the game closed with almost three full quarters of uninterrupted ass-kicking, things got off to a rough start.  VMI opened with an onside kick, which they recovered. They then drove 22 yards in 8 plays to take the lead, 3-0. Army responded with a quick touchdown drive led by yearling QB Jabari Laws, and then Army's defense forced a punt.  Alas, Army's second drive saw Laws go down with a gruesome-looking knee injury just as the first quarter was ending.
Hopkins came off the bench but seemed to be missing his trademark swagger.  He took his first carry for 4 yards, but a Rocket Sweep to SB Kell Walker lost a yard, and after a short gain by SB Malik Hancock, Hopkins's first pass of the day fell incomplete.  The ensuing field goal missed low, setting the Keydets up to steal a possession despite Army's having driven 84 yards in 13 plays.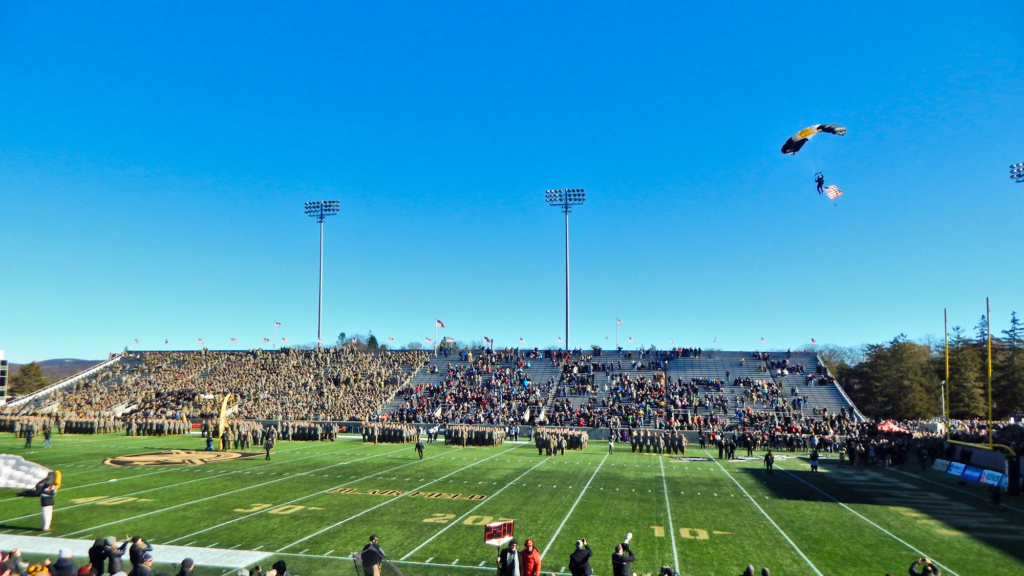 VMI put up a 16 play, 60-yard drive to make the game 7-6 in the middle of the second quarter.  For just a minute, it looked like we might have a legitimate contest on our hands. Army's defense seemed to struggle with VMI's uptempo offense and short passing game, and Army's offense hadn't yet found the rhythm that saw them lay 60+ on UMass just the week prior.  Fans in the stands might have wondered if the Black Knights would miss Laws' pure speed as the game's difference-maker. 
That was when the real Kelvin Hopkins hit the field for the first time all season.
VMI didn't know it yet, but they were about to get run the Hell over.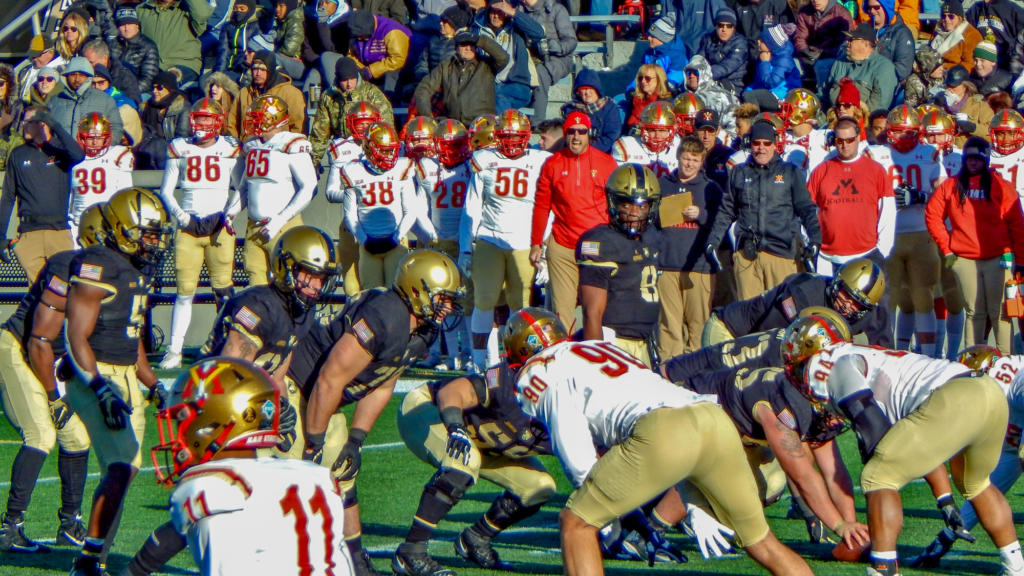 Hopkins Comes Alive
Hopkins ran for 5, then 2, then 7, and after another incomplete pass, KHop broke into open space, powering ahead and then outrunning defenders for a massive 42-yard gain.  That put Army on the VMI 8. When Hopkins got back up, he was a different man. His swagger and sheer self-confidence were visible from across the stadium. FB Connor Slomka ran twice for 8 yards and a touchdown, and it was like lightning struck.  The smell of ozone mixed with brimstone and the cordite from the cannons on Lusk Reservoir, and the whole Army team seemed to catch the mood.
Things were about to change.  
VMI RB Alex Ramsey hit the Black Knights with a couple of long runs, and then QB Reese Udinski hit WR Jakon Herres for a 9-yard gain, but that was about the last positive play for the Keydets on the day.  DL Kwabena Bonsu sacked Udinski for a 9-yard loss, and despite laying the ensuing punt on the Army 10-yard line with just 90 seconds to go until halftime, Hopkins led his team on 7-play, 70-yard drive that got all the way down to the VMI 19-yard line.  
Hopkins' last pass of the half got intercepted as he was hit rolling out of the pocket, but the damage was done.  Army's firstie quarterback was in-rhythm and feeling it. When the second half started, he laid waste to VMI's defense, destroying them in detail, first with a 59-yard pitch play to Walker and then with a 63-yard keeper that went all the way for a touchdown.  Army's defense hit Udinski for 3 sacks and VMI receivers for 5 tackles-for-loss, and soon the Black Knights had a three-score lead. The Keydets started trying and failing to convert a series of repeated, increasingly hopeless fourth downs, and the rout was on.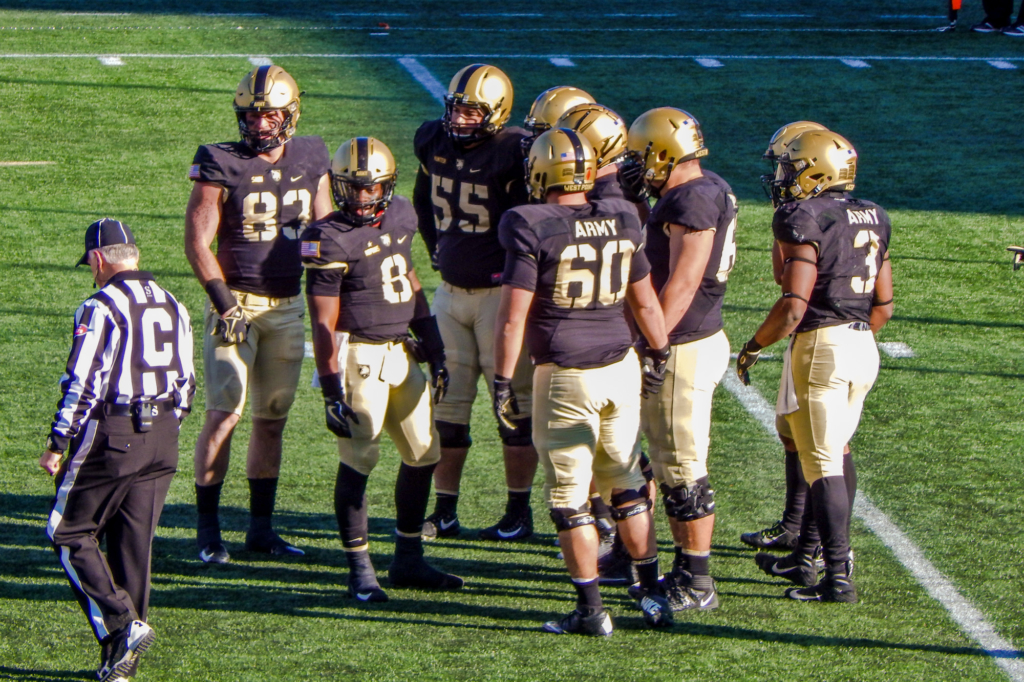 Hopkins finished with 16 carries for 208 yards (13.0 yards/carry) and a touchdown.  He got visibly stronger and more confident as the game continued, and his team fed off of his energy.  Fellow firstie Connor Slomka finished with 11 carries for 64 yards (5.8 yards/carry) and 3 touchdowns, and it was no accident that the Army defense started playing better once their offensive captain got his groove back.  Hopkins was electric. The whole stadium felt it. On the day, the Army team rushed for 594 yards and 7 touchdowns on just 65 carries.  
That's 9.1 yards/carry!
Hopkins runs for 208 yards and Slomka scores 3 TDs on Senior Day to lead the Black Knights to victory!#GoArmy pic.twitter.com/3ixzsR3vvF

— Army Football (@ArmyWP_Football) November 16, 2019
5️⃣9️⃣4️⃣ rushing yards.

7️⃣ TDs

?#GoArmy pic.twitter.com/e5tSWea5Pu

— Army Football (@ArmyWP_Football) November 16, 2019
Closing Thoughts
There's stuff to nitpick here, of course.  The interception as Hopkins was rolling to the weak side.  It looked like he got hit as he was trying to throw the ball away, and it fluttered on him.  Special teams also missed two extra points, one on a botched snap and one that was just not on target.  They also kicked a bunch of high, short kickoffs. Plus, VMI's Udiniski went 22/34 (64.7%) for 218 yards, mostly because Army struggled to get pressure early.  The bigger story, though, is that when the Black Knights needed their leaders to make plays and lead, those guys — and especially their captain — came through and made the difference.  
It's not easy coming back from injury as an athlete, and even once your body is back, it's tough to trust yourself to perform in high-pressure situations.  That's true even when everything is physically okay. Army was always going to need Hopkins for crunchtime this season, and now, with his swagger back coming off arguably the best game of his collegiate career, they finally have him.
Closing out 2019 home slate in style!

But there is still more football to play and a lot to play for! #GoArmy pic.twitter.com/9PvU9Gx82e

— Army Football (@ArmyWP_Football) November 17, 2019
Honestly, I can't wait to see what's next.
Go Army!  Beat Hawaii!!!