As For Football has been on break most of this offseason because, what with COVID-19 and all, there just hasn't been much in the way of football news. We lost Spring Football, and the Class of 2020 lost most of their second semester, and all of that has left us with little more than the wildest possible speculation about how the coming season will look. 
Regular readers will know, of course, that we've never shied from wild, even irresponsible speculation. However, the past few months have taken this to a whole 'nother level. At this point, we have literally no idea what the rest of 2020 will bring, to the point that I'm not sure I'd put money on fans being allowed into Michie Stadium for home games this fall. I personally serve as an essential worker in Manhattan, so I can tell you first hand that it's looked like an actual ghost town for much of the past few months.
At the same time, college football is that rare institution in American public life that unites almost all of us in — albeit occasional — pure joy. AFF doesn't have anything to add to this particular moment beyond echoing what Army Head Coach Jeff Monken has already said, save that we're proud that he's our coach. The Army Football Brotherhood certainly made the right choice when they brought him onboard.
— Jeff Monken (@CoachJeffMonken) June 3, 2020
Army Black Knights
Alas, the Black Knights are one of the toughest teams to predict in all of college football. Rising cow QB Jabari Laws showed flashes of brilliance in 2019, but he also struggled to stay on the field and ultimately left with a season-ending leg injury. This makes the backup quarterback a potentially important player for Army, but it's unclear just who that will be. Rising yearling Jemel Jones went 3/4 passing for 43 yards in the team's crazy, last-ditch effort at Hawaii late last year, but rising cow Tyhier Tyler should rejoin the team next year as well, and he could very easily push for playing time. We'd probably have more names to discuss if we'd gotten a full offseason of Spring Football.
Following Navy QB Malcolm Perry's 2019 success, smaller, faster quarterbacks might find more opportunities in the Black Knights' triple-option offense in 2020, but Coach Monken and Offensive Coordinator Brent Davis still like to punish people first and foremost. That's a little easier to do with a bigger-bodied guy under center. The Black Knights would probably like to throw a little more efficiently than they did in 2019, but for better or worse, their core offense is not going away from the Inside Veer and the Midline Option.
The good news is that the rest of Army's offense should be in at least decent shape. Talented FB Sandon McCoy returns along with rising yearlings Jakobi Buchanan and Anthony Adkins. Any one of those guys could easily have the kind of pivotal breakout year that sparks Army's offense. If all three perform in line with expectations, Army's inside rushing attack could easily return to its peak-2018 form. Plus, rising firsties SB Artice Hobbs IV and WR Cam Harrison also return. Hobbs has good hands out of the backfield and breakaway speed off the pitch while Harrison provides the team a legit over-the-top threat that it's missed at times since losing WR Edgar Poe following the 2016 season. Granted, the success of Army's offense rests largely on the success of its offensive line, a unit that has to fill some significant holes. New O-Line Coach Saga Tuitele therefore has his work cut out for him, a prospect complicated by COVID-19 and the loss of Spring Football.
Army's real questions, though, start on defense. The team has a new Defensive Coordinator in Nate Woody, formerly of App State, Georgia Tech, and Michigan. Woody's got a tough task. His unit struggled at times to get off the field in 2019, and then they lost a bunch of good players to graduation. The good news is that notable 2019 starters DL Kwabena Bonsu, LB Arik Smith, and CB Javhari Bourdeau all return, and a bunch of Army underclassmen saw time last season, especially late in the year, but Woody still has some work to do. This seasons' Black Knights have lost their leading tackler in LB Cole Christiansen and their best defensive back in CB Elijah Riley. For this team to get where it wants to be, this defense is going to have to find some honest-to-God playmakers somewhere in its underclasses.
Not enough uncertainty for you?  Okay, check out this schedule: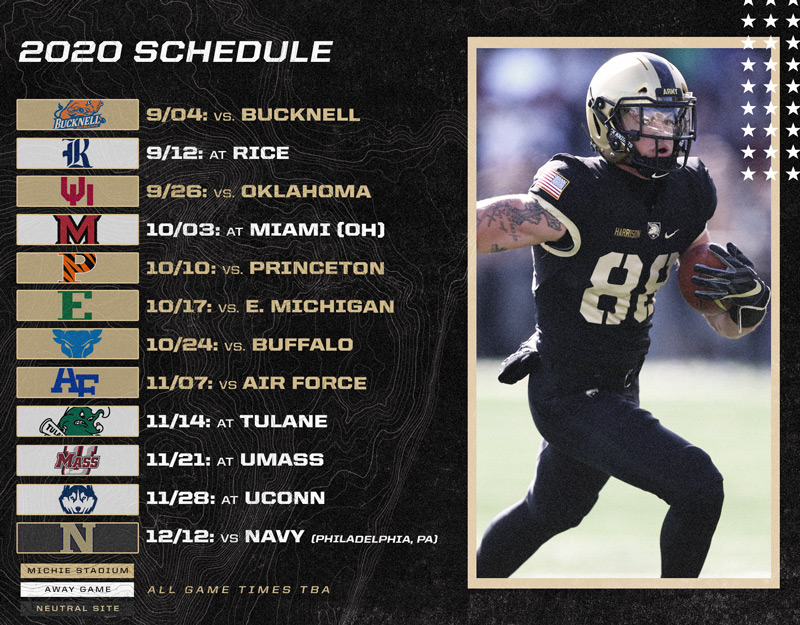 More than half of those teams could perform anywhere between great and terrible. Okay, so we know Oklahoma is going to be good. That's not news. Similarly, Army ought to beat Bucknell, UMass, and UConn, which puts the Black Knights almost halfway to the Over/Under of 6.5 wins that's expected of them. The rest of these games, though, are basically winnable contests that Army could also easily lose if the team can't consistently play its very best football.
Air Force missed bowl games two years in a row before rattling off 11 wins in 2019. Navy finally figured out how to use QB Malcolm Perry, but they changed half their offensive philosophy to do it. What does that mean now that Perry has graduated? Is Buffalo the MAC juggernaut we saw in 2018, or are they just an above-average team in the MAC-East? Does anyone know what to expect out of Miami (Ohio)?  Hell, even Princeton gets its share of four-star recruits. That game is a lot of things, but a gimme is not one of them.
Family ??#GoArmy pic.twitter.com/BxrtGoRCMg

— Army Football (@ArmyWP_Football) June 2, 2020
Over/Under 6.5 wins
I want to smash the Over because I believe in Coach Monken, and I think Coach Woody was the right hire on defense, but this line is set about right. The vig is leaning over, so that gives me some hope, but I'd feel a lot better about it if I'd gotten a chance to see the team play this past Spring.
Here's hoping.
Go Army! Beat Everyone!!!