Hey everybody & welcome to July!
We've got new cadets in Beast Barracks, yearlings coming back from Camp Buckner, Army Football in the weight room, and a bunch of fireworks incoming over the weekend.  Friends, Army Football is just a little more than two months away!!!
Name, Image, & Likeness Day
Today is Name / Image / Likeness (NIL) day for the NCAA. As of today, college athletes can profit off of their NIL if they can find sponsorship or build an appropriate social media following. As of this writing, Wisconsin QB Graham Mertz has been arguably the most successful college football player to begin managing his brand. He dropped a little introductory video on his instagram page complete with a personalized logo and an Opendorse account.
We've no idea what that's going to be worth to him, but he's exactly the kind of college player who needs to take advantage of this NIL thing.  Which is to say that he's a terrific college quarterback playing at a major Power 5 school, but it's kind of a stretch to imagine him having a long career in the NFL — even as a backup.  Anything is possible, obviously, and I'd be more than happy to see Mertz prove me wrong.  However, my sense is that he needs to strike now while he's got a decent amount of media attention, and well, here we are.
In case you missed it, all this Wisconsin talk landed Mertz on the cover of this week's College Football Roundtable podcast.  We didn't talk specifically about Mertz and his personal branding, but there's quite a bit of NIL talk this week and a bit of speculation about Wisconsin's season.
I'm more than ready to start talking about actual games, but in the meantime, we're doing our best to at least keep you thinking about college football occasionally over the offseason.
Service Academy Betting Lines
James put this out to our Firstie Club earlier this week, but this being a slow news week, I'll repost it here.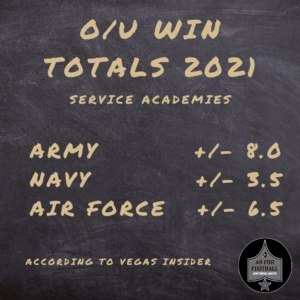 For what it's worth, James thinks that the best line on the board is probably Air Force Over 6.5 Wins.  That's heresy, clearly, but he's not exactly wrong.  The Zoomies ought to be tough this season.
As far as the Black Knights are concerned, honestly, this is the first year in a long time in which Army has legitimately followed the 4 / 4 / 4 scheduling pattern.  Which is to say that they've scheduled four games that they ought to win, four games that are basically toss-ups, and four games in which winning will be a real challenge.  This design philosophy always exists in Army's schedule up to a point, but the breakdown this year is a little different than what we've seen in the past.
4 games Army ought to win: UConn, Miami (Ohio), Bucknell, UMass
4 toss-ups: Georgia State, Western Kentucky, Air Force, Navy
4 challenging games: Ball State, Wisconsin, Wake Forest, Liberty
What's tough about this is that you're now counting on beating Miami (Ohio), who took Army to double-overtime the last time these teams played, and you've moved Air Force and Navy into the parity category, which makes sense if we look at recent results but is still not the way these games have been scheduled in the recent past.
This year's Army team has a lot of talent, but they also have a much, much harder road ahead of them than recent teams have had.
Access Denied.

Army's goal line stand set the tone in the second half of Army's 15-0 victory. #GoArmy | #LastoftheHard pic.twitter.com/tjLP4Km8w0

— Army Football (@ArmyWP_Football) June 29, 2021
What is As For Football?
We picked up a bunch of new followers on Instagram this week coming off of R-Day. Obviously, Old Grads don't need to be told where we got the term "As For Football," but there are plenty of new folks this week, so I made a little explainer.
Hooray fmy presentation skills.  Clearly some part of me must be missing my days as an Assistant S-3.
That's all for this week, friends.
When we bench press it is a total body exercise. We use every muscle fiber in our body in order to produce the most amount of force possible. pic.twitter.com/yl6i3UsGac

— Blair Vaughan (@blairvaughan41) June 30, 2021
Go Army!  Beat Georgia State!!!