That was one Hell of a game, friends. Your Army Black Knights went into Atlanta and took care of business, beating a very well-regarded Georgia State Panthers team, 43-10.
What a way to start the season! I had a bunch of people over for Sports Bar on the Back Deck, and everyone went away happy. Meanwhile, reports from Atlanta tell us that Army had the fan advantage in the stadium in addition to the physical advantage on the field, though I don't know how hard that was given how empty that stadium looked on TV.
The Panthers got the ball first but turned it over off a fumble on their fourth play from scrimmage.  That gave Army's offense a short field and a chance to take an early lead. State keyed strongly on the Quarterback Keeper through that first drive, holding QB Tyhier Tyler to a modest 12 yards on 4 carries but giving up fully 28 yards and a touchdown on just 4 carries to Army's fullbacks. 
State never recovered.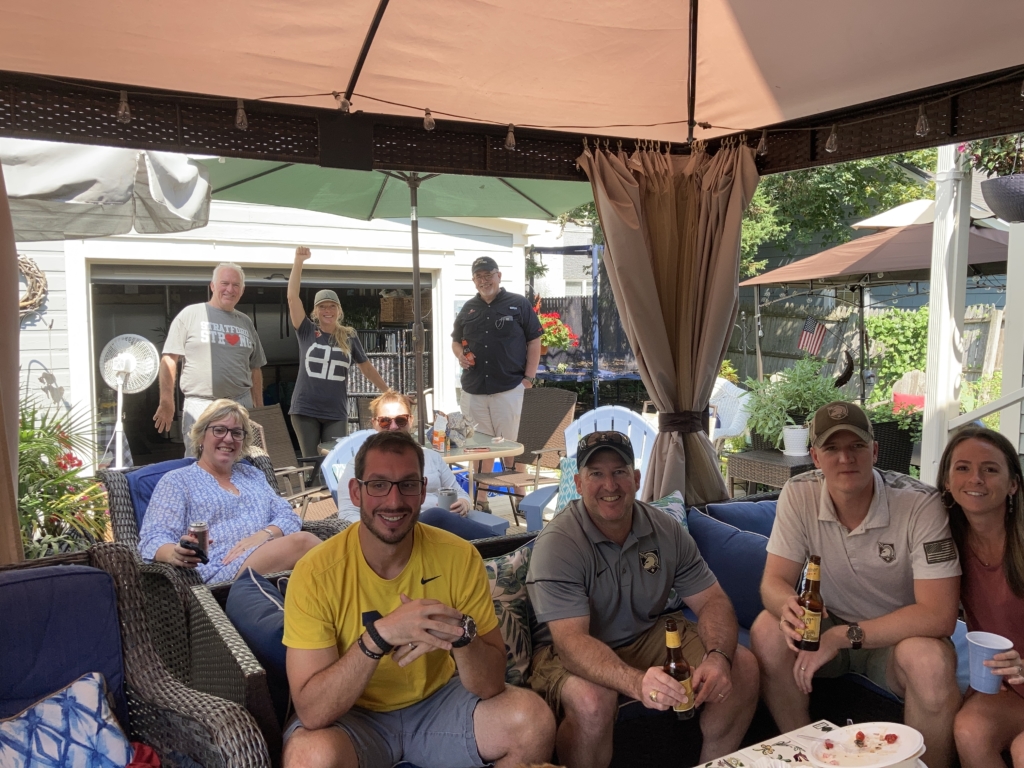 We've been working since Aug. 6 for that W.

Great TEAM victory. #GoArmy | #LastoftheHard pic.twitter.com/Lt5hFSzMgm

— Army Football (@ArmyWP_Football) September 4, 2021
QB Cornelious "Quad" Brown threw 2 incompletions before hitting an 11-yard pass to give his team its only first down of the opening quarter, but then they punted, and by the time we got done with all the crazy muffs and holding penalties associated with that first punt, the Black Knights had the ball on their own 39 yard line. State shifted to try to stop the Fullback Dive, but that set Tyhier Tyler loose. Tyler put up 24 yards on his next 4 carries plus a 26-yard pass to WR Sean Eckert. SB A.J. Howard capped that second drive with a gritty 4-yard touchdown run off a Rocket Sweep, and when State went three-and-out on its next series, the rout was one.
Georgia State's offense wanted to play fast coming into this game. And yeah, they got their plays off relatively quickly. However, the Panthers threw a lot early but couldn't put together many completions, meaning that they effectively minimized their time-of-possession on a blistering Atlanta day against a really good-looking ball control Army offense. With that, the Black Knights went up 27-7 by halftime. They had 153 yards rushing, 26 yards passing, and 22:09 time-of-possession at the break. Army seemed to have an answer for everything the Panthers attempted on both sides of the ball. Minus a handful of special teams miscues — two would-be muffed punts, one actual muffed punt, and a blocked extra point — the Black Knights played an almost perfect game.
Army finished with 258 yards rushing and 4 rushing touchdowns on 67 carries (3.9 yards/carry). QB Christian Anderson spelled Tyler after what looked like a minor leg injury at the end of Army's second drive, and Anderson wound up leading all rushers with 15 carries for 55 yards (3.7 yards/carry) and a touchdown off a brilliant Quarterback Draw to close the first half. Yearling Tyson Riley got the start at fullback, finishing with 6 carries for 27 yards (4.5 yards/carry), while FB Anthony Adkins had 8 carries for 32 yards (4.0 yards/carry). The Wrecking Ball Jakobi Buchanan played mostly in short-yardage situations early, but he somehow finished as the team's leading fullback with 11 carries for 38 yards (3.5 yards/carry) and a touchdown.
Fighting for that goal line. #GoArmy | #LastoftheHard pic.twitter.com/6oIfZvdoSk

— Army Football (@ArmyWP_Football) September 4, 2021
The Black Knights played four quarterbacks in this game and finished 3/4 passing for 98 yards and 2 touchdowns. As noted, Tyler played two series before getting hurt, and though it looked like he could have come back in, why risk it up 3+ scores when you've got four starting-caliber quarterbacks on your travel roster? Anderson wound up playing most of the game, i.e. six series from the middle of the first quarter into the fourth. Jemel Jones's series went 8 plays and 64 yards in 5:25, ending on a 32-yards touchdown pass to SB Braheam Murphy. Jabari Laws returned to action for Army late in the fourth quarter, directing the game's final five plays for 13 yards, and they would've scored, too, if time hadn't run out.
Really, there's not much more you could've asked from this game. The Black Knights dominated the line of scrimmage on both sides of the ball. We said coming in that State had a good secondary, but that they were a little undersized at the point of attack on defense, and not surprisingly, Army's O-Line and fullbacks made that work. State's defense was better on the outside, but that's not super-helpful when you're getting gashed repeatedly between the tackles. On defense, Army held Georgia State to just 177 yards of total offense. They never let Quad Brown get in rhythm, and they gave up just 48 yards rushing on 28 attempts (1.7 yards/carry!). By the time the Panthers realized that they needed to commit to the run to keep their offense somewhat balanced and their defense off the field — at least a little — the game had already been decided.
Friends, this defense has a lot of stars. LBs Arik Smith and Andre Carter II were everywhere. Carter finished with 3 sacks. Smith had 5 tackles and a tackle-for-loss. CB Jabari Moore had a critical pick at the end of the first half to set up Army's fourth touchdown. Most importantly, Army never gave up a big play to an offense that thrives on making big plays. Really, with the pressure they were putting on Quad Brown, State barely had time in the pocket to attempt big plays.
It's not surprising that most Georgia State fans left early. Their team got taken to the woodshed.
Homecoming TD for Tyrell Robinson.

"I wanted to jump in the stands"#GoArmy | #LastoftheHard pic.twitter.com/W52vm4j5FO

— Army Football (@ArmyWP_Football) September 4, 2021
Next Up: Western Kentucky
Army's hosts the Hilltoppers this Saturday in the home opener at Michie Stadium. The Black Knights have never beaten WKU, so this game offers an important opportunity to correct the historical record.
WKU beat FCS UT-Martin this past week, 59-21. The Hilltoppers put up 587 yards of total offense, but they allowed 396 yards of total offense to an FCS team and — ominously — 201 yards rushing on 34 carries (5.9 yards/carry).
This ought to be interesting.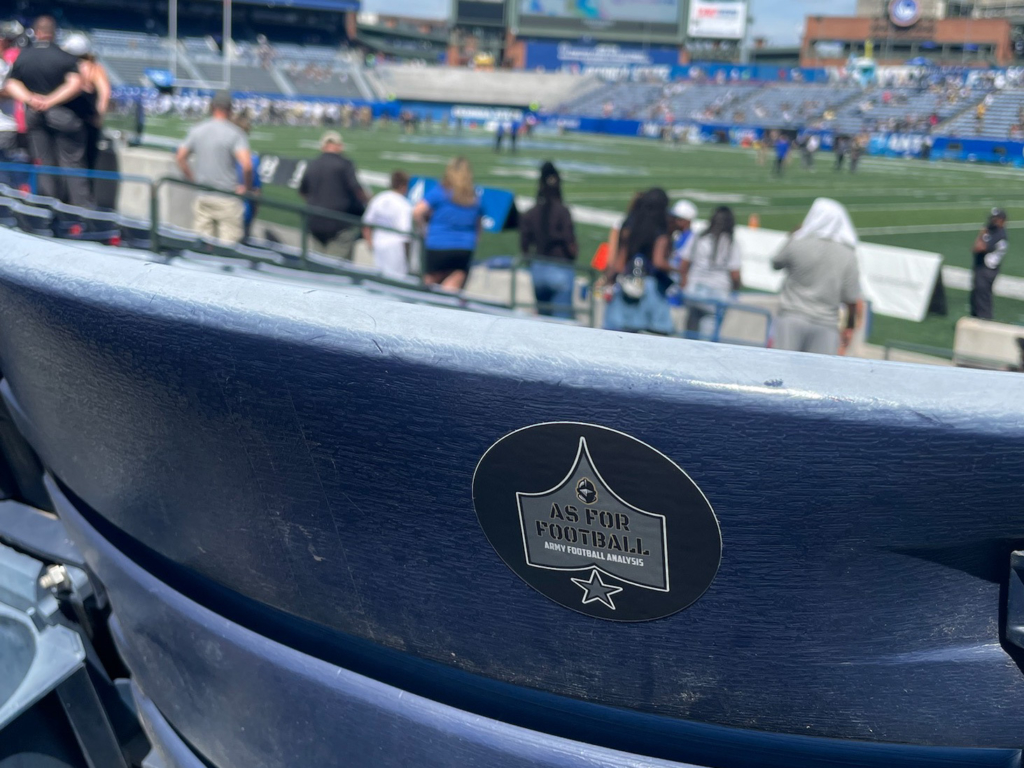 Go Army! Beat Western Kentucky!!!
* Cover image via @ArmyWP_Football.