We've got a big game this week, friends. Your Army Black Knights host the #16 Wake Forest Demon Deacons at Michie Stadium at high noon this Saturday. This is an important showdown, featuring a marquee match-up that just might prove to be a bit more favorable for Army than it looks at first glance.
We're excited to play in front of a full house Saturday‼️

👉 https://t.co/OpimRYDAfy#GoArmy | #LastoftheHard pic.twitter.com/i5JLBDDLCh

— Army Football (@ArmyWP_Football) October 20, 2021
Keys to Victory
We've got the full five Keys to Victory this week.
1. Fight & Win on Offense
Army struggled to move the ball against Wisconsin up until the 4th quarter, at which point they somehow posted two long scoring drives, both to get the game within a touchdown.
That was great, but the Black Knights need to be a whole lot more efficient with the football this week.
Wake Forest has an electric offense, but they also have the nation's 91st-ranked rushing defense, allowing an average of 173 yards rushing/game on 4.4 yards/carry. Army has got to make that work. The Black Knights' offense has got to hold the ball and dominate time-of-possession in order to protect their defense from the nation's 12th-ranked scoring offense. They also need to score when they have the ball.
We know that Wake is gonna get theirs. The Black Knights need to keep up on the scoreboard to keep the Demon Deacons from pulling away early.
Suiting up in gray on Saturday. #GoArmy | #LastoftheHard pic.twitter.com/lqYPZfI6nE

— Army Football (@ArmyWP_Football) October 21, 2021
2. Force the Issue
Wake Forest runs a slow-mesh read-option offense that is intended to allow plays to develop before QB Sam Hartman makes the decision to keep or give to the running back. This allows Hartman to throw deep a lot, but it has also led to 9 sacks on the season.
Army needs to get after that slow-mesh and force the issue. Wake is averaging 170.8 yards/game rushing but just 4.0 yards/carry. These are not elite rushing numbers, but they are plenty good enough to set up the Deacons' downfield passing attack, and when that's working, it lets the Deacons balance their attack to keep opposing defenses off-balance. They've made that work a lot this year.
The flipside, though, is that Hartman is completing just 63% of his passes. That's a solid number, but it's not enough accuracy to drive the length of the field repeatedly with quick outs. If Army can force the issue on defense and stop the run, then Hartman has to be hyper-accurate. The Black Knights should be able to get off the field if they can force long drives where the running game isn't working.
Getting set for Saturday.

Hear from @CoachJeffMonken, Kwabena Bonsu and AJ Howard as we return to Michie Stadium in front of a sell out crowd against No. 15/16 Wake Forest.#GoArmy | #LastoftheHard pic.twitter.com/gYBK50LJCb

— Army Football (@ArmyWP_Football) October 21, 2021
3. Don't Get Beat Deep
Obviously, right? We've seen problems with the deep ball all season.
Army has fielded the nation's 4th-ranked rushing defense, allowing just 78 yards/game on 3.0 yards/carry. This has made them terrific against 3rd down conversions. The Black Knights have allowed opponents to convert just 34.9% of the time, good for 38th in the country.
Really, the only time this has broken down has been when teams have been able to throw over the top and hit passes deep. Alas, Wake Forest is very good at these quick strike throws.
Army can afford to give up quick throws to the sideline and even over the middle so long as they tackle well. What they cannot do is give up the kinds of big play deep strikes that change the game.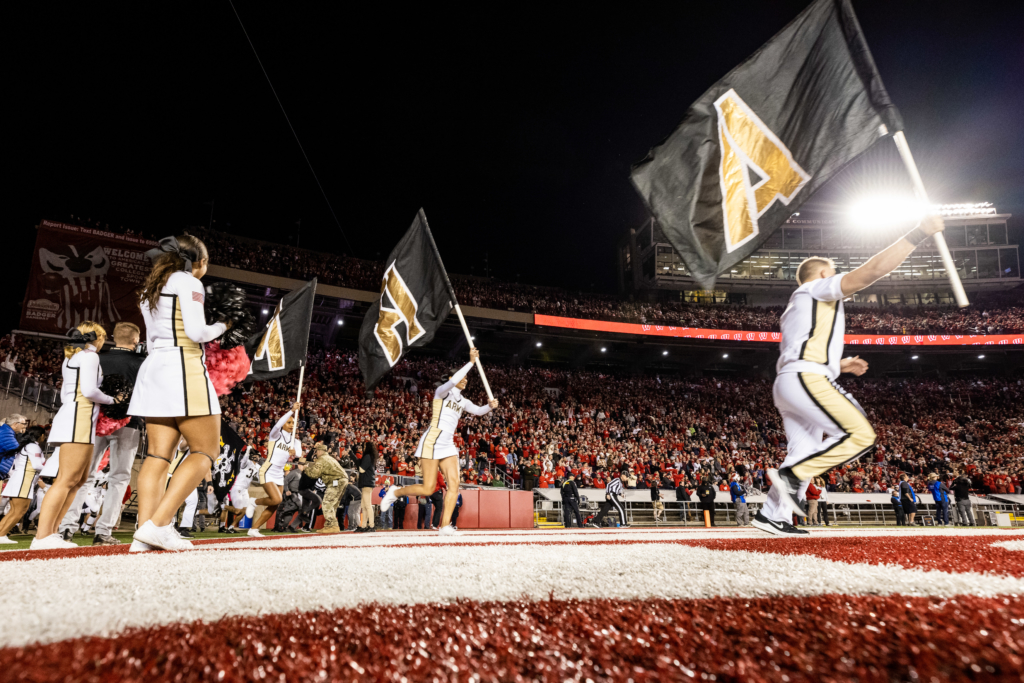 4. Counterpunch
The Black Knights put together a good game plan against Wisconsin's top-ranked defense. They very clearly wanted to try to keep the game close, get aggressive late, and win in the 4th quarter. This might even have been the right approach. The coaching staff was clearly worried that if they showed their hand too early, Wisconsin would adjust and then stonewall the Army offense for the rest of the game. This was not some insane worry. It definitely could have happened.
It was also maddening as all Hell to watch.
For better or worse, most West Pointers have the opposite instinct. They see an opponent stumble, and they immediately go for the killshot. This is what they teach at the Academy — reinforce and exploit success. Don't let an opponent get up; beat him while he's down until he's dead.
This also sound strategy in racing sports. In a race, you can typically only make one real move, but if you time it right, it's decisive. Not because you've gained some temporary advantage in position but because you've planted a seed of doubt in your opponent's mind. Then you've got him. It is hard as all Hell to win any kind of race when you don't think you can win. That's basic human nature.
Whatever the merits of counterpunching in football, reality is that the Army Team cannot afford to let Wake Forest get up on the scoreboard and impose their will. They need to hit hard and plant that seed of doubt. This is a team that often starts hot, only to stumble down the stretch. They surely know it. In 2019, they started 5-0 but then lost 5 of their last 8. In 2020, they got off to a 4-2 start before losing their last 3.
What will 2021 bring? These guys have no idea.
Army needs to hit first and hit hard. They need to make Wake Forest believe that 2021 is another year, just like 2019 and 2020. Once that seed of doubt gets planted, it's hard as Hell to come back from that.
Coming to Saturday's game or watching from home?

We have you covered for all your @ArmyWP_Football Gameday information heading into Saturday vs. Wake Forest.#GoArmy

— ArmyWestPoint Sports (@GoArmyWestPoint) October 21, 2021
5. Get a Mortgage from Craig Achtzehn of Draper & Kramer
As with last week, this week's final Key has nothing to do with the game itself and everything to do with winning at life. Friends, if you're looking to buy or refinance a house, you need to check out As For Football's newest sponsor, Craig Achtzehn ('94), Vice-President of Residential Lending at Draper & Kramer Mortgage Company in Chicago, Illinois.
The mortgage lending process is super-confusing. That's why you need to deal with somebody who actually cares about you. Not a call center, not some random big-box bank, or a mindless website. Deal with a fellow West Pointer who's licensed to lend in all 50 states.
This is actually how the West Point network functions. Craig is helping us stay in business here at As For Football, and we're helping you get a better deal on a mortgage by introducing you to the very man you need to meet when you're trying to finance (or refinance) your house. Plus, Craig doesn't charge lender fees for veterans. That is a huge saving, as much as $1300.
You will not do better than that!
Start your home purchase or refinance with Craig today.
Go Army! Wake Forest!!!
*Cover image via USMA's official Flickr page.