This weekend's game against FCS Bucknell comes at exactly the right moment. Your Army Black Knights are coming off a wildly emotional win against a bitter rival in a nationally-relevant game played at a big, neutral-site location. The celebration after their win over Air Force went long and loud, and yet, now — somehow — this team must refocus and re-find itself and its desire to win. 
This is not always easy to do.
For better or worse, Bucknell's team flaws may well hide whatever flaws we see from Army this weekend. Granted, no one wants to see the Army Team come out of the locker room a little flat on Saturday. However, that's a very real possibility. For better or worse, the difference between a 10-point win and a 30-point win most likely comes down to the team's emotional state when they hit the field. Seeing how they respond to victory ought to tell us something interesting about the team's mental toughness down the stretch.
? ????

See you Saturday. #GoArmy | #LastoftheHard pic.twitter.com/CbtEq0Yhwh

— Army Football (@ArmyWP_Football) November 12, 2021
Keys to Victory
We've got four this week!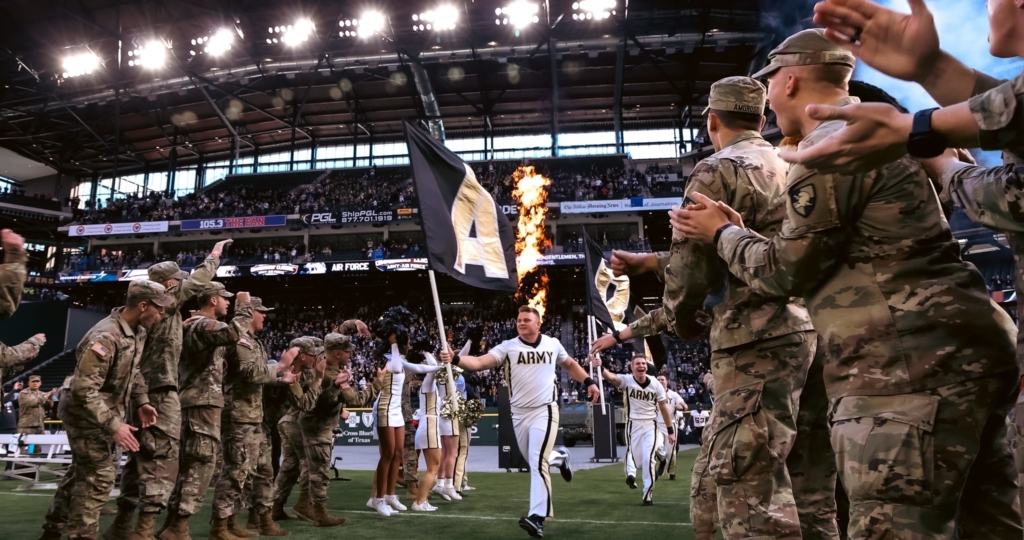 1. Go Ugly Early
Reality is that this Bucknell team is just not good. They surely know it. The Bison have lost eight games this season; seven of those losses have been by 21+ points. Worse, they've only played one truly good team all year, FCS Villanova, who beat them, 55-3. This game against Army will be their first FBS contest of the season. That doesn't bode well. Regardless of what they're saying in their locker room, they have to know what's coming.
Like a lot of sports, football is as much a game of élan and will to win as it is of scheme and physical prowess. If you can break a competitor's spirit, crush their very belief in themselves, you've already won. At that point, it doesn't matter how much time remains on the clock.
This is what we need to see on Saturday. Not a competitive contest. A ruthless beating that breaks the other guys' fighting spirit.
2. Play Your Game
In sports, it sometimes feels like you can't really show your best stuff unless you're up against the very best competition. Indeed, competition brings out the best in most real players. It's good for the soul. However, the very best competitors, the truly elite in their sports, can be their best selves regardless of what's going on around them.
This is what Army needs to find within itself this weekend.
Bucknell may play well this week. They may find some motivation and really bring it for as long as they possibly can. But let's be honest; that seems a little unlikely. This is a team that lost to previously winless Lehigh 38-6 last Saturday. Honestly, these Bison appear to have packed it in for the season early last week.
Ultimately, this doesn't matter, not even a little. Being great means finding greatness every week, not playing to the level of the competition. This is what we need at Michie on Saturday. Not a game against a bad football team, but just good, old-fashioned Army Football, regardless of who or what shows up on the other side of the field.
How has Christian Anderson's view of #VeteransDay changed since becoming the @ArmyWP_Football QB?

He shared his perspective with @ChildersRadio and @CoachNeuheisel on Full Ride. pic.twitter.com/4vtLEcoW6i

— College Sports on SiriusXM (@SXMCollege) November 11, 2021
3. Let the Kids Play
One of the joys in a game like this is seeing the next generation of Army Football get a chance for the very first time. We first saw QB Kelvin Hopkins in a blowout game like this one down at Rice. Hopkins went on to become a foundational player in arguably the most successful season of the Monken Era.
Who are we going to see this week?
Reality is that Army's backups didn't play particularly well when they hit the field against UConn. Does that mean that the younger half of Army's roster is less talented than the older half, or was it just a one-game thing against a team that took then undefeated Wyoming to the very limit just a week later?
It's important for the future of the program that the kids play this weekend, and indeed, that they play better. Let's see who's gonna get the start in 2022. A lot of guys in black have a chance to state their case this weekend. We need to see what they've got.
4. Support Our Sponsors
We've mentioned this before, but it's worth repeating.
Do you need a Uniform Flag?  Or are you maybe looking to buy or refinance a house? 
Our sponsors want to help. 
Help us help you. That's how this works. These guys help us stay in business, and we help you get the mortgage and/or patriotic swag that you need to remind people just exactly who the Hell you really are.
Thank you for your support of AFF. We could not be here without you.
Here is your chance to own a 16×20 signed photo of Mike Krzyzewski as Army head coach, with the inscription: Go Army! Head Coach 1975-80. Proceeds will support more than 1,000 outstanding cadet-athletes! https://t.co/buMzDeWU66 pic.twitter.com/9N6KuL7HQz

— Army West Point Authentic (@AWP_Memorabilia) November 10, 2021
Go Army! Beat Bucknell!!!
* Cover image via USMA's official Flickr page.