The Black Knights beat the Hell out of a badly overmatched team from Bucknell yesterday afternoon, and it was glorious. But for as much as this was the expected outcome, it's worth noting that the team accomplished a good bit in this particular victory besides just getting a win. Most importantly, they got their sixth win and became bowl eligible for the second year in a row and for the fourth time in five years. They also got to play a bunch of players, continue useful trends through the course of the season, and show real improvement in the play of their reserves.
ARMY WINS IT‼️

The strong first half lifts the Black Knights to another home victory! #GoArmy | #LastoftheHard pic.twitter.com/e7Z0xtgpGm

— Army Football (@ArmyWP_Football) November 13, 2021
With today's victory we're bowl eligible for the 5th time in 6 seasons‼️

We will be heading to an ESPN Events bowl game that will be announced at a later date!#GoArmy | #LastoftheHard pic.twitter.com/DLeYQcEzTw

— Army Football (@ArmyWP_Football) November 13, 2021
I took my daughters to this game. Hannah came home from Manhattan College for a weekend away from the City — ostensibly because she couldn't get the Taylor Swift tickets she'd been after — while Emma finally took a Saturday off from dance to spend some time with her dad. We left the house around eight, drove easily up to West Point, and then sat in traffic for twenty minutes at Thayer Gate. Got parked and then hoofed it down to my friend Rick's magnificent tailgate, located right across the Lusk Reservoir spillway from the stadium. Rick was a year behind me at the Academy, which means we know a lot of the same people, and indeed, one of my very best friends, Scott, showed up at this event totally unplanned.
It was cool. Scott and I caught up for a good hour or more while my daughters ran around like little maniacs. It's funny because Hannah is eighteen and Emma is sixteen, but you'd have thought they were ten and twelve. Honestly, it did my heart some good to see it.
The game itself went about the way I expected. I don't want to sell the team's achievements short, but Bucknell came in 1-8, having dropped 7 of their losses by 21+ points. Army was always gonna whip their asses. I set my Fact or Fiction on the As For Football Army Football Show at "500 yards rushing and 10 rushing touchdowns" for this very reason. The Black Knights could've absolutely hit those numbers if they'd really wanted to. They dominated from the opening kickoff.
Arguably the game's most interesting storyline in the first half was Tyrell Robinson's repeated attempts to break a punt return for a touchdown. In fact, he got close enough often enough that Bucknell actually quit punting against Army's starters towards the end of the first half because there just wasn't any point. Robinson finished with 3 returns for 85 yards with a long of 55 yards. Army also forced 2 turnovers in the first half, an interception and a fumble, meaning that the biggest impediment to the Black Knights putting up 500 yards rushing was that they kept starting on a short field during the game's early going.
This was a remarkable performance. 428 yards on 61 carries, good for 7.0 yards/carry. 30 first downs; 4/6 on third down; 1/1 on fourth down. 18 different offensive players carried the football, and *9* scored touchdowns. Army played 6 different quarterbacks. 29 defensive players finished with at least 1 tackle. Army quarterbacks went 3/4 passing (75.0%) for 58 yards and a touchdown, meaning that Army has now thrown for a touchdown in 3 straight games. LB Andre Carter got another sack and another interception. Finally, WR Isaiah Alston got another catch as well, so he now has at least 1 catch in 5 straight games. 
Those passing stats create some extremely useful trends as we head into Army-Navy. This was the eighth time in the past fifteen years that Army's offense has put up 60 or more points. Seven of the eight have occurred under Head Coach Jeff Monken.
Final stats:
9 TDs, 9 different players
SIX quarterbacks were used today
438 yards on the ground pic.twitter.com/OKnM1VXA69

— Brigade Review (@BrigadeReview) November 13, 2021
The day started beautifully. Sunny skies and warm. Great day for a tailgate and indeed, the weather was just gorgeous all through the first quarter. The skies darkened through the second, however, and as that quarter was coming to an end, the public address announcer mentioned an incoming "severe thunderstorm". My kids and I stuck it out through the end of the half and then lit out, picking up my cooler down at Rick's place and then hustling up to the lots just as hail started to fall.
The game caught a full hour's weather delay; I listened to Rich DeMarco's call via the Varsity app played through my car's speakers as we — slowly — drove home. Rich is so good that half the time it's easier to figure out why things are happening by listening to him rather than by watching the TV broadcast. Indeed, it wasn't until we got home that I learned that CBS Sports had cut away before the end of the contest to cover UAB at Marshall.
I'm telling you, friends, get the Varsity app. It's too easy, and it sync's beautifully with broadcast television.
Might rain later, but it's gorgeous right now.#GoArmy #BEATbucknell pic.twitter.com/d62UK6H9kw

— Danno E. Cabeza (@DannoECabeza) November 13, 2021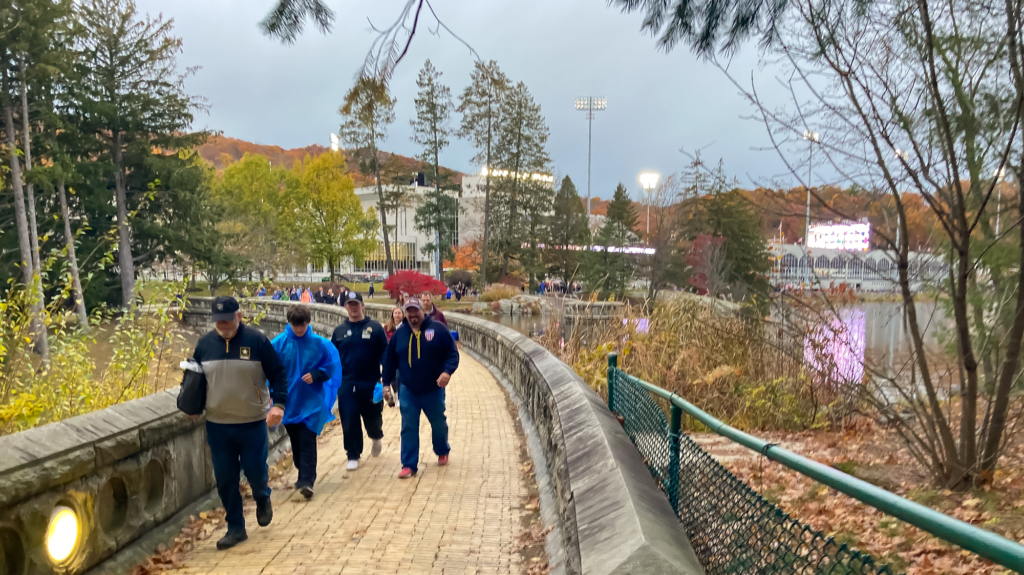 Next Up: UMass!
Army hosts the Massachusetts Minutemen (1-8) next week for Senior Day. UMass has been a bit better than Bucknell in the sense that they have an FBS win over the University of Connecticut, but they've also lost no less than two FCS games in a row, including to Rhode Island on Homecoming, and they've been absolutely blown out in most of their FBS games throughout the season.
With hindsight, it's actually quite disappointing that the Huskies lost to UMass. Had true freshman QB Tyler Phommachanh been able to stay healthy, I expect the Huskies would have come away with a win. Regardless, we ought to see a bunch of Army's reserves get more playing time again next weekend.
That's a good thing looking forward. The games at Liberty and against Navy promise to be extremely draining, physical contests.
We remained ready to go all afternoon, no matter what today threw at us. #GoArmy | #LastoftheHard pic.twitter.com/gHmDekAcoj

— Army Football (@ArmyWP_Football) November 13, 2021
Go Army! Beat UMass!!!