What a day of college football! Army beat the Hell out of a good team on the road, extended their win streak to four games, and set themselves up to finish strong at the Army-Navy game. We also saw Michigan finally break their streak against Ohio State, Alabama nearly fall on the road in the Iron Bowl, and Western Kentucky punch their ticket to the Conference USA Championship, where they'll face a suddenly vulnerable squad from UT-San Antonio.
Honestly, it's hard to ask more, even from Rivalry Weekend.
FOUR IN A ROW ???

Win No. 8️⃣ in 2021. #GoArmy | #LastoftheHard pic.twitter.com/C0y1TC6Hc2

— Army Football (@ArmyWP_Football) November 27, 2021
I'm not sure what I was expecting from the game against Liberty, but what we got, friends, that was definitely not it. Maybe it should have been. I mean, we said going in that Liberty was super-talented but also completely undisciplined, that they would have better athletes but would also create myriad opportunities for the Black Knights through their mistakes, and that we thought Army might have a chance if they could get the fullbacks going and get pressure on QB Malik Willis. All of that proved to be true.
As Coach Jeff Monken noted repeatedly before, during, and after this game, Willis really is super-talented. He ran through dozens of tackles, broke off a few long runs, and completed several passes deep over the top of Army's secondary, often from seemingly hopeless situations far behind his line of scrimmage. He also took *5* sacks — which, for the record, is a heck of a lot — let himself get rattled to the point that he yelled at his coaches on the sidelines and then struggled to complete simple checkdown passes, and finally lost his composure altogether and threw a punch to end the game. Despite his talent, you could actually feel his draft stock falling throughout the course of the contest.
Meanwhile, your Army Black Knights did what they do, and as it happens, that was enough. More than enough, really.
Hats off to the Army Defense and to Defensive Coordinator Nate Woody. Down a bunch of key players in the secondary, Woody brought the house early and often, getting in Willis's face and forcing exactly the kind of crazy mistake-filled play that the Black Knights needed, especially early in the game. How many throws did Willis force off his back foot? He finished 24/46 passing (52.2%) for 305 yards and a touchdown, but he was under siege all day, getting battered and bruised to the point that it looked like he flat did not want to be there by midway through the 3rd quarter. His 4th quarter interception sealed the game for Army, though granted it came on 4th-and-10.
Liberty went for it on 4th down 7 times in this game, including 1 fake punt, and they failed on 5 of those attempts, including an interception off that same fake punt. As much as anything, that was the story of this game. Those failures repeatedly set Army's offense up on short fields, and the Black Knights did damage with damned-near every opportunity. They finished with just 220 yards rushing on just 3.5 yards/carry, but those were violent yards. Army worked the outside early, but once Liberty adapted and spread their defense, the Black Knights came back with the Fullback Dive and gave the Flames' defense a real beating between the tackles. This was the best we've seen FB JaKobi Buchanan look this season, especially late when Army really needed to pound the rock.
I also can't say enough about OC Brent Davis's playcalling. Davis was super-aggressive early, getting the ball to his playmakers in space and keeping Liberty confused and leaning back, waiting for something to happen. SB Tyrell Robinson got 2 carries for 22 yards plus a catch for 51. SB Brandon Walters also had 2 early carries for 21 yards. Meanwhile, SB Braheam Murphy had a catch for 34 yards and a touchdown while WR Isaiah Alston had a catch for 17. Alston now has a catch in each of the last 7 games. But the Flames defense adjusted after Army's first drive of the second half. That's when Davis came back to the Black Knights' bread and butter and flat wore Liberty's asses out with the fullbacks, especially Buchanan.
Buchanan went for the ? trick today.

3️⃣ TDs#GoArmy | #LastoftheHard pic.twitter.com/9IE3m3ihjH

— Army Football (@ArmyWP_Football) November 27, 2021
No. 3️⃣3️⃣ Buchanan was a huge weapon in the red zone in today's victory. #GoArmy | #LastoftheHard pic.twitter.com/jm2LzSBhek

— Army Football (@ArmyWP_Football) November 27, 2021
Army wound up punting 4 times, but they also scored 4 touchdowns against one of the better rushing defenses in all of college football. That is super-impressive. The Black Knights finished 7/14 on 3rd down and made both of their 4th down attempts, extending drives and scoring touchdowns when Liberty could not.
Speaking of punting, P Zach Harding was outstanding in this game. He dropped all 4 of his punts well inside the Liberty 20, and he dropped 2 damned-near on the goal line, and he allowed *0* punt return yards. Harding averaged 47.5 yards/punt, which was enough to flip the field at least twice.
Friends, this is how you become a weapon on special teams.
Liberty pinned at the 1-yard line after a 54-yard punt from Zach Harding and downed by Fabrice Voyne.

Army remains in the lead 31-16. #GoArmy | #LastoftheHard pic.twitter.com/nuqMfZ487V

— Army Football (@ArmyWP_Football) November 27, 2021
Army got up 31-3 by the middle of the 3rd quarter, but they were never going to hold the Flames down for every snap of this game. Liberty's got too much talent, especially on offense. Indeed, the Flames came back in the late 3rd and early 4th quarter and scored twice, threatening to make a real game of it. Things got a little nerve-wracking, honestly, especially when we remember how the Western Kentucky game ended.
But this Liberty team was never going to score 4 times in a quarter and a half. Not because they don't have the talent but because they just don't have the discipline. We saw a half-dozen passes dropped, including at least 1 that looked like it got alligator-armed by a receiver who didn't want to get hit over the middle, and though Willis consistently escaped pressure in the backfield, he never quite hit that game-breaking run that would have changed the complexion of the contest. It didn't help that Liberty committed 7 penalties for 56 yards, nor that they never quite got their running game going and only seemed to truly commit to it once they were already down 4 scores.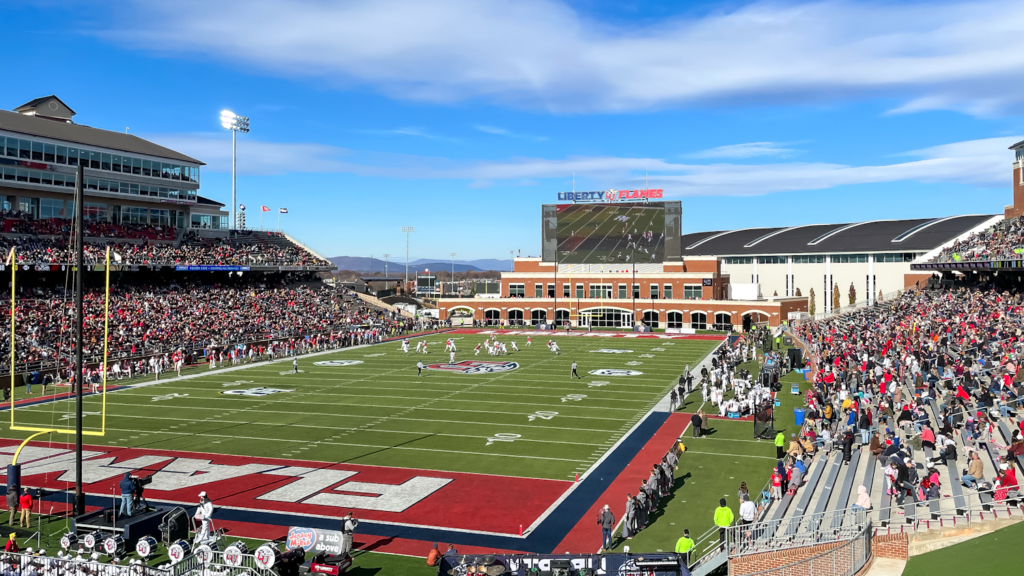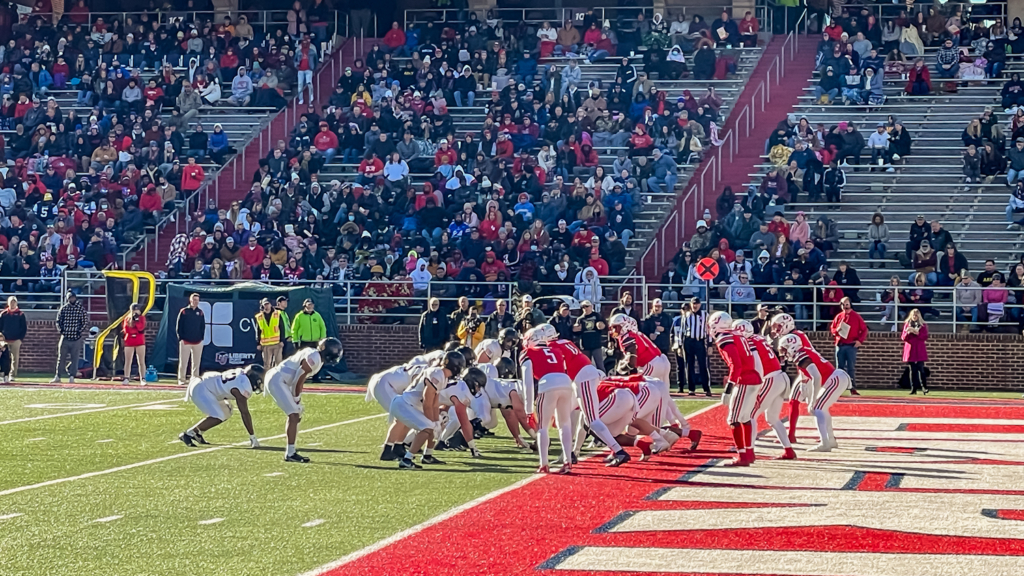 The Flames finished with 25 carries for just 79 yards and a touchdown. This allowed Army to control the ball for 36:13, which in turn kept their defense fresh and coming hard after Willis throughout this game.
So yeah. This was a great win against a very talented, bowl-bound team, and as we noted, it sets Army up nicely for the Army-Navy Game. Liberty might not be a Top 25 team this year, but they are certainly a Top 50 team. Beating them at their place on Rivalry Weekend makes quite a nice little statement heading into the biggest game of the year.
Everyone was focused on doing their job… their 1/11th on the field.#GoArmy | #LastoftheHard pic.twitter.com/ozZRE2wqQN

— Army Football (@ArmyWP_Football) November 27, 2021
Next Up: Beat Navy!!!
Army has now played 8 bowl-eligible teams and beaten 5 of them. At the beginning of the weekend, it was possible that as many as 5 of Army's opponents might also play for their conference championship, but things didn't quite break that way, unfortunately. Wake Forest is going to play for the ACC title, but Wisconsin and Miami-Ohio both lost, while Air Force somehow lost their seemingly sure-thing three-way tie-breaker to Utah State despite winning big at home against UNLV.
Besides Wake, only Western Kentucky took care of business. We'll see how they do next week against the previously undefeated Roadrunners. Alas, UTSA dropped a horrible loss to North Texas yesterday as well. Whatever else happens, the Hilltoppers look to have a Hell of an opportunity.
Not that any of that matters. What matters is Army-Navy.
Navy won yesterday, meaning that they've become a tough team with a dangerous combination of momentum and nothing to lose. The Mids are 3-8, but unlike Liberty, they're not going to beat themselves or cut Army any breaks with self-inflicted idiocy or alligator arms in the passing game. They understand this offense and have been MUCH better since recommitting to the fullback in their own version of the triple-option. Army is without doubt the better team, but this one is going to be a dogfight.
Good night Army Fans.

???? ???????.#BEATnavy

⬇️⬇️⬇️ pic.twitter.com/yCs6XLPfHU

— Army Football (@ArmyWP_Football) November 28, 2021
Go Army! Beat Navy!!!
*Cover image via @ArmyWP_Football.