Friends, this ought to be one Hell of an exciting season for Army Men's Lacrosse. The Black Knights enter the 2022 season ranked 10th by Inside Lacrosse and ranked 13th by USA Lacrosse. They return fully nineteen firsties this year, including two preseason All-American picks, three preseason All-Patriot League picks, and at least five returning starters overall.
Bottom line, this team has both the talent and the pedigree to make some real noise in the Patriot League and on the national stage overall.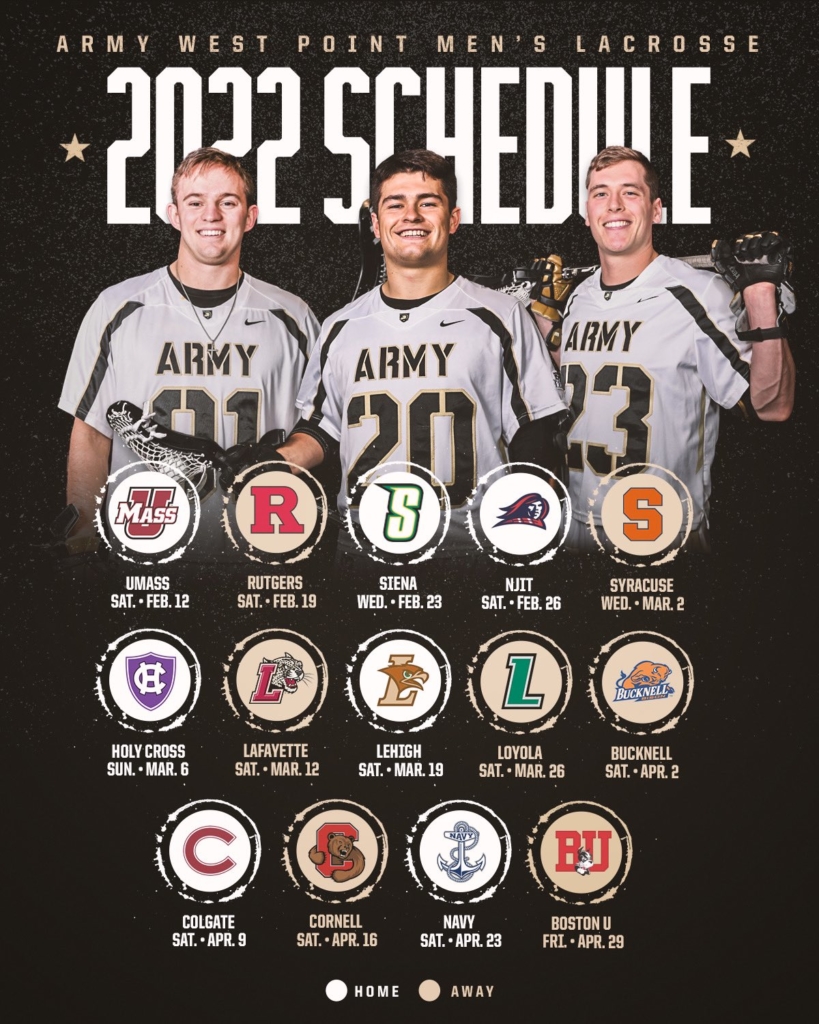 Army's Veterans
Army's core group has been playing together for a while now. Attacker Brendan Nichtern burst onto the scene as a plebe, leading to an Army offensive resurgence that helped the team capture the Patriot League Championship in 2019 and finish 15th nationally following a strong showing at the NCAA Championship Tournament. 2020 saw Army Defenseman Marcus Hudgins become a full-time starter alongside Goalie Wyatt Schupler and Midfielder Gunner Phillip on a team that looked nigh-unstoppable before COVID terminated the season prematurely. Then last year, the Black Knights added Attacker Aidan Byrnes plus Midfielder Bobby Abshire to their starting lineup and got wins over Syracuse and Loyola before falling short of their season goals with a tough road loss to Navy and an early-round exit from the Patriot League Tournament.
The goals this year remain the same as always: win the Patriot League and make the NCAA Tournament. The difference this year is that Army will field a team full of highly-talented veterans. Hudgens has become a consensus First Team All-American. Nichtern is either a Second or Third Team All-American, depending on who you ask. He also currently sits 8th on the Tewaraaton Watch List, lacrosse's version of the Heisman Trophy.
But. Army faces a series of tough tests this year as well. They have #8/#7 Loyola in conference as the perennial Patriot League powerhouse alongside #14/#11 Lehigh as the League's best up-and-coming power. Boston University, Bucknell, and Colgate also field perennially good teams, and Navy has lately staged a comeback in the sport centered around a roster full of young, talented players.
Winning the Patriot League is a straightforward if difficult task. However, Army also wants to make the NCAA Tournament, a perennial goal regardless of whether or not they can capture the League trophy. To do that, they'll have to play incredibly well against their non-conference slate, which includes #9/#10 Rutgers, #12/#14 Syracuse, and an unranked but perennially talented team from UMass.
They also must beat Navy. The NCAA selection committee has proven repeatedly that they absolutely will not take Army for an at-large bid if they lose the Mids. This is true no matter what else happens during the regular season.
Marcus Hudgins & Brendan Nichtern have been named @Inside_Lacrosse Preseason All-Americans

🗞️https://t.co/jsFbvSQPpc#GoArmy #FamilyToughnessTradition pic.twitter.com/9vToc5xvih

— Army M.Lacrosse (@ArmyWP_MLax) January 20, 2022
🚨𝙋𝙧𝙚𝙨𝙚𝙖𝙨𝙤𝙣 𝘼𝙬𝙖𝙧𝙙𝙨 𝘼𝙡𝙚𝙧𝙩🚨

📰https://t.co/5BzKpYO49Z#GoArmy | #FamilyToughnessTradition pic.twitter.com/Fpspk1XkNS

— Army M.Lacrosse (@ArmyWP_MLax) January 31, 2022
What to Watch
As For Lax is AFF's Army Lacrosse project. If you're new to the sport, the good news is that lacrosse is quite fun to watch and conceptually pretty simple.
Bottom line, you put the ball into the goal, and you get a point.
Tactically, the game is remarkably similar to water polo, but since I'm literally the only person reading this who's ever actually played water polo, let's simplify by saying that lacrosse is also played somewhat like a cross between soccer and basketball.
Lax is like soccer in the sense that there are forwards (attackers), midfielders (halfbacks), defensemen (fullbacks), and a goalie, and these move about the same in lax as they do in soccer. The attackers don't go back on defense, and the defensemen don't go into the attack. Midfielders run like all Hell — anywhere and everywhere. Plus, there's a goal, and you can earn occasional penalty shots in much the same way that you do in soccer.
Lax is like basketball in the sense that the offense passes the ball around the outside until an attacker either gets a clean shot at the net or drives towards the crease (think: paint, but attackers aren't allowed to set foot inside) to take a shot point-blank. As with basketball, lax players can set stationary but not moving picks. They can also shoulder check and hit an opposing player's stick when he has the ball, but they can't out-and-out beat the Hell out of each other. I suspect that Army Lax might be even more entertaining (and successful!) if they could add something like a football fullback to clear a lane, but alas, that kind of straight-up smashmouth violence is against the rules.
Like basketball, you will sometimes see something like a full court press in lax (called a "ride") coming off of turnovers. In fact, lax defensemen have to clear the ball quickly across the midfield line following a turnover, or the offense gets the ball back. Failures to clear are either extremely annoying or awesome, depending on whether or not it's your team that just failed to capitalize on a turnover.
Arguably the most unique thing about lacrosse as a sport is the faceoff. Teams don't automatically get the ball after the other team scores. Rather, possession restarts via faceoff, like a tipoff in basketball but down on the ground. The faceoff system allows good offensive teams to go on long, unanswered scoring runs that can very quickly change the complexion of a game. In this sense, lacrosse is a game of runs. Teams that can get and stay hot win.
Army has traditionally been better on defense than on offense, and they tend to shoot more from distance than they charge the crease, but the addition of A Brendan Nichtern has improved both the Black Knights' overall offense and their willingness to attempt close-in shots. Alas, they've had to be good on defense because they've struggled in recent years at the faceoff "X," which has in turn made it very difficult for them to go on unanswered runs and thus to stay competitive against truly elite teams.
If Army can go something like 50% overall at the faceoff "X" in 2022, then they ought to have a truly extraordinary searon. However, if they struggle again, then they'll really need Hudgens and Schupler to be not just good but great in order to achieve their overall goals. That's not impossible by any means, but it's definitely the hard way to make it to the big-time.
𝐓𝐡𝐞 𝐂𝐨𝐫𝐞 𝐕𝐚𝐥𝐮𝐞𝐬

𝙁𝘼𝙈𝙄𝙇𝙔: 𝘊𝘰𝘮𝘮𝘪𝘵𝘮𝘦𝘯𝘵 𝘢𝘯𝘥 𝘚𝘢𝘤𝘳𝘪𝘧𝘪𝘤𝘦 𝗙𝗢𝗥 𝘰𝘵𝘩𝘦𝘳𝘴#GoArmy | #FamilyToughnessTradition pic.twitter.com/WdAqbBFilh

— Army M.Lacrosse (@ArmyWP_MLax) February 3, 2022
Let's Grow the Audience
Lacrosse is a fantastic spectator sport that is only growing nationally as football becomes an increasingly regional sport at the high school level. Especially in the Northeast, the best high school athletes are often playing lacrosse. Over time, this ought to grow the game's audience.
That's good.
Unfortunately, the sport's media culture has become a real impediment to its growth. Guys, I don't know how to break this to you, but most folks did not grow up playing lacrosse. Acting like your audience knows what you're talking about when you use the sport's jargon without reference to regular folks is flat *not* growing your game. There are multiple professional lacrosse leagues, and none of them is doing a tithe of the business they could be doing if they weren't so consistently intent on treating the sport like it's a secret club.
What's worse is that since lacrosse is so often treated like an insider's club, it's conservative to the point of being reactionary. Which is to say that reputation is as important to the NCAA selection committee as is actual play on the field. The arch case in point occurred in 2017, when Army beat Notre Dame head-to-head, only to miss the NCAA Tournament while the Irish went in ranked fourth overall despite boasting a lesser record and the head-to-head loss. Not surprisingly, Notre Dame got bounced — easily — in the tournament's first round. Army had gone 12-4 that year while Notre Dame went 8-5, but neither their records nor the results of their actual game mattered in the slightest.
This is unacceptable. It would have been impossible in a world where college lacrosse had more — read: any — mainstream media coverage.
Army Tight Ends Coach Matt Drinkall spent fully two hours on the phone with the AFF crew before the season last season, one hour on the record for our podcast and one hour off the record talking on background. He didn't have to do it, either. However, he was extremely passionate about explaining his game to us, who are fans. And I don't know if you've noticed, but football is still king in this country. Especially in terms of viewership.
This kind of thing tells us exactly why. Football guys LOVE to talk about their sport.
So. Lax friends, do us all a favor and reach out to the regular people in your life. If you don't treat your game like it's a secret club, then maybe — just maybe — more folks will feel interested and empowered enough to actually watch it.
𝗡𝗢. 𝟭𝟯 𝗔𝗥𝗠𝗬@ArmyWP_MLax is loaded with senior talent, with 19 players providing invaluable leadership.

"The impact that this group will have will probably be the heaviest in my time." — @ArmyLaxCoach

Team preview 👇https://t.co/CdYuIxdKhT

— USA Lacrosse Magazine (@USALacrosseMag) January 12, 2022
Final Thoughts
As For Lax will be here with you all season as we look for the Black Knights to post a truly magnificent season. We'll try to post a one-page preview each week, both here and on social media. We're really trying to make it easy for casual fans to jump onboard what should be a Hell of an exciting ride. Really, it ought to be great.
Final note: if you're on Instagram, and you're a fan of Army Lacrosse, Donna Tamasitis is an absolute must-follow. She shoots a lot of the games for Army Sports and posts a bunch of her extra pics to the 'Gram. That's good stuff.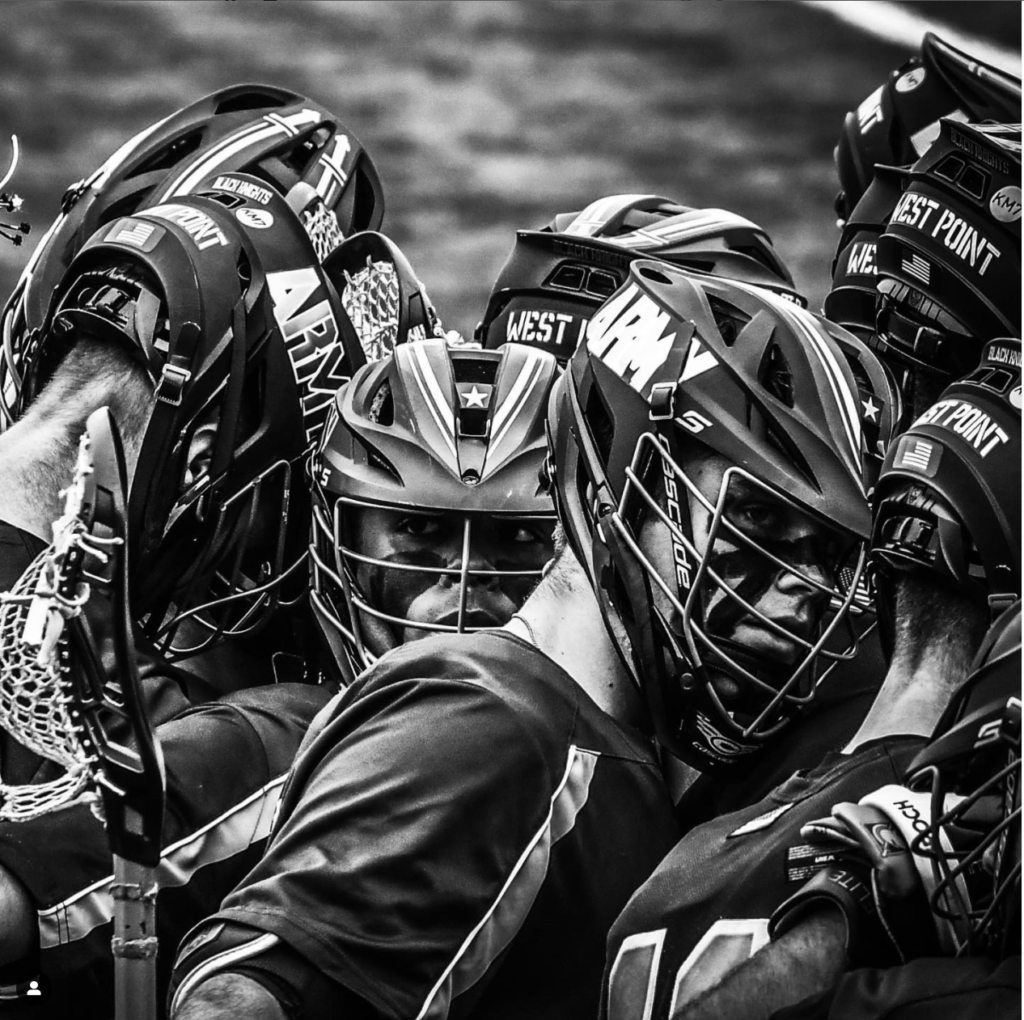 Go Army! Beat Navy!!!