Army won a thriller at Bucknell. With just four minutes remaining, things looked grim. The Black Knights had struggled again through the opening quarter and hadn't quite gotten on track down the stretch. Thankfully, plebe FOGO Colletti caught fire just when his team needed it, putting in a masterful performance at X that allowed the high-powered Black Knights' offense to capture the momentum in the game's waning moments.
Army scored three goals in three minutes, and that was that.
Final score: Black Knights 10, Bison 9.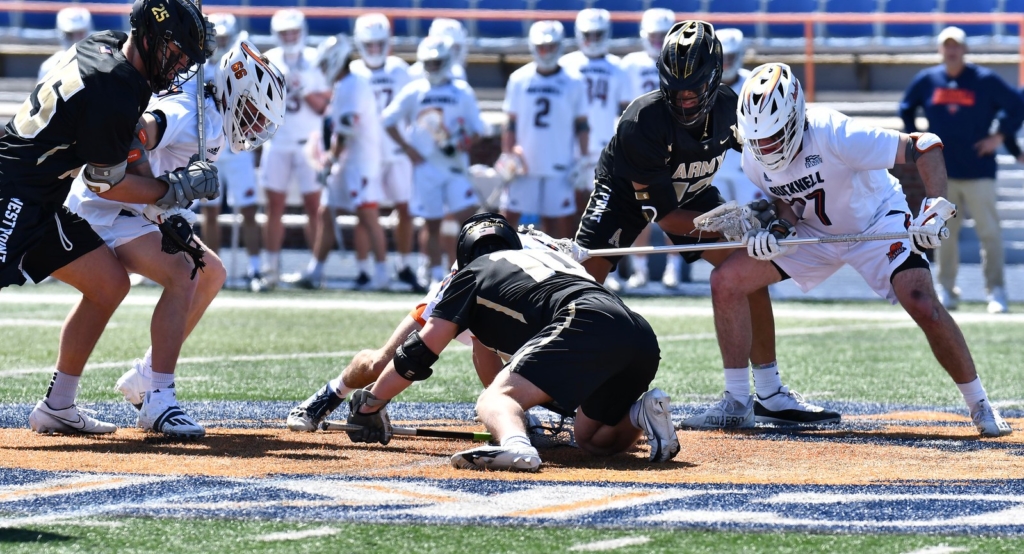 We can learn a lot from these close calls, friends. Bucknell came into this one with a good team and an even better record, 7-2 overall. This was by no means an easy win, nor should we have expected that it would be. Truth is, the Patriot League knows no such thing.
The biggest take away from this one might be that the Black Knights are never truly out of a game. They always have a chance to catch fire and make a run at victory. That is worth a lot as we head into the season's most important contests.
Congratulations to Will and Wyatt on their @PatriotLeague weekly awards!

?https://t.co/NXu9Z7KmyQ#GoArmy | #FamilyToughnessTradition pic.twitter.com/gPpx3kxKig

— Army M.Lacrosse (@ArmyWP_MLax) April 4, 2022
It's a Trap!
This week's game against Colgate will be the first of back-to-back contests against teams from Upstate New York with something to prove. To this point, the Colgate Red Raiders have had a largely underwhelming season. They come into this game with a 2-7 record overall, 1-3 in the Patriot League, and at least on paper, that ain't where you want to be when you're taking on a top-ranked team in Army.
Alas, this sets up as a classic trap game. Army is on the road against a theoretically "bad" team in Colgate, and the Black Knights have three super-important games on the immediate horizon — at Cornell, Navy, and at Boston College. That's tough.
What's worse, though, is that Colgate is a much better team than their record suggests. Their wins came against Lafayette and the Zoomies of Air Force, and just this past week, the Red Raiders lost by just a single goal to Top 10 Harvard. So Colgate is hitting their stride just when they need to, and with four straight Patriot League games remaining on the schedule, they are by no means out of the running for the last spot in the Patriot League Tournament.
Moreover, Colgate's biggest strengths match up well with Army's weaknesses. They have an excellent FOGO in Thomas Colluci, and they are very good at scoring in transition. If they can make that work consistently, this may yet be a close game, though it remains one that Army definitely should win handily.
Our Play of the Week, presented by @USAA, is Wyatt Schupler's 60-yard strike in the 10-9 victory for men's lacrosse over Bucknell on Saturday!!@ArmyWP_MLax is 4-1 in Patriot League as they welcome Colgate to Michie Stadium on Saturday! #GoArmy pic.twitter.com/tP84stazyj

— ArmyWestPoint Sports (@GoArmyWestPoint) April 4, 2022
Final Thoughts
At this point, every game is a Big Game. Army comes into this week's contest ranked #12/#13, and if they haven't quite won every time out, they haven't been blown out by anyone, either, and all of their preseason goals remain in front of them as a result. They need to avoid slow starts and improve their wing play while continuing to dominate at the midfield. They also need to keep playing with the classic Army energy and passion that is the hallmark of every successful Academy team in recent memory. If they can do that, this could still be a special season. Certainly, this team has enough talent to make it happen.
But they can't win them all if they don't win the next one.
Today, we salute all our cadet-athletes on #NationalStudentAthleteDay ???#GoArmy pic.twitter.com/eOPuJ0hEAu

— ArmyWestPoint Sports (@GoArmyWestPoint) April 6, 2022
Go Army! Beat Colgate!!!