Last week, the Black Knights were able to gut out a huge team-building victory against a very scrappy team from Colgate. Once again we saw a back and forth slugfest that lasted until the waning minutes of the fourth quarter. That's when firstie Attackman Brendan Nichtern scored three of his six total points on the day, rallying the Sons of Slum and Gravy to come from behind and clinch victory. With the win, it's now make-it-or-break-it time for the Black Knights as they seek to position themselves for postseason play and a run at the NCAA Tournament.
Our Play of the Week, presented by @USAA, is one of Wyatt Schupler's 11 saves in Saturday's @ArmyWP_MLax win over Colgate to move to 5-1 in league play! #GoArmy pic.twitter.com/0ARQTMXQiO

— ArmyWestPoint Sports (@GoArmyWestPoint) April 11, 2022
The Team from Ithaca: Cornell Big Red
The Black Knights head up to Ithaca to face off against their final non-conference foe of the season in a game that could potentially be the team's biggest boost to their at-large resume. As of this writing, the Patriot League will likely send just one conference bid to the NCAA Tournament. However, a win against Cornell could give the Black Knights an edge, potentially providing another path forward should something unwarranted happen in the Patriot League Tournament.
The Big Red come into this game having just won an overtime midweek game against Syracuse at the Dome. Much like the Army game earlier in the season, Syracuse found themselves with a 5-goal lead early, only to watch the visitors pull a massive comeback and eventually snatch victory in overtime.
Friends, Cornell (10-1) is a great team coming in hot. They're currently ranked #5 overall and #1 in the Ivy League, and they have a ton of explosive players putting in work week-in and week-out. Sophomore CJ Kirst — yes another Kirst brother — is Big Red's go-to guy on offense. He enters this week's contest with 54 points on 34 goals plus 20 assists. He can both shoot it himself and distribute the ball, making him arguably the toughest one-on-one matchup of the entire season for the Army Defense.
Cornell is very much like Army in terms of their pace-of-play. They come into this game having lost just once — to Penn. Moreover, five of their last eight games have been decided by a final, decisive goal. That sounds familiar, right?
These guys know who they are. They've been battle-tested and come out victorious many times this season.
Still on a high from @CornellLacrosse win last night?@SwezeyLacrosse takes you back to 1976, late in the first half, down 7-2 in the national championship game vs. @TerpsMLax.

What happens next is part of Big Red lore: https://t.co/fMWP9SvAMU pic.twitter.com/3m2GWDUf3e

— Inside Lacrosse (@Inside_Lacrosse) April 12, 2022
Same Game Plan: Execute Violently
The key to almost every Army victory revolves around execution in the early periods. The Black Knights have found themselves in 4th quarter dogfights quite often this season. Against a team that also finds themselves fighting back in the 4th, the winner of this one might just be decided by who has the better 1st and 2nd quarters.
Offensive Execution
Army's offense continues to be one of the best in the country in overall efficiency. They're converting more than 50% of their offensive opportunities and scoring some 12.5 goals/game overall. As Coach Alberici himself has said, when Brendan Nichtern gets the ball, the Black Knights usually find a way to score — and quickly.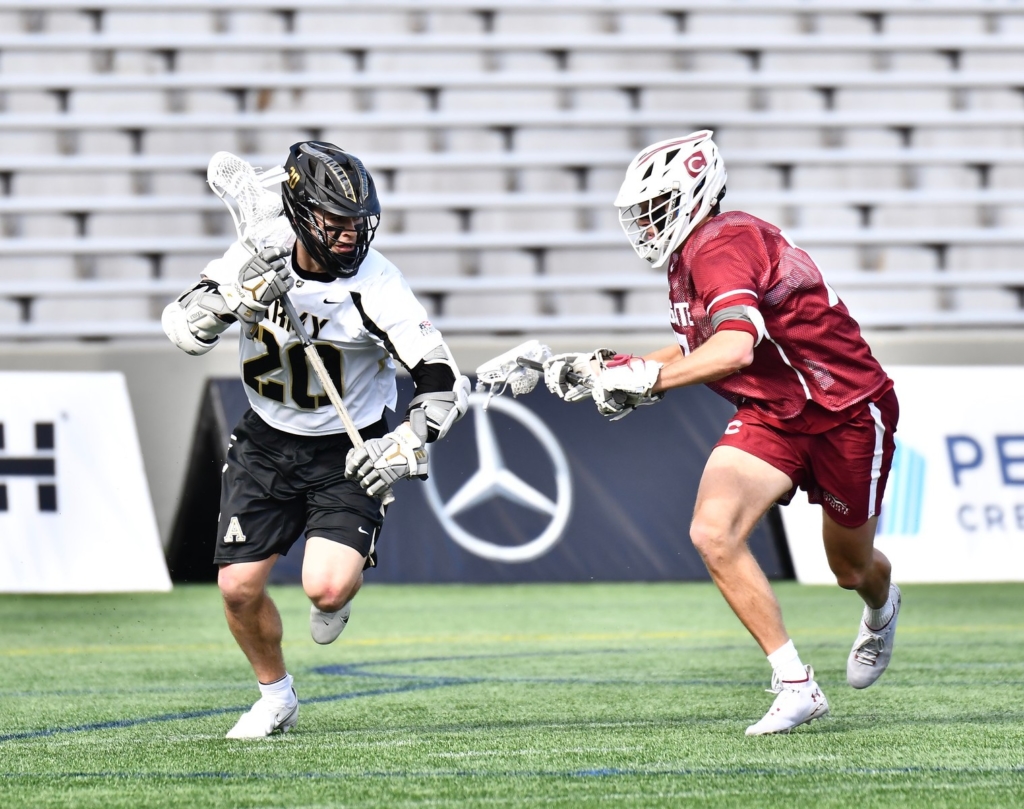 Bottom line, the Black Knights offense has to be able to hold the ball in this game. They do that, and they've got a real chance to pull an upset.
Special Teams Development
One of the big storylines over the course of this season has been the development of a legitimately formidable faceoff unit. Plebe FOGO Will Coletti's emergence has propelled the Army transition game to new heights. Having the ability to score is crucial, but being able to score and then immediately win back possession is just as important when playing against elite opponents. Army has seen quite a few of those of late and will likely see even more in the coming weeks.
Army's Defense Has Found a Rising Star
A few weeks ago Coach Alberici talked about the emergence of a powerful defensive weapon at Army, plebe AJ Pilate. Pilate is the first freshman defenseman to start for the Black Knights in Coach A's entire seventeen year tenure. Not only that, Pilate has become the go to guy when it comes to lockdown defense; he's taken on the best attackman from every team that Army has seen this season.
Pilate has performed phenomenally. He'll need another big game this weekend against Cornell's Kirst, but he's backed by an overall Army defensive unit that has finally come into form as we enter the most crucial part of the season.  
⚔️We need ??? to help make ????????? ??? ??? ?????? a success on Saturday, April 23 at 12 p.m.⚔️#GoArmy | #FamilyToughnessTradition | #BEATnavy pic.twitter.com/pNGiaJmR5B

— Army M.Lacrosse (@ArmyWP_MLax) April 13, 2022
Final Thoughts
We're in for a legitimately great contest this weekend that ought to provide both a big boost to the team's confidence and a boost to their overall pace-of-play heading into the Patriot League Tournament. Army has an opportunity to make a statement this weekend on a nationally televised stage against a legitimately big-time opponent.
They're gonna do it, friends.
This weekend's game starts at 3 pm with coverage available via CBS Sports.  
.@ArmyWP_MLax moves to 5-1 in @PatriotLeague play with a win over Colgate. pic.twitter.com/QsoIBnWVQ8

— CBS Sports Network (@CBSSportsNet) April 9, 2022
Go Army! Beat Cornell!!!
As always, images via Donna Tomasitas on Smugmug.