Michie Stadium is the main football stadium for the United States Military Academy at West Point. It serves as home to Army Football as well as Army Men's and Women's Lacrosse. It is consistently ranked as one of the best, most scenic college football stadiums in the entire nation.
Editor's Note: This post was originally published in 2019. It has been updated for the 2021 and now 2023 seasons.
Our 2023 Media Guide is Live!

→ https://t.co/vzlBJgfwnT#GoArmy pic.twitter.com/2Cdrcmyvmm

— Army Football (@ArmyWP_Football) August 21, 2023
Overview
Located at the historic "West Point" of the Hudson River, Fortress West Point was established to guard Albany and Upstate New York from the invading British during the Revolutionary War. The West Point is itself part of a notoriously tricky S-turn that required sailing ships to slow down and tack on their way upriver. The Continental Army installed a coastal artillery battery at this point along with a Great Chain to block the river, denying access to the British Navy. The Army then installed a series of small infantry redoubts on the surrounding heights to protect the artillery battery from an assault by British infantry.
The United States Military Academy (USMA) was founded at West Point in 1802. The Academy was itself something of a compromise. President Thomas Jefferson wanted a national academy similar to the Sorbonne in France. Military hardliners in Congress wanted a stronger Army. USMA met both needs. Today's military academies reflect this compromise in that select students matriculate at taxpayer expense but owe a debt of military service after graduation.
West Point cadets are college students, but they are also on active duty in the U.S. Army.
Getting Tickets
Army Football plays twelve regular season college football games per year as part of the NCAA Division I Football Bowl Subdivision (FBS). Depending on the year, this may include five or six home games played at Michie Stadium. In 2023, there are six home games plus neutral site match-ups with both Air Force (in Denver, Colorado) and Navy (at Gillette Stadium in Foxboro, Massachusetts).
Army Football has six home games in 2023 — Delaware State, Boston College, Troy, UMass, Holy Cross, and Coastal Carolina. This is an excellent home slate! We have a home game against a Power 5 opponent from the ACC, home games against both of last year's top teams from the Sun Belt, and the defending Patriot League Champion all visiting Michie Stadium this year. The stadium seats about forty-thousand fans, but save for select match-ups — home games against Air Force, for example — it rarely sells out. This year, however, tickets are already limited for the match-up with Boston College, and we expect that the match-ups with Troy, Coastal, and maybe even Holy Cross ought to sell pretty well, too.
Decent seats can still be had for something like $50 or maybe $80 depending on your seat location and game day match-up. However, visitors will still have to pay for a parking pass, usually $20 in advance or $25 on game day. Tickets are available at GoArmyWestPoint.Com or via third-party vendors such as StubHub or SeatGeek.
Season tickets are a great deal at Michie Stadium, especially if you are willing to walk a little. Premium seats and parking can get pricey, but if you're willing to hike up to the stadium and sit along the goal line, you can attend the whole season for something like $300, parking included. I did this myself for a while, and it was well worth it. Army Sports also sells three-game mini plans at prices ranging starting from $110. That is an outstanding deal, especially if you're not particularly close to West Point.
📍🏟 https://t.co/tGCTJbK0gV pic.twitter.com/XhOfID3kXw

— Army Football (@ArmyWP_Football) August 17, 2023
Army-Navy & Army-Air Force
Army has two neutral site games in 2023 — Army-Air Force at Mile High Stadium in Denver, Colorado, and the Army-Navy Game at Gillette Stadium outside of Boston.
Tickets to Army-Air Force start around $40. Those are readily available and look unlikely to sell out. In fact, the Zoomies haven't even opened the upper deck at the stadium. They don't tend to travel nearly as well as the Black Knights, and honestly, if they don't release some of those seats to the Army Ticket office, that stadium might look kind of empty on game day.
Tickets to Army-Navy are much, much harder to come by this year. We would normally advise you to join the Army "A" Club, give them at least $100, and then buy your tickets during the pre-sale. However, Army's allotment sold out before the pre-sale even finished, so this year… we think you might be out of luck. As of this writing, Seat Geek shows a handful of tickets available starting at a whopping $800.
Wow!
🔥🔥🔥#GoArmy | #BEATnavy pic.twitter.com/YEtidIgBop

— Army Football (@ArmyWP_Football) December 11, 2022
You can find the A Club's digital brochure here. That's where you'll find donation levels, booster benefits, much more detail on parking, etc. My personal opinion is that if you're going to give the Academy money — which you should absolutely do because Army Sports are not taxpayer funded — it's worth calling to make sure that you get exactly what you want in return (845-938-2322). Then call the A Club (not the Army Ticket Office) to buy your tickets to both Army home games and the Army-Navy when your turn comes up during the pre-sale.
West Point is ancient, and the A Club itself specifically caters to older Old Grads. They've improved the online experience quite a bit in the last few years, but it's still often worthwhile to call and actually talk to someone on the phone, too. They're happy to help, and they can often help you find better options than whatever it is you think you've found online.
Getting on Post and Parking
West Point is a mountainside riverine fortress built on imminently defensible terrain long before the invention of motor vehicles. This gives the place spectacular views, but it also means that the post's road network is entirely constructed of winding two lanes roads. Parking is limited, and there are exactly three ways on and off post. Moreover, West Point exists fully in three dimensions. Michie Stadium sits well above the Cadet Areas and the Plain, which in turn sit above Eisenhower Hall, the Field House, Buffalo Soldier Field, and several major parking areas.
If you remember nothing else, remember this:
GET. THERE. EARLY.
This is doubly important after this year's bizarre flooding following a freak ten-inch rain storm earlier this summer. We never thought of West Point as a place that was particularly prone to flooding, especially given that it sits on the side of a mountain, but if you drop ten inches of rain anywhere, it's going to make a mess. This year, we saw MASSIVE flooding that caused any number of roads to wash out. I'm quite sure that the Academy will do all that it can to put the place back together before football season, but at the end of the day, simple reality is going to limit how much they can rebuild in just a couple of months.
Friends, for a noon kickoff, we advise you to be on post no later than 9:30 am.
If you've never spent any real time around military veterans, it may surprise you to learn that West Point has a vibrant pregame tailgate tradition. But look, Army officers are planners by nature, and really, no one raises Hell quite like a bunch of soldiers blowing off steam on the weekend.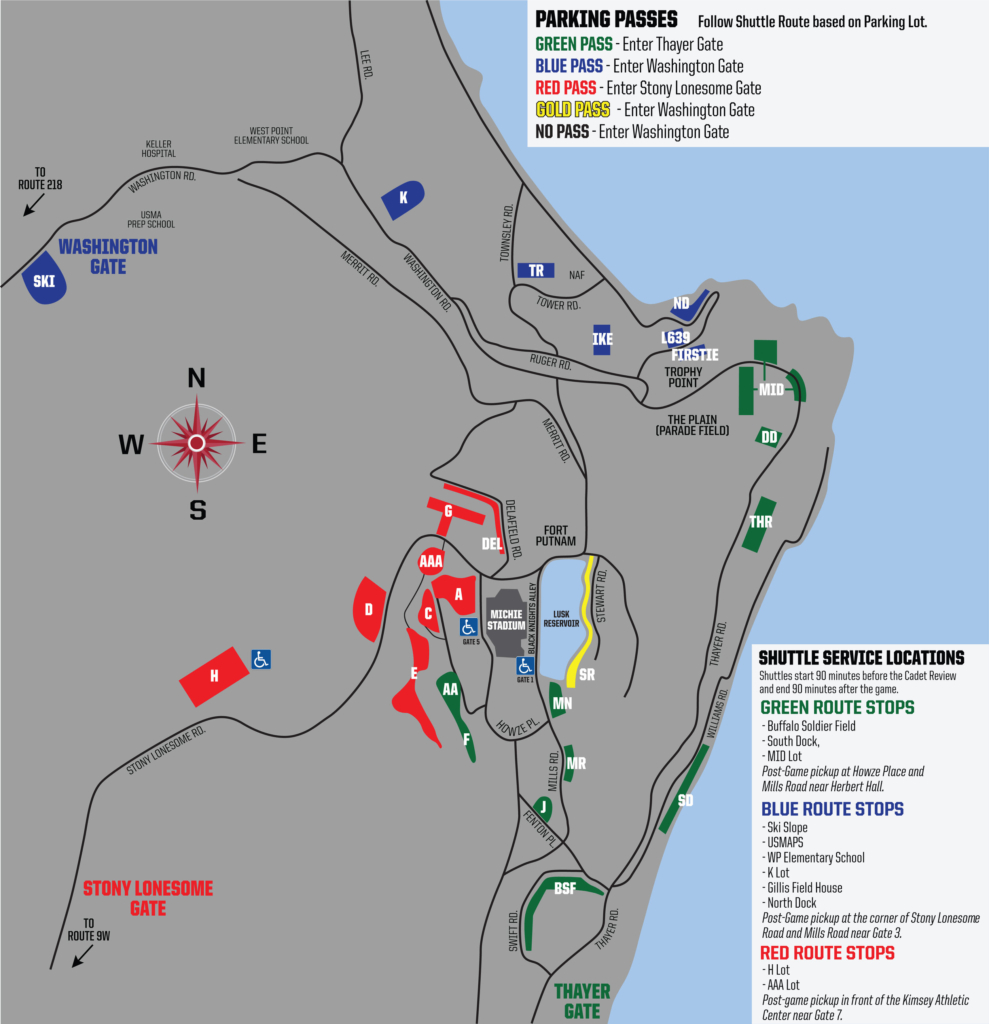 How you get on post is determined by where you were assigned to park. If you don't have a parking pass, you are generally supposed to enter through Washington Gate (the northern gate) and park in one of the Blue lots. These are all well away from the stadium, necessitating shuttle busing, but they are reasonably convenient for getting on and off post. That's a good thing!
Alas, if you're unfamiliar with the Academy, and you've not done any research whatsoever, your GPS will probably take you to Thayer Gate (the southern gate). You will still get where you are supposed to go— eventually — but traffic at Thayer Gate tends to be very heavy, both because Buffalo Soldier Field is a major parking area located right inside the gate and because bunches of people who don't know where they are supposed to go invariably go that way because they failed to plan ahead.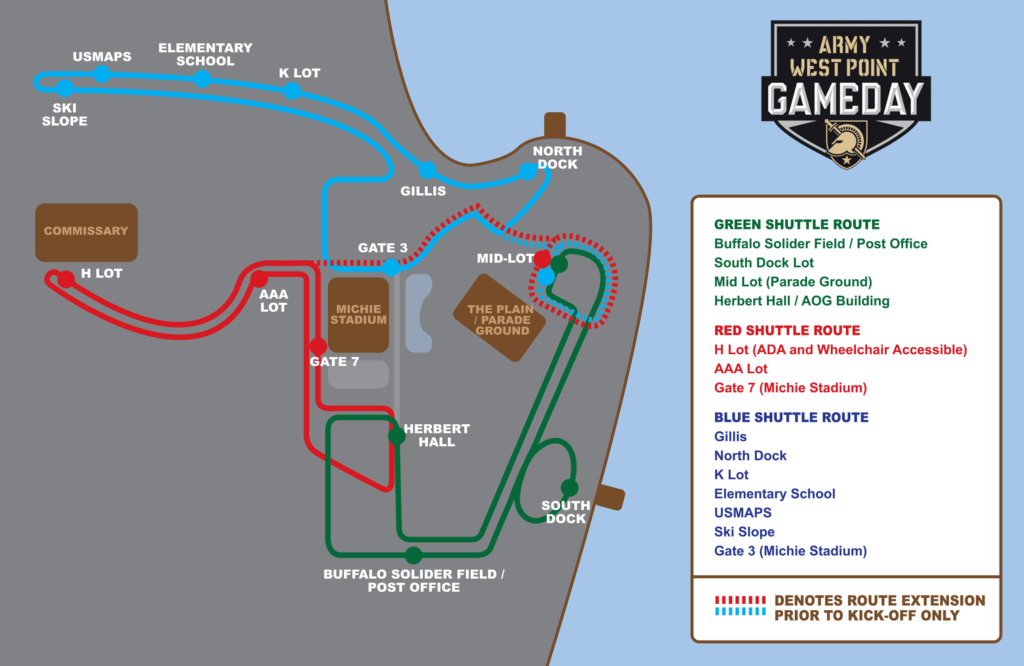 No matter where you park, you will almost certainly face either a substantial walk to the stadium or a ride on one of the shuttle buses. If you've got time, some physical stamina, and decent walking shoes, the hike around Trophy Point, the Plain, and the Superintendent's House is well worth it. If you stop by Grant Hall, you can grab a cup of coffee or some light snacks and maybe see some of the cadets in their natural habitat. From there, you can either walk up to the stadium or catch the Trophy Point shuttle bus. If this is your first time at West Point, I strongly recommend doing at least some sightseeing.
Tailgating
Army Football regulars always tailgate. In fact, in the years before the team's resurgence, the tailgate was typically the highlight of the gameday experience. We like to get there early, park, grill out, drink some beer, and then stumble up to the stadium just in time for the parachute jump.
If you don't necessarily care about sightseeing, this is the way to do it.
Class reunion tailgates are usually held down at Buffalo Soldier Field. Lots of smaller tailgates are located up at Daly Field near the Plain or down by South Dock. There is also a substantial tailgating presence up in the lots above the stadium and along the access road by Lusk Reservoir, but you probably won't get into one of these if you don't know someone who parks up there.
Good parking at West Point is a major perk reserved for major donors.
Locations
You may hear about some of these places during your trip.
Trophy Point. The scenic bluff overlooking the Hudson River, so-called because it displays cannons, i.e. war trophies, taken by the U.S. Army. Battle Monument is located on Trophy Point.
The Plain. The parade ground, located in the middle of post. It sits in front of the Mess Hall and the Cadet Areas and behind Trophy Point.
Cadet Areas. Where the cadet barracks are located. These areas are off-limits to visitors.
Doubleday Field. The baseball stadium, located near the Plain.
Quarters 100. The Superintendent's house, overlooking the Plain.
Flirtation Walk. Also called "Chain Battery Walk," this is the access trail to the old coastal artillery site. It's now called Flirtation Walk, or "Flirtie", because cadets are forbidden public displays of affection. By tradition, though, only cadets and their guests are allowed access to Flirtie, so the place became something like Make Out Point back in the day. Flirtie runs along the river below Trophy Point.
Michie Stadium. The football stadium, located up the hill from the Plain.
Lusk Reservoir. Located across from Michie Stadium. Lusk Reservoir has 78 million gallons when the water is flowing over the spillway.
Black Knights Alley. Held on the access road between Michie Stadium and Lusk Reservoir. Pregame festivities start around 10 am. No beer is available inside the stadium, but you can buy beer and food at Black Knights Alley, and the Benny Havens Band plays there before games.
Grant Hall. A reinforced coffee shop located just outside the Cadet Areas on Thayer Road. As a visitor, this is your best chance to see cadets going about their daily lives.
Buffalo Soldier Field. The large grassy field located just inside Thayer Gate.
Thayer Hotel. The post hotel, located just across from Buffalo Soldier Field. The hotel itself may or may not be worth an overnight stay, but it's a great place to get a drink after the game, and they have a terrific Sunday brunch. Nice views of the river, too.
North and South Docks. Large parking areas down by the river. South Dock in particular tends to host a lot of tailgates. It's a LONG walk from the docks to the stadium, but the shuttle bus service is not bad.
The Visitor's Center. Located just outside Thayer Gate, West Point's Visitor's Center has a full-on museum and a massive gift shop.
Black Knights Alley & the Benny Havens Band
When I come up with my wife or one of my buddies, I tend to hang out in the parking lot, grill, and drink plenty of beer. When I used to come up with one of my kids, though, I'd often stop by Grant Hall for a quick bite before heading up to Black Knights Alley to listen to the Benny Havens Band.
Black Knights Alley is great because they have lots of activities for kids along with food, restrooms, and merchandise tents. It can get crowded, but it's a fun kind of crowded, and the area near the stadium is scenic.
Parachute Jump
Weather permitting, the Army Parachute Team jumps into Michie Stadium about fifteen minutes before kickoff, carrying the game ball and the flag. This is the Military Academy's competitive parachute team, not the U.S. Army's Golden Knights, so the parachutists are (mostly) cadets.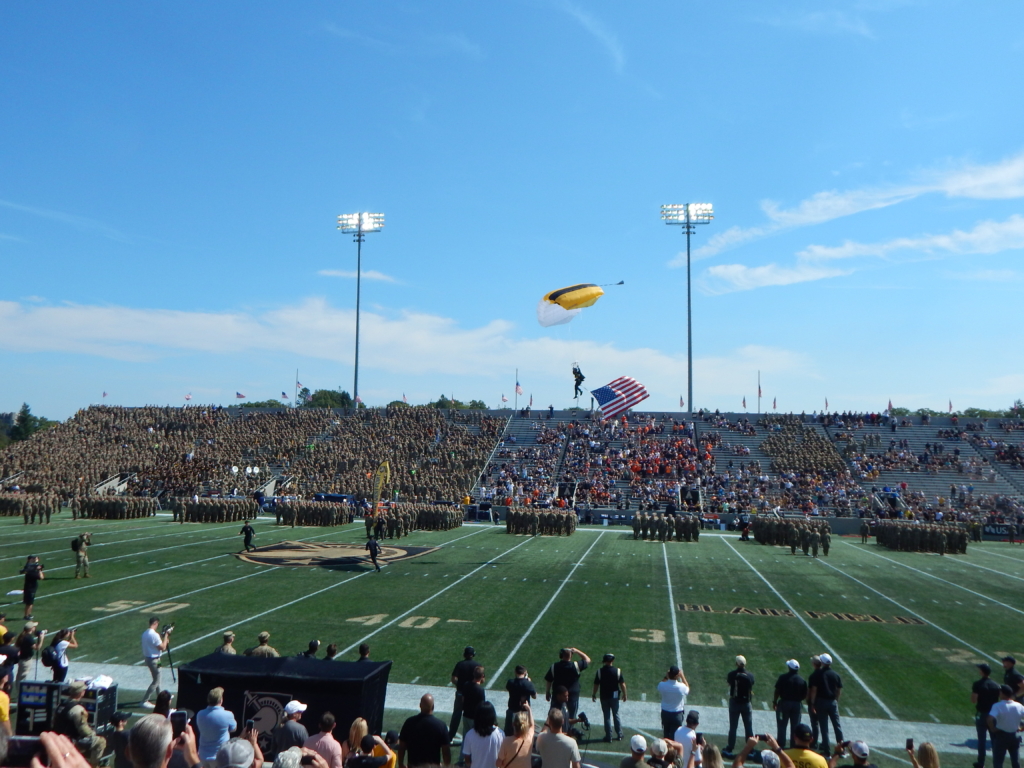 The Game
Moving around inside Michie Stadium is not always easy, but folks are unfailingly polite, so with a little time and patience, you will eventually get where you're going.
Perhaps the biggest point of confusion arises with the section numbers. Sections 1, 2, 3… to 32 are lower level sections. Sections U-9, U-10… to U-16 are upper level sections. I sit in Section 11, and occasionally someone from Section U-10 will be sitting in my seats when I finally get to them. This isn't a huge issue, but I'm sure it's a pain to hike up from Section 11 to Section U-11.
I personally like being down close to the field because when I yell at the visiting team, I want them to hear me. I don't go to football games to watch, I go to participate. However, the upper level sections all offer an excellent view of the field—arguably better than the view from lower down. It can get cold and rather windy up there late in the fall, however, so if you sit up there, do yourself a favor and bring a blanket.
Concessions at the stadium are honestly not great. I don't know that there's an easy fix for this, but the lines can get pretty long, especially around halftime. This is another reason why tailgating is so important. Don't go into Michie Stadium on an empty stomach. That's a bad mistake.
My final note is for Grads: it's worth your time to try to meet up with your classmates during the game to take a group picture. Especially if you've got classmates who are on faculty, meet up in one of the middle sections during halftime and pose. You'll be glad you did.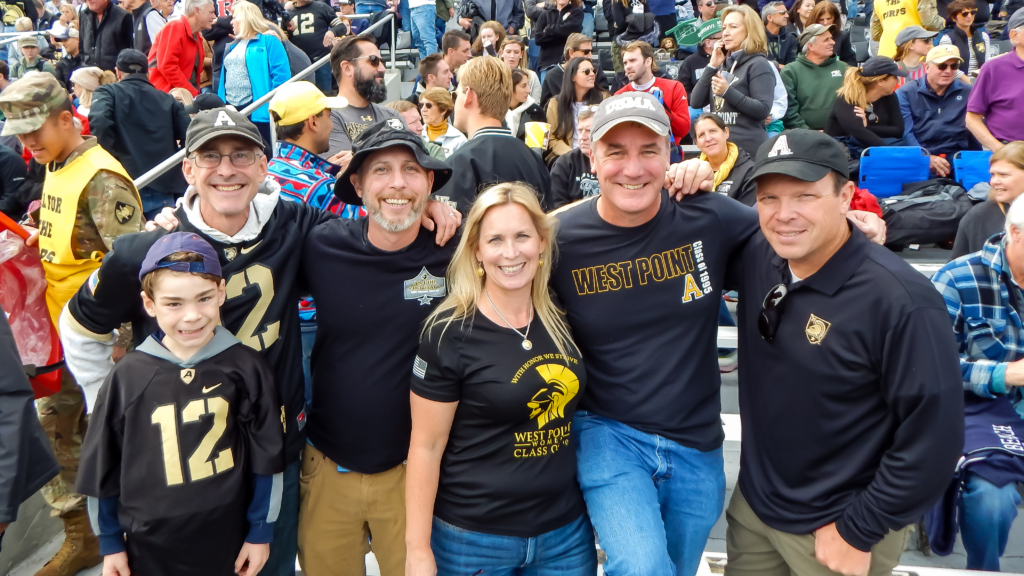 Post-Game
We sing the Alma Mater after every game. Please stay for that.
It can take some time to get out of the stadium after the game, but the walk back to the car is usually downhill and pretty easy, and with rare exceptions, it doesn't take too long to get off post.  Postgame tailgating is great, but we don't do it as often as we should because of the drive home. Still, my favorite games have been the ones when I've met up with classmates afterwards. Time permitting, that's the best part of the experience.
As For Football's Preseason Series
— Army Football Preview: 2023 Season Preview (First Quarter)
— Army Football Preview: 2023 Season Preview (Second Quarter)
— Army Football Preview: 2023 Season Preview (Third Quarter)
— Army Football Preview: 2023 Season Preview (Fourth Quarter)
— Analyzing Army's Appearance on NFL Network
— A Few Favorite Pics from the 2022 Season
— Army Football Preview: Defense & Special Teams
— Army's New Offense: Why the Switch?
— PAC-12 Dissolution Sours Independence Bowl Deal
— Michie Stadium: Blaik Field's Endzone History
Go Army!  Beat Navy!!!