Welcome back, friends! Your Army Black Knights beat the Delaware State Hornets, 57-0, yesterday. This marked Army's largest shutout victory since 1956.
It's more fun when they win, am I right?
It's a final from Michie!

Over 500 yards of offense led us to victory!#GoArmy pic.twitter.com/PfAhuEAZkR

— Army Football (@ArmyWP_Football) September 9, 2023
The Army Team got pretty much everything working yesterday. QB Bryson Daily went 8/11 passing for 193 yards and 3 touchdowns. He also ran for 65 yards and 2 touchdowns on just 9 carries, making him the team's leading rusher. Army went just 2/7 on 3rd downs, but they went 4/4 on 4th downs and punted just once. This in a game where the Black Knights earned 22 first downs overall and posted 535 yards of total offense — 238 yards passing and 287 yards rushing on 6.7 yards/carry.
We got the sense that this was how the offense was supposed to look. That Inside Dive to RB Jakobi Buchanan still doesn't look great, but Army used it to set up both the kind of Quarterback Keeper/Option Pitch plays that we've seen the Black Knights run since the beginning of time as well as a good-looking passing game over the middle that's entirely new. Granted, it helps when your offensive line wins one-on-one match-ups consistently across the board, but the team also had a week's competition under its belt alongside the chance to correct mistakes in real gametime situations. That sort of thing can be invaluable for any team, but it's especially important for a team with a new quarterback running a new offense.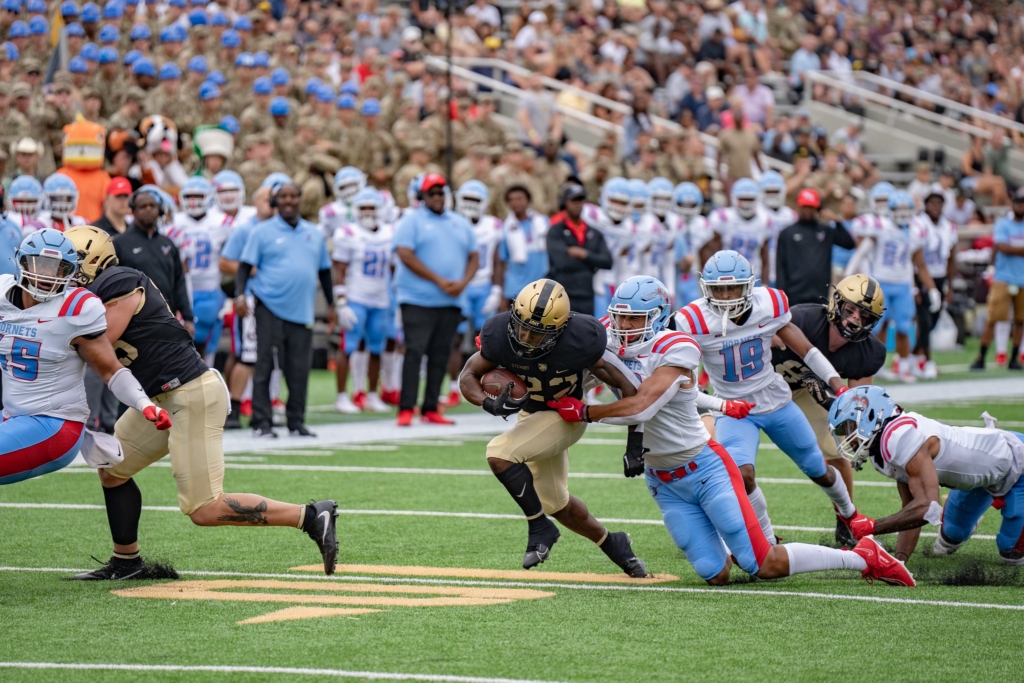 Meanwhile, the Black Knights held firm on defense. They gave up some yards in the passing game when Delaware State QB Marqui Adams scrambled outside the pocket, but they stiffened in the red zone, forcing 6 critical penalties, 3 sacks, 2 sack-fumbles, and 10 total tackles-for-loss. Delaware State converted 6/16 3rd downs, but they failed both times they went for it on 4th down and rushed for just 34 total yards on 24 carries (0.7 yards/carry).
The defense has looked like this a lot in the Monken Era, especially since Nate Woody became Defensive Coordinator. The Black Knights play strong against the run and against deep passes, but they'll give up any number of quick outs to wide receivers or running backs while waiting for an opposing offense to make a mistake. Delaware State went 20/34 passing (58.8%) for 195 yards yesterday, and that's not bad by any means, but that short passing game off the scramble was all they could make work. They sustained offense at times with that 59% success rate in the passing game — the Hornets held the ball for almost 32 minutes — but they were nowhere near consistent enough to drive the full length of the field and score touchdowns.
Bottom line, Army's defense bent but didn't break.
Army's special teams looked great yesterday, too. They blocked the Hornets' sole field goal attempt and did an outstanding job covering kickoffs and punts. K Cole Talley consistently put the ball in the end zone on kickoffs and he — almost — made a 65-yard field goal just before halftime. From the stands, it looked like his kick had the distance but drifted just a little to the right.
Our Victory Song 🔊 pic.twitter.com/TpR8M5YpXs

— Army Football (@ArmyWP_Football) September 9, 2023
Quick Thoughts
1. We got unexpectedly great weather yesterday. Forecasts had called for rain. Instead, we saw plenty of sun with temps that threatened to cook us at times.
The Northeast generally has been through the biggest heat wave of the summer this past week, and it's a shame about the timing. If we'd gotten this weather just one week earlier, I suspect the Black Knights would be 2-0 right now.
2. It looked like Army had a good bit more success running to the left yesterday than they enjoyed running to the right. I'm not sure if that's because of the formation and the players that got the ball when they ran left, or if the blocking was better on that side.
3. QB Bryson Daily made good decisions yesterday, and his passes had nice touch. He hit WR Isaiah Alston in stride every time, leading to 135 yards and 2 touchdowns on just 3 total receptions.
4. WR Ay'Jaun Marshall might be the best player on Army's offense. He has a chance to go the distance every time he touches the ball. That's been true in both games this season. However, he also now has 3 fumbles, all coming when he's fighting for extra yardage in traffic.
3 catches. 135 yards. 2 TDs.

Isaiah Alston has had a BIG first half. pic.twitter.com/87kOOGk4HV

— Army Football (@ArmyWP_Football) September 9, 2023
Looking Forward
The Black Knights have played two games and seemingly gotten themselves right after a rocky start. Can they now sustain success against better competition? They'll face a UTSA team that has played truly outstanding defense over the past two weeks, especially against the run, but which hasn't necessarily clicked yet on offense. Not the way we expected them to, at least.
UTSA now stands 1-1, having beaten Texas State a week after the Bobcats beat Baylor. However, the Roadrunners also lost to a Houston team that lost to Rice yesterday. Moreover, UTSA QB Frank Harris left yesterday's game with an early injury before coming back to start the second half. How healthy is he?
Army heads into this game as a 14-point underdog. But friends, this one might be closer than the experts expect. The Black Knights have everything that they need, especially now that they can actually pass when that's all the other team gives them.
Our favorite frames from a huge first half. pic.twitter.com/9TEwrjRY1U

— Army Football (@ArmyWP_Football) September 9, 2023
Go Army! Beat UTSA!!!
Cover image via Flickr: West Point – The U.S. Military Academy.