That last one didn't go our way, friends. But Army has a chance to get right this week when they host FCS Delaware State from the MEAC.
The AFF Crew has four Keys to Victory for what has suddenly become a critical early-season match-up. The Army Team needs to establish its identity heading into the heart of its — very tough — 2023 schedule.
Getting you set for our home on Saturday! #GoArmy pic.twitter.com/m0aJgCDhzT

— Army Football (@ArmyWP_Football) September 6, 2023
1. Hold Onto the Football
No team is going to win when they turn the ball over 5 times. We can maybe understand trying to make something happen in the waning minutes once ULM had gone up 17-13. However, the Black Knights still put the ball on the ground a bunch early in the game.
That can't happen.
First thing's first — Army cannot afford to beat itself. The offense needs to hold onto the ball and give themselves a chance to be competitive over four full quarters.
2. Establish the Midline
We didn't think we'd see a bunch of Midline-Option/Quarterback Follow with this new offense, but then the team came out against ULM and ran maybe 60% of their offensive snaps between the tackles. That's fine, but if they're gonna do it that way, we're gonna need much more straight smashmouth violence.
The team needs to get more consistent push along the O-Line, allowing them to establish themselves physically. They can then use that Inside Dive to spring QB Bryson Daily on the Follow for repeated doses of punishing yardage. That kind of inside power running has been Army's trademark throughout the Monken Era.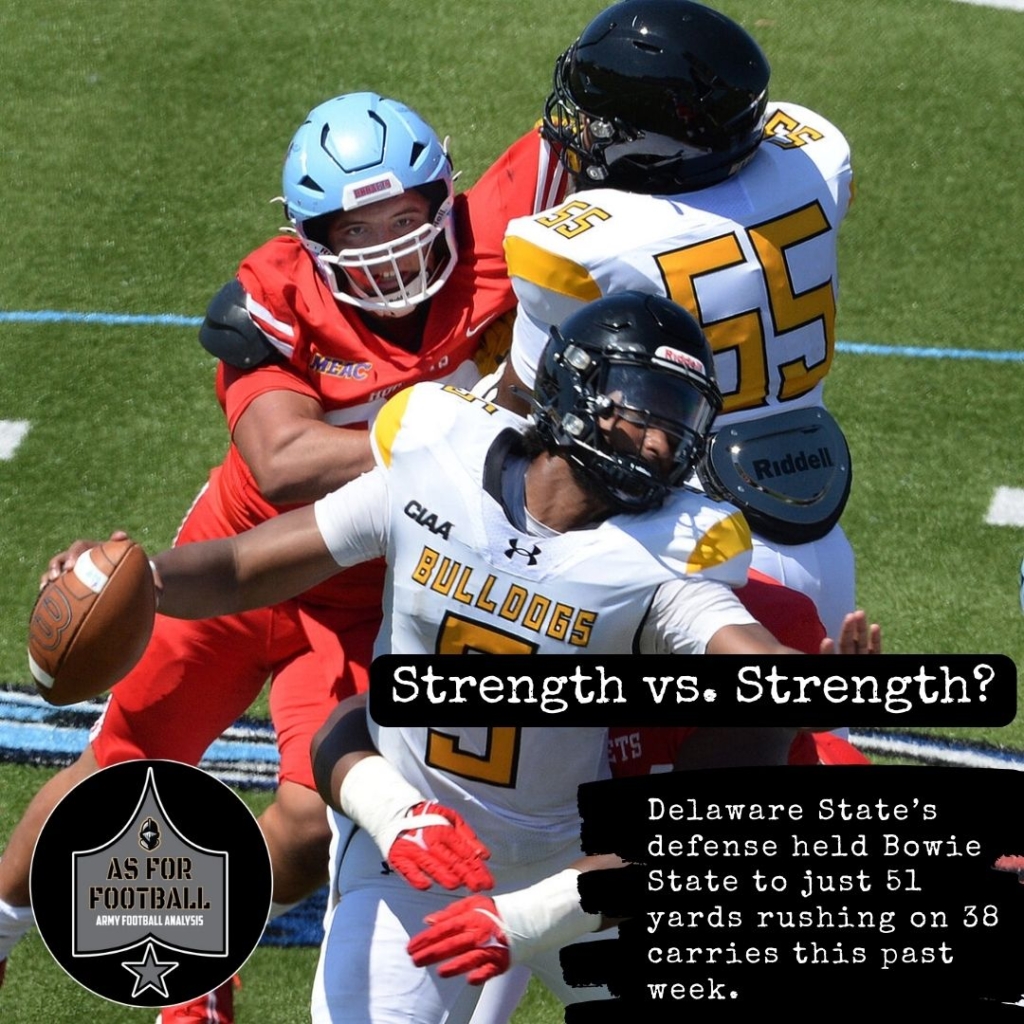 3. Finish Drives
Outside of a couple of long runs by WR Ay'Jaun Marshal, Army gained all of 133 yards rushing on 48 carries. That's an average of just 2.7 yards/carry.
This probably caused most of the ball security issues. Guys started pressing because the base offense couldn't get consistent yardage. The Black Knights stayed in 3rd-and-medium and therefore converted just 6/15 3rd downs and only 4/15 3rd downs via the run. Not coincidentally, the offense got smoked in the red zone.
As noted above, the Black Knights need to get tough yards in short- to medium-yardage situations, and they need to be able to convert 3rd downs on the ground. If they can do that, then they should also be able to finish drives in the end zone.
This team's identity hasn't changed. We saw that last week. They want to out-muscle and overwhelm dudes between the tackles and win with sheer, physical violence. That may open up some opportunities for explosive plays on the outside, but explosive plays aren't the point. The point is to smash the other team's defense until they no longer have the will to fight.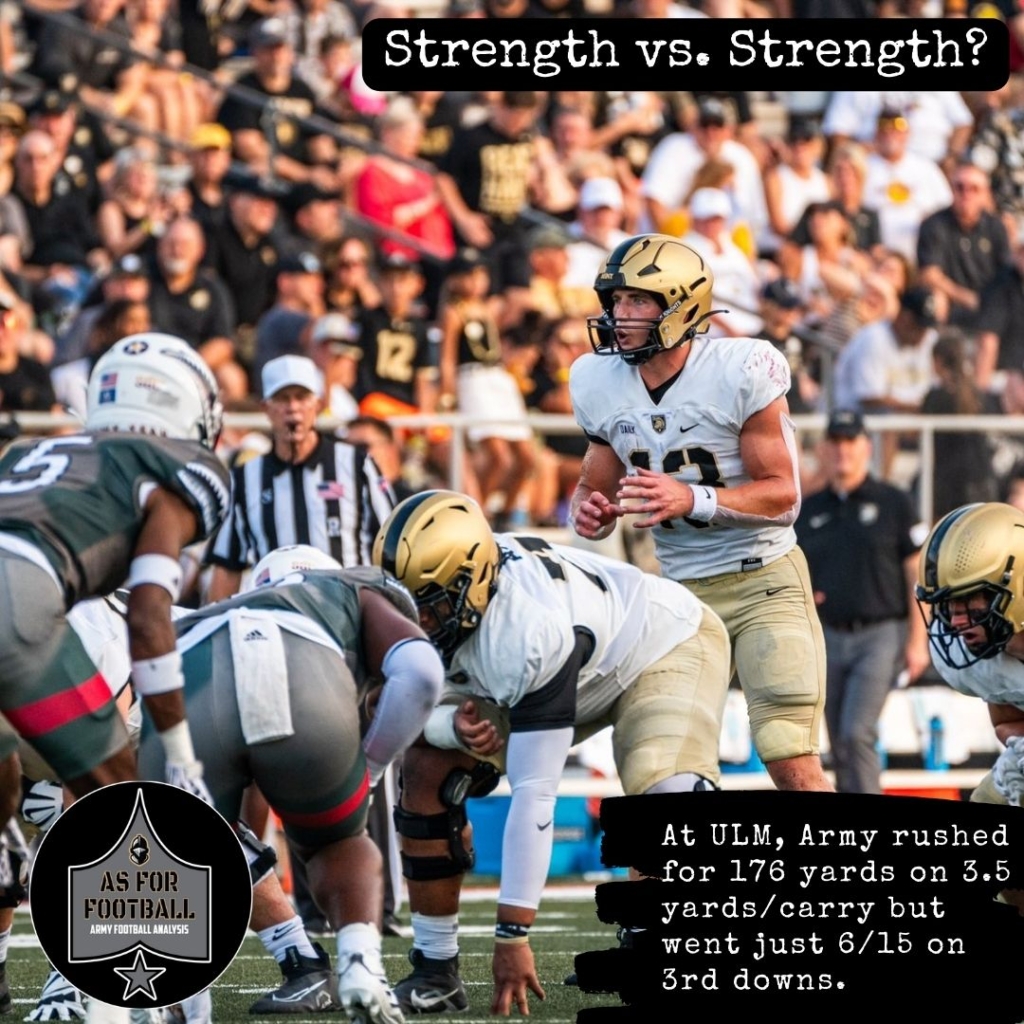 4. Bend But Don't Break
Finally, we learned last week exactly how bad big plays can hurt. The Army defense played outstanding football outside of one long run. But that run went for 62 yards and a touchdown, changing the entire complexion of the game.
Delaware State was not able to maintain offense against DII Bowie State, and it is extremely unlikely that they'll be able to maintain offense this week against Army. They might hit some big plays, however, and if the Black Knights' offense struggles again, those could be enough to make this game interesting.
Secondary coming up huge as we head to the fourth! pic.twitter.com/ZV7ZELZo4p

— Army Football (@ArmyWP_Football) September 3, 2023
Final Thoughts
It's a good match-up this week in that it's similar to what Army saw last week but even moreso. Delaware State has a talented, run-stuffing defensive front, but their offense leaves something to be desired. Can Army get their own offense going, or are we in for another defensive struggle punctuated by a handful of big, explosive plays? A consistent Army offense will win this game in a rout. An inconsistent one that turns the ball over, however, is asking for trouble.
Some of our top 📸 from our season opener in Louisiana.#GoArmy

— Army Football (@ArmyWP_Football) September 3, 2023
Go Army! Beat Delaware State!!!