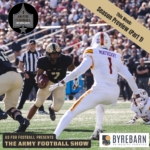 This week: we've got the full team back in the saddle, and it's a busy week!
We start by running through the news out of Army Football Nation, transition to a discussion of who's who on the coaching staff, and then run through the first half of Army's football season. What do the Black Knights have to do to get themselves to a bowl game? We dissect their prospects AND where you can find them on you TV tuner.
We close by revisiting last week's discussion about WHY kids choose the U.S. Military Academy. Turns out that a lot of folks really want to service in the Army. Go figure.
Go Army! Beat ULM!!!