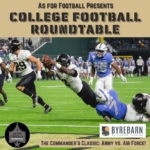 Friends, we've got a truly ELITE week of college football incoming!
This week: the guys talk about the week that was in college football, go through Tennessee's big win over Kentucky and Michigan's win over Michigan State, and name Trigger Joe's Blue Falcon of the Week. They then review the AP Top 10, quickly run through the service academy games, and tell us what they'll be watching this coming weekend.
Then they pick some games!
Last week was kind of a tough one for the team. They'll look to bounce back as top teams collide in the SEC and Army takes on Air Force down in Dallas, Texas.
Go Army! Beat Air Force!!!