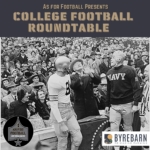 The rumors are true!
Yes, that's right. We finally did it.
This week: we're talking Navy Football with actual Navy fans. How do they feel about how Coach Ken was treated, what do they expect this season, and what generally does a good season look like for the Mids? Plus, we talk about Army's win total using the newest SP+ rankings, and finally, it's CONFERENCE REALIGNMENT MADNESS.
Get yourself a drink, friends… you're gonna need it.