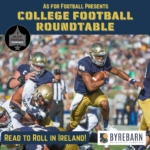 This week: the Roundtable is back, baby!
We run through the happenings on the service academy football teams, wonder what new Notre Dame QB Sam Hartman might do to Navy's secondary, and discuss the new AP Top 10.
Then we introduce you to Bandwagon Fantasy Sports, a team-based fantasy football league that we'll be using this season for our college football picks contest. Anyone can join our league, but if you want a shot at the Cruiserweight Picks Title, you have to be a member of the Firstie Club.
League Name: As for Football -2023 Official
Access Code: aff2023
Finally, we wonder who will be 2023's breakout player of the year in college football.
It's all happening, friends. We're just two weeks away!