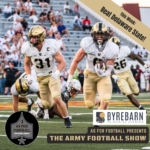 This week: the guys talk about the game at ULM, going deep on what went wrong as well as where we saw bright spots. It's not time to panic yet… is it?
We then preview this week's home opener against Delaware State. What should we expect, and what do we hope to see?
It was a fun show this week in spite of the loss. Share it with us and cheer on the Army Team as they try to get this thing turned around.
Go Army! Beat Delaware State!!!