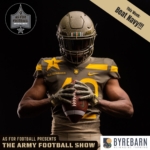 Friends, it's finally here. BEAT NAVY WEEK!
This week: Army Men's Swimming beat Navy for the first time since 1990. We'll take you through the meet and tell you how it happened and why Army looks to be in really good shape heading into the future.
Then it's time to preview the biggest college football game of the year. We break down the game as only AFF can, tell you which match-ups to watch, which statistics might prove to be decisive, and how Army can win. We close it up with our Fact or Fiction takes and with Rob's favorite Army-Navy memory.
It's a great show this week, and we're in for a terrific game.
Go Army! Beat Navy!!!