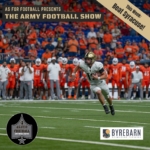 This week: we've got a New York State rivalry game!
But first, the guys review the big win at UTSA. We talk about what went right on offense and special teams and what went right — and wrong — for the Army defense. If the Black Knights force a fumble, four punts, and a turnover on downs but also give up a Hail Mary pass and a bunch of explosive touchdown plays, is that good or bad? Finally, we give our takes on the game and get into the Good, the Bad, and the Ugly.
Then we're on to Syracuse. Army faces another great team on the road, but have the Orange played anybody? Can Army move the ball — again — against yet another great rushing defense? We'll get into it.
It's a GREAT show this week, friends. Don't miss it.
Go Army! Beat Syracuse!!!