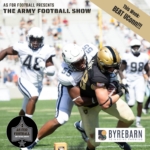 This week: the team vents about the loss at Troy, goes deep on what worked and what didn't, reviews the Good, the Bad, and the Ugly, and then goes through last week's Fact or Fiction takes.
Then we're on to UConn!
Yes, friends, we suddenly find ourselves living in a world in which Army is struggling to get their second FBS win at the time that Connecticut is already bowl eligible. We'll tell you how the Black Knights can win this game and what that might mean to the rest of their season.
We're in for an outstanding game this weekend.
Go Army! Beat UConn!