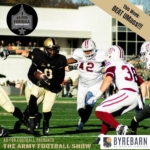 This week, former Army CB Jim Zopelis joins the show to talk about the big win over UConn and this weekend's match-up with UMass. We talk about what worked — a lot! — against Connecticut, go through the Good, the Bad, and the Ugly, and review Fact or Fiction from last week.
Then it's time to BEAT UMASS!
We go deep on the Minutemen's season, talk offense, defense, and special teams, and give you a few things to watch for this weekend when the Black Knights hit the field.
Happy Thanksgiving, friends.
Go Army! Beat UMass!!!