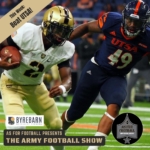 This week: the guys relive the glory of Army's biggest shutout victory since 1956. We dive deep on the win, tell you what we saw, and get into the Good, the Bad, and the Ugly. Then we're on to UTSA!
Will UTSA QB Frank Harris get a mortgage with Craig Achtzehn? Does he have more facial hair than Rob? Is he even going to play?
We've got all the details!
Fun show this week, friends. Let's get this W.
Go Army! Beat UTSA!!!