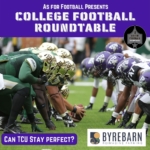 College Football has gone CRAZY!
This week: Rob dunks on the Ducks, and Trigger Joe laments a 7-team parlay that almost paid, and Dan discusses his new Man Crush on a UConn linebacker. We then review the service academy results, talk changes in the AP Top 10, and wonder who's gonna wind up in the College Football Playoff.
Then it's time to pick some games!
The crew did well last week. Find out who we took against the spread this week and then hear us discuss the brain-dead part of college football commentary.
It's a great show this week, and next week is Rivalry Weekend. Let us get you ready.
Go Army! Beat UConn!!!