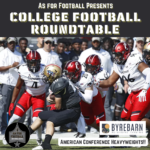 We're getting into some serious college football!
This week: we review the week that was, run down all the results from the service academies, catch you up on the Top 10, and then discuss the Targeting Rule.
Then it's time to PICK SOME GAMES. We review the coming week's college football schedule, tell you what's caught our eyes, and make our picks against the spread.
Lastly, we take you back to school with a deep dive on why running the football matters, especially in college football.
It's a great show this week. Don't miss it!