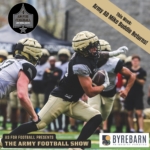 This is a monster sports week, friends.
This week: the guys talk about hubub over Army Football's new offense. Then we go deep on all the weekend's Army-Navy match-ups, including Women's Lax at Michie Stadium and Men's Lax and Baseball down at the Boat School. We'll be spending the ENTIRE WEEKEND cheering on the Army team to BEAT NAVY!
Then Army AD Mike Buddie returns to the show. We went deep on his hiring process, got his thoughts on MLB's new pitch clock, and talked about the Michie Preservation Project.
This is a terrific show. Check it out.
Go Army! Beat Navy!!!