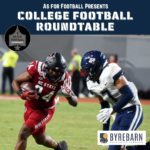 Thank God Almighty, we've finally got College Football back!
This week: Mark, the Witty Middie joins us to preview Notre Dame vs. Navy, plus we run through what we're watching in Week 0, and we give you our patented Locks of the Week. Plus: is Dan the biggest UConn fan, and if so, they why the Hell doesn't he realize that they're not playing until NEXT week?
We had a lot of fun with this one, friends. Check it out!