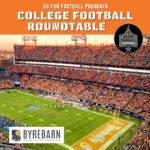 We've got a full slate of college football this weekend!
This week: Dan Robinson from Byre Barn joins Rob and Danno to talk about Notre Dame's big win over Navy, the AP Top 10, and the week's big games. We highlight the ACC this week, wonder how Michigan will fare without Coach Harbaugh, and talk through our patented Locks of the Week.
It's college football season, friends. Let's gooooo!