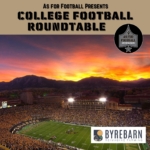 Absent one quarter of one game, we had a pretty good weekend.
This week: the guys talk about the week that was, wonder why folks doubt what Coach Prime knows about football, and then talk briefly about the current AP Top 10.
Then, is this the year of the Transfer Portal? It seems like it might be.
Finally, we run through the games we're watching and give you our patented Locks of the Week.