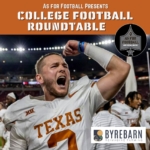 Texas didn't just beat 'Bama, they *smoked* 'em. Are we seeing a changing of the guard in college football?
This week: the guys talk about all the big games this past week, run through the service academy results, and wonder if Coach Nick Saban has finally lost it at Alabama. Then they run through the Week 3 games and give their patented Locks of the Week.
Army and Navy both have big prime time games. Let's goooo!