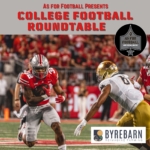 Conference play started last week, but this week we've got a Hell of a lot more games that actually matter. Or, as Rob says, "The cupcakes have been served!"
This week: the guys talk about all the big upsets in Week 3, review the service academy results, and then wonder whether coaching matters in the Transfer Portal Era. Then they get into the games they're watching this week and, of course, their patented Locks of the Week.
Can Dan get out of AFF's game-picking cellar?