The losing streak continues.  Despite making a battle of it, Army fell short of a huge milestone win in this season of futility.  Army fans are again left wondering what happened between last season and this season.  Where did our Brave Old Army Team go?
I know it's not a fair comparison.  Injuries, personnel changes, new schemes, and countless other factors make college football fluid.  But, we're still asking "Who is this team?"
Team Captain Cole Christiansen stated in his post-game interview that he would choose our guys over theirs any day.  I agree.  That's not up for debate.  No one is abandoning the Army Team.  But we're still not loving the last resort of West Point teams, the old "as long as we beat Navy" mentality that plagued Army for so many years.
Don't get me wrong.  Yesterday's game was an exciting affair.  Army covered the spread easily, and hopefully you took the free money.  But losing to Zoomies hurts.  There's no way around it.  Many players put up impressive performances, but some of the decisions still left us confused.  As a result, there are definitely some good superlatives to give out, but some might also be… disappointing.
Essentially, there's a lot to build from in a year in which we didn't foresee so much need for reconstruction.
If you want to further delve further into the losing-to-Air-Force feels, Danno put together a good reaction to Saturday's loss.  He perfectly captures the cost of emotional investment for a die-hard Army Fan unique to CiC contests.
Last thought as December nears: Don't miss the opportunity to win FREE Army-Navy Tickets!
Check it out:
— The Ultimate Army-Navy Experience Giveaway
Now, let's get on to the Superlatives.
Superlatives
Cole Talley – PMI Revoked
Just like that, privileges can be taken away.  Last week, you were awarded Early Firstie PMI for drilling a 41-yard field goal.  However, you failed on your extra point attempt on Saturday.  This ended up playing a key part at the end of the game.  Perhaps, Coach Monken would have opted to tie the game rather than go for it from the 5-yard line on 4th down.  Either way, those PMI slug naps must have left you groggy at the start of the game.  We can remedy that.
Army Fans – Arms Room Calibration Duty
Army Fans, report the the Arms Room under Washington Hall to help calibrate cadet M4s!  Why?  Because once again we must re-calibrate our expectations for this season.
Forget Bowl Games.  All that remains is beating Navy!
I hate the attitude: "As long as we beat Navy, it's a winning season."  See how beneficial this attitude was for 14 seasons starting in 2002.  Hope is not a combat multiplier, but we are where we are.
Go Army!  Beat Navy!!!
Army Offense – 2018 Season 40-Hour Block of Instruction
Okay, I get it.  Injuries have absolutely depleted this unit's capabilities.  Yet, can anyone tell me that the offense of Saturday afternoon looked drastically different from the offense that struggled against Rice?
Where's the mentality from last year?  Why did we only rush for 129 yards?  How did we not score after 8 attempts in the redzone in the first quarter?
There seems to be a drastic difference in mentality between last year's offensive unit and this year's.  Last year, the offense wanted the ball because their killer drives sustained a feeling of inevitability.  The offense took the game into their hands and finished.  Now they struggle and delay until victory requires a miracle.
Please take the time to review last year's tape and capture those feelings.  Go win the game!  Go take it!
Donavan Lynch – Power Ranger Tab
We've been wanting to see more of you all Season!  We know you forced the scoop and score late in the Tulane game even if the stat sheets don't reflect it.  It was good to see you out there for all four quarters.  You were playing the quarterback well and got in on 9 tackles throughout the game.  Plus, I wanted acknowledge your Halloween costume this week (yeah… we saw it).
Wear that Power Ranger Tab with pride.  We hope to see more of you as you close out your Firstie season!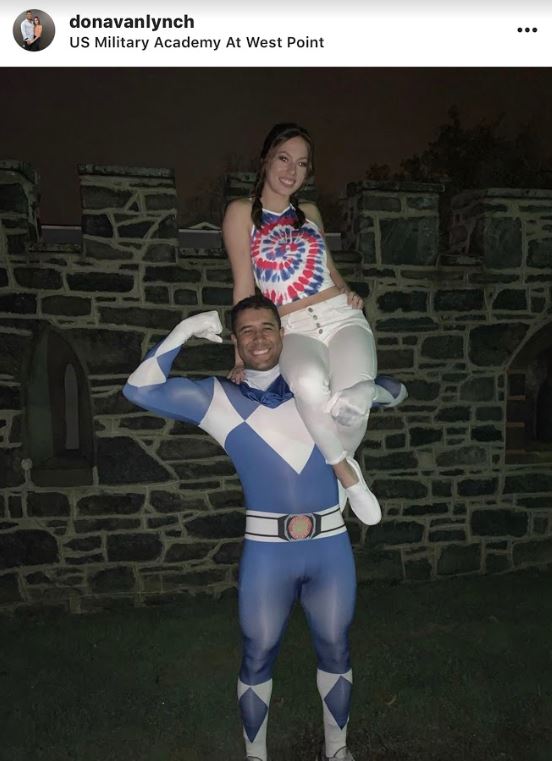 Air Force Academy – Rebranding
For being called the Air Force Academy, y'all really don't do a good job of owning the Air.  You guys amassed all of 16 yards on 2 catches.  Granted, we here at Army understand the limitations of service academy football when it comes to the passing game.  But come on!  You have to acknowledge the irony.
In honor of your willingness to concede air superiority, we will rebrand you the Academy for Kids Who Can't Fly So Good.
Elijah Riley – Decisive Point Instructor
The announcers kept mentioning how limited your presence would be within this game.  However, you found a way to get in on 11 tackles and made an interception, too.  As the best player on the defense, Army needed you to step up, and you did!
We want you to pass on your knowledge and understanding of how to be at the decisive point of each play.  As an instructor, you will teach young and malleable cadets on deciphering the critical point on the enemy's operation and blowing it up!  Have fun!
Jabari Laws – TBI Training
We're worried for you!  How many hits to the head can you take?  Well, it obviously doesn't affect your performance, going 9/11 passing for 214 yards and a touchdown.  The coaches have to stop running you inside though!  Your 5'9″, 172 lbs (soaking wet) frame shouldn't be expected to pound it up between the tackles.
So.  Go through concussion protocol, take the Army's Traumatic Brain Injury online training, and prepare for the bright future we believe you can have!
Cole Christiansen – Mess Hall Double-Helpings
Dude, you were playing like a man trying to single-handedly win this game! You tallied 16 tackles, 7 solo.  Most notably, you tackled Hammond and the pitch-back on the same play!
That deserves some double-helpings in the Mess Hall.  Double up on those spicy chicken patties!  Keep that neck big and those guns in prime condition.  We're going to need another performance like this come December!
Brent Davis – Goat of the Week (Star for Repeat Award)
Coach, this is the third week we've given you a negative superlative.  We just don't understand the decisions, and honestly, we'd like some answers.  After those softball questions given post-game, we need someone to address the thought process behind the play-calling throughout this game.  There just seems to be a lack of flexibility in the run game and an over-commitment to passing from the pocket, particularly in redzone situations.
Now, we understand that decision-making is hard.  But, decisions are judged based on outcomes, and there appears to be a systemic problem here with overall poor decisions (see Army's losing record).  What's the deal?  Are you dealing with an offensive unit that's riddled with Partially Mission Capable players?  Are you seeing tendencies in film that aren't showing up during the game?  Are we saving the playbook for Navy?
We have the luxury of questioning these decisions without having to make them in real time.  Yet, the Army is an "gets results"-oriented organization.  That's why you find yourself in the hot seat, at least in the eyes of many Army fans.
***
O-Club
The O-Club remains closed until Victory is achieved.
That's all for this week.
We'll provide more reaction and analysis from the game next week as well as a UMass preview on the Army Football Show (via Stitcher, Spotify, or iTunes) next Thursday.  The Night Before the Night Before!
Beat UMass!
Rest.