My daughter Emma and I went out to watch the XFL's New York Guardians host the LA Wildcats at MetLife Stadium yesterday.  We had a lot of fun. I highly recommend the XFL as an overall football fan experience, but I will say that you might want to wait until it gets a little warmer, at least here in New York.

Getting into the stadium was easy, presumably because the stadium itself can hold something like seventy-thousand people.  Yesterday's game saw maybe ten to twelve thousand in the stands. To be fair, it's February here in the Northeast. We had temperatures in the low- to mid-30s with intermittent snow flurries.  Maybe fans would put up for the Jets or Giants. The XFL is all of four weeks old, and the Guardians in particular came into the game 1-2 with their third-string quarterback set to start. They were heavy underdogs in freezing cold weather, and that made the game kind of a hard sell.
Still, I gotta say that the overall fan experience was outstanding.  The Guardians had both a Master of Ceremonies and an actual disk jockey out on the field.  Musically, it was kind of like a baseball game. The DJ pumped tunes between plays, very much like walk-up music for batters heading into the box.  The XFL's pace-of-play is also super-fast, so there's not much standing around. On a brisk, windy winter day, that mattered quite a lot.
The story of this young XFL season has been the teams' offensive lines.  Few of them are particularly good as a unit. These are replacement level professional players who've not been working together overly long.  There's more to learn for the O-Lines than the D-Lines, and that's given defenses the advantage early on. Those XFL teams that have adjusted to this reality have done well.  Those that are still trying to run NFL-style drop-back passing games have struggled.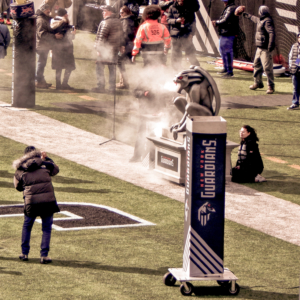 We're four weeks into the season, and your New York Guardians are somewhere in between.  Head Coach Kevin Gilbride was the NY Giants' offensive coordinator, and he very much wants to run a downfield play-action passing game off a strong, pro-style rushing attack, but especially early in the season, he just hasn't had the guys to pull that off.  In particular, starting QB Matt McGloin was a bad fit for the XFL in that he's very much a pro-style pocket passer. Worse, he's struggled with accuracy issues. McGloin got hurt last week, which — eventually — gave former AAF star Luis Perez an opportunity.  Perez has far better mobility, and that's made him a better overall fit for the XFL game.
This isn't to say that Perez went without struggle.  It didn't look like the Guardians' coaching staff trusted him overmuch in the early going, and more to the point, the team's O-Line didn't do much to keep him upright, especially in the first half.  Early on, most of Perez's completions came when he escaped the pocket and checked the ball down to one of his running backs in the flat. As the game went on, however, he started looking downfield more.  Perez eventually hit one of his tight ends over the middle for a long third down completion, and that changed the complexion of the game. LA's defense had to back off a little from the line-of-scrimmage, which opened up the Guardians' running game, and from there, New York's offense looked — almost — like a respectable pro-style offense.  
Had some fun today ? #OnDuty | #ForTheLoveOfFootball pic.twitter.com/tUrV9N1rzl

— New York Guardians (@XFLGuardians) March 1, 2020
The @XFLGuardians defended their house against the @XFLWildcats pic.twitter.com/ksTW4TTqE6

— XFL (@XFL2022) February 29, 2020
Perez finished a very respectable 18/26 passing (69%) for 150 yards and a touchdown with no interceptions.  On net, he only threw for 5.8 yards/attempt, and the Guardians are still averaging just 2.7 yards/play on offense, but somehow that was enough to keep the chains moving when it counted.  They gained 19 first downs to the Wildcats 14. RB Darius Victor did most of the rest of the work, carrying 18 times for 82 yards. Towards the end of the game, Victor broke off a bunch of good-looking ten-plus yard runs.  He was arguably the team's MVP and is by far their best running back.
By comparison, the Wildcats' offense never quite got on track.  Their running game is nonexistent, which puts the entire offense into QB Josh Johnson's hands.  Johnson is a far better quarterback than Perez — in fact, he's one of the better quarterbacks in the league — but against the Guardians' stout D-Line, he couldn't get anything like consistent time in the pocket.  That was pretty much your ballgame. Johnson finished 25/40 passing (63%) for 330 yards and 2 touchdowns, but he also had a pick that pretty much cost his team the game. The Wildcats finished just 2/12 on third downs, and really, save for some long downfield passing plays, their offense didn't do much.
I should note, too, that the Guardians have a legitimate weapon in K Matt McCrane.  McCrane made three field goals yesterday with a long of 51 yards on a cold, blustery day.  It was impressive. LA missed a much shorter field goal to try to tie it later in the contest.
The Guardians travel to Dallas next week to take on the Renegades.  They play Saturday in the 5 pm Eastern time slot. They're now 2-2 overall and very much alive in the postseason chase, though the St. Louis Battlehawks and DC Defenders have both looked like better, more consistent teams. It'll be interesting to see if the Guardians can continue to build on their performance this week, though.  If they're found a quarterback and can keep working that running game, who knows?
Let's Go Guardians!
#OnDuty