Well, friends, that was really something. Your Army Black Knights rolled up 42 points and something like 300 yards of total offense against UConn in just the first half of yesterday's game. That first half of football was so dominating that Head Coach Jeff Monken told sideline reporter Tina Cervasio that his biggest concern in the second half was simply, "staying healthy." I tweeted at halftime that Army was on pace to score 82 points, but by God, that wasn't even correct.
They were on pace to drop 84.
Coach Monken really summed it up after the game ended, so let's let the man speak for himself.
1-0 this week. Attitude and effort. #GoArmy | #LastoftheHard pic.twitter.com/NgKm3JhQLG

— Army Football (@ArmyWP_Football) September 18, 2021
It's also worth taking a moment at this point to remember what Army fans' goals were heading into this game. I think that might help put the second half into context.
Game plan for today:
-punch these nerds in the mouth
-get up 5TDs
-put the freshmen in
-drink and relax

— As For Football (@asforfootball) September 18, 2021
I mention all of this because it seems like there was a little consternation from Army fans that the Huskies eventually moved the ball against Army's backups, scoring 14 points on offense and 7 off a kickoff return.
I mean, obviously it would be better if that stuff hadn't happened, but what can you do? Coach noted that 10 of the 11 players on the coverage team during that kick return were plebes, probably seeing the very first game action of their collegiate careers. Should he not have played them? I mean, maybe the ref's should have called some of the obvious holding on that kick return, but they didn't. The mistakes can be corrected. But these were essentially meaningless plays that gave Army's newest players valuable playing time.
They call it "garbage time" for a reason.
Fun day for me. My buddy Terry came up from DC. He was recently the G1 for the 3rd Corps; now he's at the Pentagon. We both have daughters who are freshmen in college. Terry and his family also came out to our house to watch Army beat the ever-living HELL out of Houston in the Armed Forces Bowl a few years ago, back when he was at the Naval War College.
"You mean we're really going to watch this outside?"
Yeah, we did. But I made a big bonfire, so no one died of hypothermia despite the State of Connecticut's best attempts.
Anyway, Terry came up, and then we humped over to G Lot, where we met Walt from AFF's Firstie Club and some of his friends for a tailgate. Wound up talking collegiate Chemistry with some of the department's permanent professors since that is what my own daughter is studying at Manhattan College. Great tailgate. We then walked over to the stadium a little after 11:00 am, where we promptly melted. Good news is that I remembered sunscreen this week. Bad news is that I think it was even hotter this time than it was a week ago.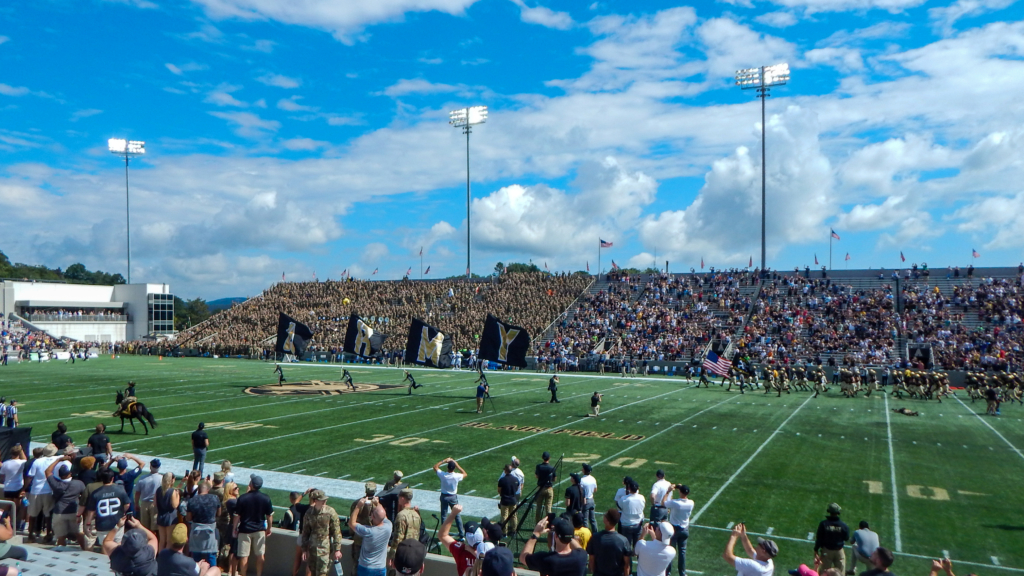 There's not much to say about the actual game. UConn sold out to stop the Fullback Dive, but they let Army's slotbacks and receivers get loose to disastrous effect. SB Brandon Walters took a pitch 58 yards on Army's first drive, setting up a score. Then WR Isaiah Alston caught a 39 yard pass for a touchdown, the first of his collegiate career. Then SB Tyrell Robinson broke off a 70 yard run up the middle for his second long touchdown run of the year.
By the time the Huskies made an adjustment, it was way, way too late. Army put up 397 yards rushing on 67 carries (5.9 yards/carry). The Black Knights wound up with 504 yards of total offense, including 3/3 passing for 103 yards and Alston's touchdown. Meanwhile, UConn had 4 total plays on Army's side of the 50 in the first half. They finished 3/10 on 3rd down and 1/3 on 4th down. UConn QB Tyler Phommachanh ran around and made a few plays, but he still finished 11/26 passing for 109 yards and 1 interception. That is just 4.2 yards/pass.
So yeah. This game was not close, and it wasn't even particularly close in the second half, minus the busted coverage on the kickoff. Army went to a decidedly conservative offense late in the game, alternating between Fullback Dives and Quarterback Zone runs. QB Jemel Jones threw 1 pass for 37 yards, but once Army hit the 49-point mark, they stopped throwing, and they stopped trying to run outside the tackle box. Mostly Jones and the rest of the backups slogged it out up the middle.
As Coach Monken noted, there were some things to clean up in the second half. Still, this was one Hell of a victory.
Home winning streak extended thanks to a fast start by the Black Knights. #GoArmy | #LastoftheHard pic.twitter.com/bV02iWC5NI

— Army Football (@ArmyWP_Football) September 18, 2021
Started with a good week of practice and ended with execution on gameday. #GoArmy | #LastoftheHard pic.twitter.com/Y0J12bBdQe

— Army Football (@ArmyWP_Football) September 18, 2021
Next Up: Miami of Ohio 
The RedHawks are just 1-2, but they've played some pretty stiff competition, having fallen 49-14 to then #8 Cincinnati and 31-26 to Minnesota. This week they beat FCS Long Island, 42-7. QB Brett Gabbert hasn't been super-accurate, but the RedHawk running game looks pretty good, and their defense held Minnesota to just 3.8 yards/carry and 7/14 on third down.
It's a winnable game at home, for sure. However, it won't be easy. This next one promises to be a slugfest up front.
We'll see you out there.
That's 1️⃣2️⃣ in a row at Michie Stadium‼️

3-0 overall in 2021✅#GoArmy | #LastoftheHard pic.twitter.com/uu0JiwoIJG

— Army Football (@ArmyWP_Football) September 18, 2021
Go Army! Beat Miami-Ohio!!!