Wow.
Well folks, for the first three quarters of this game, I honestly thought that maybe I just wouldn't write anything this week. I didn't want to come across dispirited, and more to the point, I wasn't sure what there was to analyze about a game in which the Black Knights did virtually nothing on offense. It was a big stage, and the Army Team definitely got their chances, especially early, but somehow, they never seemed to capitalize despite getting the best possible start and the wildest possible finish.
But then Army turned in a fourth quarter for the ages, and well, I just can't quit this team, you know? Maddening or not, they laid it all on the line, and even with all the setbacks and everything else, they still somehow got within a handful of plays of pulling off one of the craziest upsets I can remember.
Battled until the end.

Back at Michie Stadium next Saturday vs. Wake Forest at noon. #GoArmy | #LastoftheHard pic.twitter.com/znxmDeyEDt

— Army Football (@ArmyWP_Football) October 17, 2021
It is maddening, though. Because Army's defense played really well outside of two extended drives in the second quarter, and Army's offense moved reasonably well once they got QB Jabari Laws into the game to mix it up with some passing to go along with the base triple-option rushing attack. Alas, by the time the Black Knights committed to cutting it loose –and consequently got their offense into gear — the fourth quarter had started, and the good guys were down two scores. The game wasn't over by any means, but time was running out.
We've seen that a little too much of late.
Army eventually got the touchdown plus the big defensive stop that they needed. They got the ball down a touchdown with just over 4 minutes to play. Despite everything, they had a fighting chance. Given how hard they'd had to fight to get even an inch through the first three quarters of that game, this was really amazing. However, it sure would've been nice to try some of that passing voodoo a little earlier, y'know? Especially since Wisconsin has the best rushing defense in America. Turns out, that wasn't just hype.
The Badgers definitely didn't do anything super-interesting in this game offensively. They ran the same kind of power/misdirection running game that we've seen from a lot of teams, and they threw successfully to their tight ends a lot. But man oh man, they hit those running plays so fast that at times they were able to break away on Army's defense, even when the Black Knights had guys in the right positions.
What can you do? This was always a bigger, faster team. We knew that. Army needed to capitalize when they got their chances. The fact that they scored in the closing moments just showed their true potential. But if the Black Knights got their chances, they still couldn't capitalize on them with enough regularity. Besides the fumble in the closing moments, that's what killed them.
Passing matters, friends. I hope we've all realized that by now.
When Army can pass, even just a little, they can also run. Wisconsin's safeties backed up five yards every time Laws came into the game.
With that said, I think there's something to the current rotation at quarterback. Whatever QB Tyhier Tyler's abilities or shortcomings, the guy plays with the heart of a lion. He plays with a kind of reckless abandon that shows absolutely no regard for his own safety. Dude fights to win. That's a good thing. It's why his teammates love him. It's actually amazing, and really, while we've seen Tyler come in for plenty of criticism, reality is that he is not playing badly by any definition. He finished with 17 carries for 90 yards (5.3 yards/carry) plus a rushing touchdown against a team that has to date given up much less than half that to entire teams. Not the Sisters of the Blind, either, but good rushing teams like Penn State and Notre Dame!
So here's the deal. If you're criticizing Tyhier Tyler today, I'm gonna need you to post your personal D1 stats alongside his, so we can get some sense of comparison. I'm just not here for it. Not sure what Pete Dawkins has to say on the matter, but most of the rest of y'all need to take a seat.
No. 2 got it done on that last drive to get us on the board. #GoArmy | #LastoftheHard

pic.twitter.com/t2THA49pwj

— Army Football (@ArmyWP_Football) October 17, 2021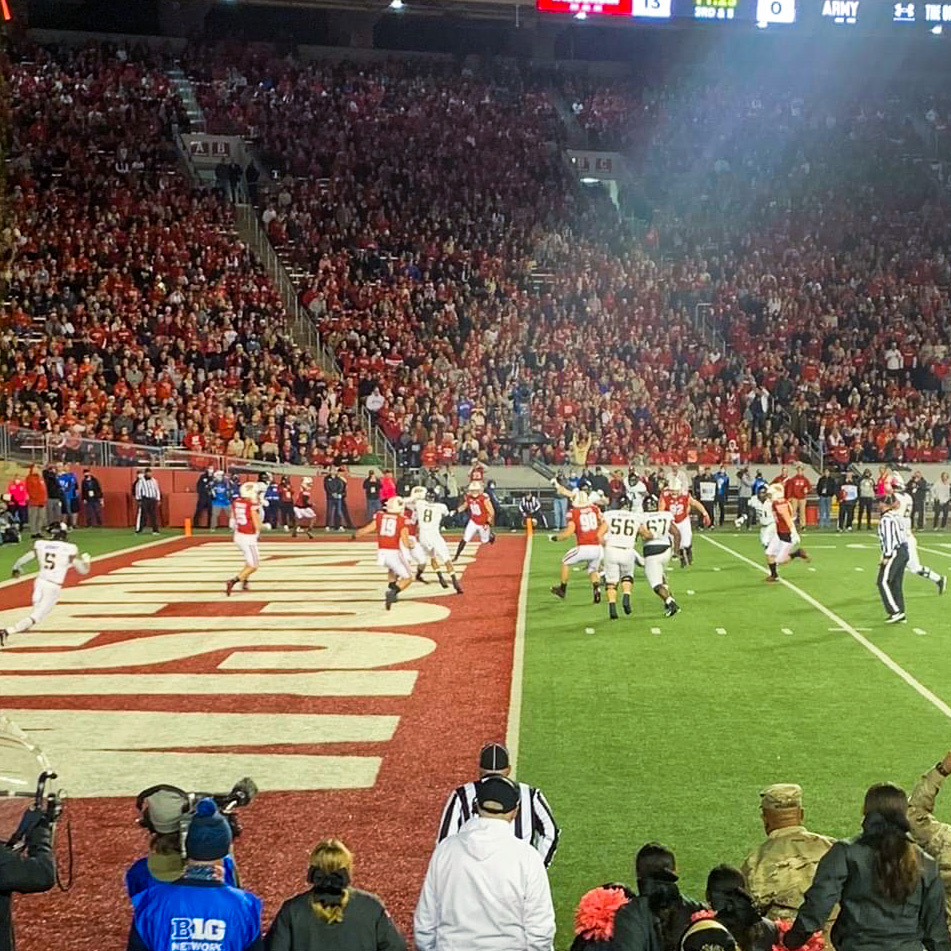 Taken as a whole, Army finished with surprisingly good stats. They put up 179 yards rushing and 2 rushing touchdowns on 50 carries. That works out to 3.6 yards/carry, more than twice what Wisconsin was giving up coming into this game. The Black Knights also went 5/6 passing, mostly in a fourth quarter which they very nearly dominated altogether. Moreover, for all their struggles early, Army finished 6/14 on 3rd down and 2/2 on 4th down. By comparison, Army's defense held Wisconsin to just 3/10 on 3rd down enroute to forcing 5 punts.
The good news, then, is that this team has improved its play down the stretch in tight contests. They played ultra-competitive football in the fourth quarter after getting stonewalled in the first half, at least on offense. They have gotten way, way better when the game is on the line, and that may yet carry us forward through the next few weeks. Honestly, it's gonna have to because the next two games are liable to be some of the toughest of the entire season.
Top frames from the first half. #GoArmy | #LastoftheHard pic.twitter.com/qYSYYjbp0O

— Army Football (@ArmyWP_Football) October 17, 2021
Next Week: Wake Forest
Wake Forest is undefeated, but believe it or not, the Black Knights actually match up much, much better in the coming contest than they did in last night's game. Wisconsin was always going to be tough because they were always going to force Army out of their comfort zone.
Wake is all offense. They score a lot, but they've let everyone run on them, too. They're allowing 170+ yards rushing/game and a whopping 4.4 yards/carry. That benefits the Black Knights quite a bit. It is, in fact, exactly the wrong style to bring into Michie Stadium.
Can Army come back and get a win after last night's insanity?
Who knows?! However, this week's game is going to be interesting as all Hell. I'll see you there.
Road warriors 😤 pic.twitter.com/a6vir9tafH

— Wake Forest Football (@WakeFB) October 14, 2021
Go Army! Beat Wake Forest!!!
Cover image via @ArmyWP_Football.