Army Baseball is headed into its last three-game series with Navy this weekend, which means that the regular season is rapidly coming to a close. This team is good. But how good?
Let's take a look.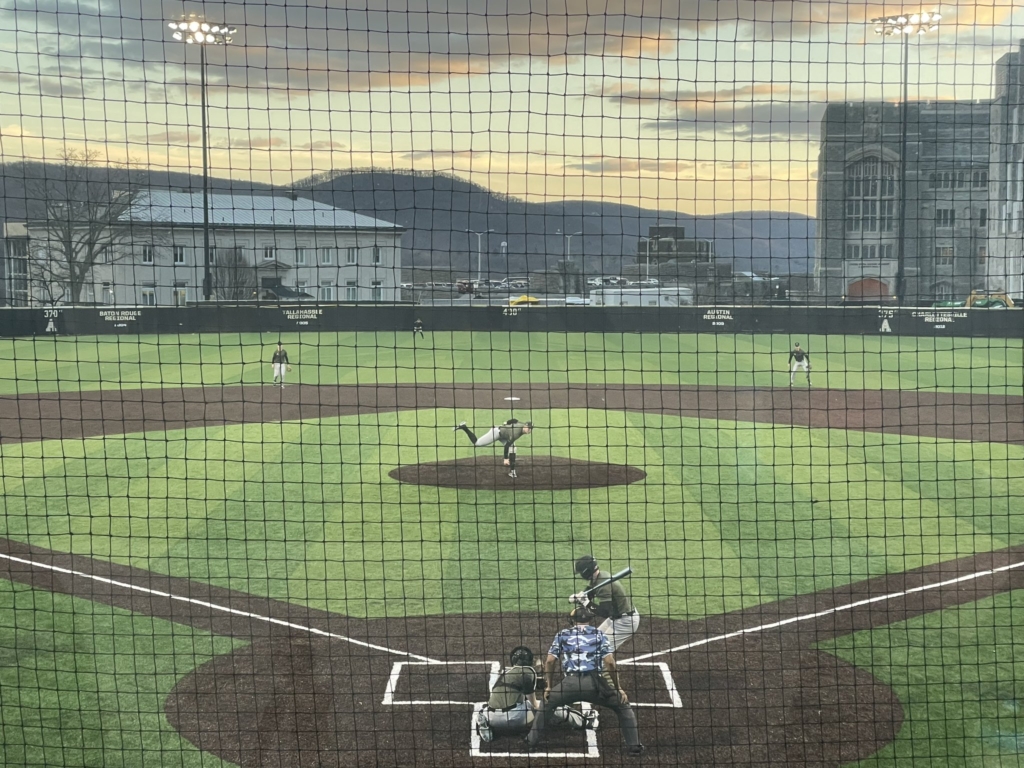 Title Chances
Well friends, it seems a change in leadership hasn't affected the Black Knights as they enter the second half of their Patriot League schedule. New Army Head Coach Chris Tracz has a chance to do what no one else has done — win an outright regular season Patriot League title in his first year on the job. Four coaches — Matt Reid and Joe Sottolano from Army and Steve Whitmyer and Bob MacDonald from Navy — have won shares of a regular season title in their first year.
Tracz has an outright title within reach right now.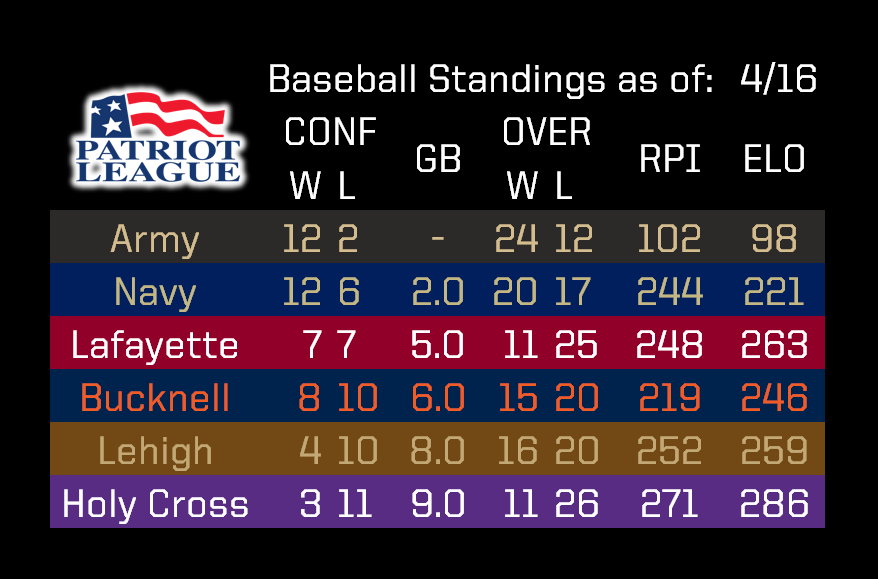 If you're not familiar with the term, "Magic Number," it's the number of wins plus opponent losses required to clinch something during the regular season. It uses the following formula: Total Games + 1 – Your Wins – Opponent's Losses. The Patriot League schedule is 25 games long, so here's how that looks for Army at the moment: 25 + 1 – 12 – 6 = 8. For opponent losses, we're using the team with the fewest losses besides Army. That's Navy. So with 12 games remaining, Army has the best statistical shot at earning the regular season.
As an aside, Army's magic number to clinch a postseason berth is just 4.
Army Baseball now has a magic number of 4 to clinch a Patriot League postseason berth. And they have a magic number of 8 to clinch an outright regular season title (7 for at least a share).

The Black Knights have 11 games left. pic.twitter.com/actoVv0QNb

— 𝙱𝚛𝚒𝚐𝚊𝚍𝚎 𝚁𝚎𝚟𝚒𝚎𝚠 (@BrigadeReview) April 17, 2023
Team Overview
Offense
The Army offense is largely powered by a trio of juniors and two seniors: Kevin Dubrule, Sam Ruta, Ross Friedrick, Derek Berg, and Braden Golinski. These five account for 5 of the top 16 OPS leaders in the Patriot League. In Patriot League play, Army boasts a .305 batting average, just a point below Bucknell's league leading .306. With that, the Black Knights and the Bison have by far the best two offenses in the conference. But despite Bucknell having a very slight statistical advantage at the plate, Army held them to just 3.4 runs per game in their five matchups.
It's maybe worth noting, too, that Army seems to be hitting the ball a little harder this year than they have in years past. Previous Army teams were — very — reliant on small-ball hitting and sacrifice bunts. We still see that in 2023, but they Army team also hits for power occasionally, and it's made their offense as explosive as we've seen in recent memory.
Our Athlete of the Week, presented by @USAA, is @ArmyWP_Baseball's Kevin Dubrule 👏👏👏

He batted .467 during the week with seven RBI, including a grand slam in Army's sweep of Lehigh over the weekend!#GoArmy pic.twitter.com/Nkn04IK8vR

— ArmyWestPoint Sports (@GoArmyWestPoint) April 11, 2023
Defense
What really sets this Army squad apart is their starting pitching. In terms of true starters, Army has the top 2 overall as well as 3 of the top 5 League ERAs. The Black Knights' top trio — Tanner Gresham, Mike Ruggieri, and Matthew Ronnebaum — has combined for an 8-1 record in Patriot League play. Additionally, Robbie Buecker has been an exceptional middle reliever and spot starter when called upon.
Army's bullpen isn't the deepest we've seen, but Sean Dennehy and Patrick Melampy have certainly held their own, making 3 saves a piece. Recently, we've seen more of sophomore Joe Valchar as well. Valchar recently made his Patriot League debut against Bucknell and now boasts a 2.92 ERA overall.
It surely helps that behind the pitchers, Army's defense has committed the fewest errors in League play.
The good news is that you only need three starters for the Patriot League playoffs, which consist of two rounds of the best two out of three. Traditionally, we've seen Army roll out pitchers in the order of Ace, 3, 2. If Coach Tracz employs this same strategy, I assume we'll see Gresham, then Ronnebaum, and then Ruggieri. And he'll have Buecker loaded and ready to come out of the bullpen when necessary.
Tanner Gresham was named @PatriotLeague Pitcher of the Week. Gresham pitched a complete game shutout and scattered three hits while striking out 6 and walking one, after facing 26 batters. 👏 👏

📰 https://t.co/we71e23sWE#GoArmy pic.twitter.com/ZvP1AqGo6m

— Army Baseball (@ArmyWP_Baseball) April 11, 2023
Upcoming Schedule
Army has a midweek game against Holy Cross on Wednesday before playing this weekend's three-game set at Navy. They'll only need one win against the squids to clinch the regular season series with them. However, they'll need two wins to clinch the star. If Army can clinch the series, they'll have clinched the tiebreaker with every other Patriot League opponent except Lafayette, whom they haven't played yet.
After Navy, the Black Knights will finish off the season with a weekend series at home against Lafayette and then a Saturday doubleheader vs. Lehigh and a Sunday doubleheader against Lafayette. They also have a couple non-conference games lined up at Doubleday, but they should have the week off heading into the Patriot League semifinals on May 13th and 14th.
Let's hope the team's new coach can keep them on Tracz and Beat Navy!
Army closes out the weekend with a Conference Series 𝐖𝐈𝐍!

Sam Ruta had 2 hits, a triple, 2 RBIs, and a run.

Army extends its winning streak to 11 games!

The Black Knights return home to Doubleday Field, for a midweek game against Holy Cross on Wednesday, April 19.#GoArmy pic.twitter.com/yx2MBxkDs2

— Army Baseball (@ArmyWP_Baseball) April 16, 2023
Go Army! Beat Navy!!!
Cover image via GoArmyWestPoint.Com.